One of our top recommendations for takeout in Asheville is Vinnie's Neighborhood Italian restaurant. We love their extensive menu, their amazing pasta dishes and pizzas, the mouthwatering dessert selection and the ease of ordering and pickup.
We have no shame in calling Vinnie's our top pick for the best Italian restaurant in Asheville! It's a fun restaurant for dining in and lately has become our go-to for date nights in. Whether you are dining or taking it to-go, Vinnie's is always such a treat!
About Vinnie's Neighborhood Italian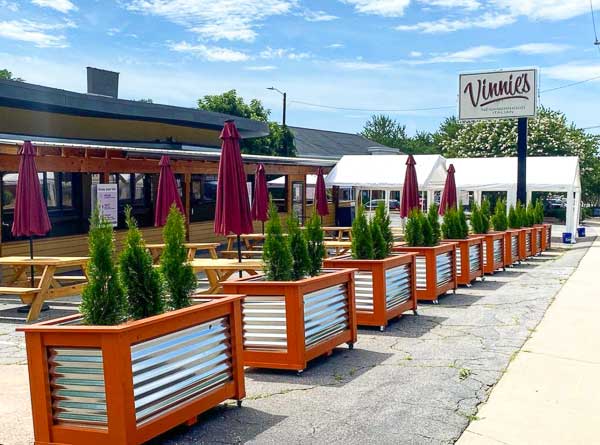 Self-described as "old school" neighborhood Italian food reminiscent of Brooklyn, the Bronx, and Boston's North End, Vinnie's is an Asheville institution.
Their original location is on Merrimon in North Asheville and it really has a neighborhood feel. Like a New York City Italian restaurant where everyone knows and loves you feel. In Asheville! It's unmatched.
Vinnie's opened a second location in South Asheville on Hendersonville Road in late 2021. In true Vinnie's fashion, both locations are known for exceptional food and service!
takeout From Vinnie's Neighborhood Italian
As far as the food goes, you really can't go wrong. We try to switch it up each time but we also have some classic standbys. These include the Penne Al Funghi, the Chicken Parmigiana and, when available, the Braised Lamb Shank Bolognese special. Or any lamb special, really.
Ordering Italian takeout from Vinnie's
Vinnie's has easy online ordering for both locations. You first select your location (Merrimon or South Asheville) and then pick from a menu. You can add sides, select portion size (individual or family-style), opt for gluten-free pasta or pizza if preferred, and add special notes and instructions as needed.
The one drawback is that when ordering you can only order for 'as soon as available' and you can't select a pickup time. The problem is, you don't know how soon that actually is. You find out when it will be ready via email immediately after placing your order. We have always had a 45 minute window, but I suppose it can change depending on the day of the week, time of day, etc. Just something to keep in mind before your next Italian night in!
Takeout dinner from Vinnie's
We recently ordered takeout and snapped a few photos for this article. It's an unsponsored review– we just love to share the best of Asheville and Vinnie's definitely belongs.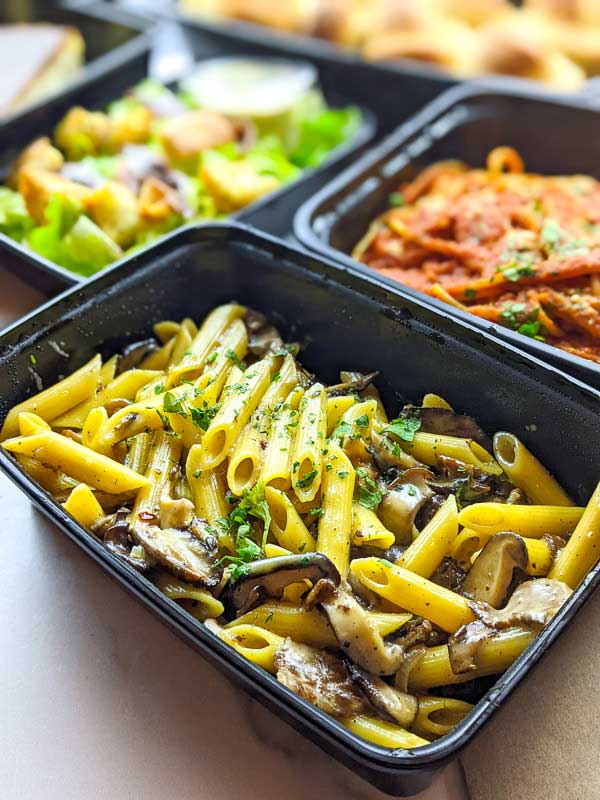 We went with two of our go-to's of Penne al Funghi and Chicken Parmigiana. We also added a Caesar salad, garlic knots, ricotta cheesecake and cannoli.
The Penne al Funghi was, as always, a delight. We definitely recommend it if you love mushrooms. It includes wild mushrooms, shallots and a sherry cream sauce with the perfect al dente penne.
The Chicken Parm was also fantastic. It is served over spaghetti and comes with the perfect amount of sauce and cheese.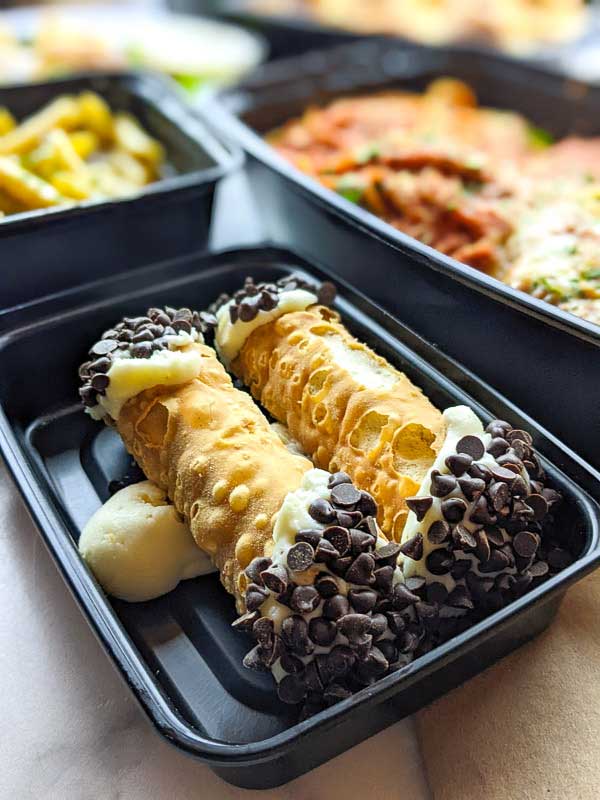 If you only have room for one dessert, we recommend the ricotta cheesecake. It comes with a dollop of whipped cream and a cherry and is just pure magic.
The cannoli are also great– you can order one for $6 or two for $11. I was so full from dinner that I saved mine for the next morning to have with my coffee. A+ idea. The other Vinnie's dessert we love is the Italian White Cake. Pro tip: order a slice and save it for breakfast. I'm sensing a trend here…
Vinnie's has takeout wine available, which can really take your date night up a notch! And we can't write a post about Vinnie's without mentioning their family-style meals.
Their salads, pastas and specials can all either be ordered as an individual size or family-size that will feed up to three people. This is a great option whether you are dining in with a large group or taking it home to feed an army.