Everything to know about Hands On Children's Museum
Hands On Children's Museum is such a fun and educational place for kids.
Hands On is located in the heart of downtown Hendersonville, which is a cute mountain town with a ton of great shops and restaurants. Hendersonville is only 35 minutes south of Asheville and makes for a great day trip.
Inside the museum you'll find a ton of fun exhibits for all ages, including a mini grocery store, a Lego raceway and an interactive water table.
Hands On is definitely one of our kids' favorite things to do near Asheville.
Our kids are both under five and the exhibits at Hands On are perfect for them.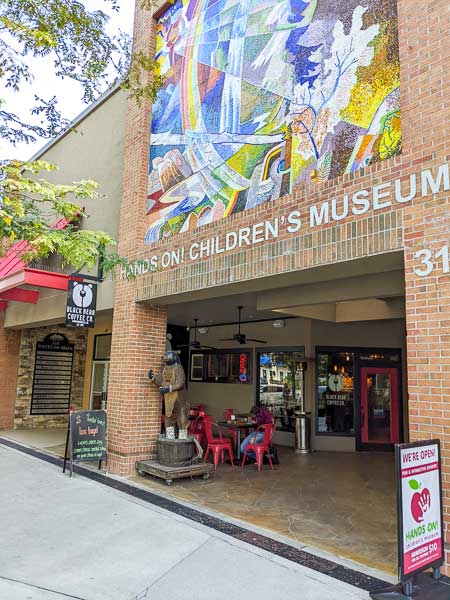 Our oldest loves building Lego cars to race down the track and our youngest can't get enough of the sound room. What's great is that as they get older and as their interests inevitably change, I can rest assured that there will always be something they love at Hands On.
Table of Contents
This post shares all about Hands On Children's Museum, from details about admission and parking to the information on the various exhibits. We also cover our experience there with two kids under 5. It's a bit lengthy, so we are including a table of contents to help with navigation.
Hands On Children's Museum Admission
Before we dive into our day at the museum, I thought I'd first share a bit about admission. If you want to skip ahead, click here!
Individual Day Passes
Hands On sells both individual day passes and annual memberships. As of Winter 2023, daily passes for adults and children are $10.
Annual Membership Plans
Hands On has two levels of membership. The first is their 'you and me' membership plan, which includes admission for one adult and one child for $90 + tax per year. Their family membership is $150 + tax per year and includes admission for two adults and three children.
Take me back to the Table of Contents!
Buncombe County ZOOM Pass Entry
Free admission for the Children's Museum is available for Buncombe County residents through the county's ZOOM Pass program. The ZOOM Pass program gives library cardholders free access to several Asheville area attractions every thirty days.
Current ZOOM Pass offerings include the Nature Center, NC Arboretum and the Asheville Museum of Science (AMOS). Psst: Read about our day out with kids at the AMOS here using a ZOOM Pass!
Parking at the children's museum
The museum is located in downtown Hendersonville, so there are several street parking spots nearby. Street parking in the area is free for 3 hours unless signage indicates otherwise. You'll also find metered spots nearby if the free parking is full.
The museum recommends the Azalea Parking Lot at the rear entrance if street parking isn't available. Please note that stroller and wheelchair access is available at the Main Street entrance only.
Take me back to the Table of Contents!
About Hands On Children's Museum
There are over 13,000 square feet of fun and educational exhibits, so you can safely plan to spend a few hours exploring.
As far as the best age for visiting goes, our kids are both under five and seem like the perfect age for it. Though we often see older kids at the museum, the various exhibits do seem better suited for younger kids. See below for details!
Exhibits at Hands On Children's Museum
We have outlined all of the exhibits we love and tried to give you an idea of flow within the museum. Keep in mind that not all exhibits are mentioned in this article. The museum lists exhibits on their site, but you may want to call them directly if you want to know the status of a particular one. I'm sure exhibits open and close regularly for maintenance, etc., so it's best to double check!
Dinosaur excavation, art, airway adventure and the firetruck exhibit
One of the first exhibits after admission is the dinosaur excavation area. Our kids love this one! There is a large dinosaur and a mulched area with 'fossils' buried. Brushes are available to move the mulch away to uncover fossils. We spend a lot of time here!
After that, we typically spend some time playing the with giant Light Bright exhibit in the same room. There are large pegs that you can 'plug' into a wall. When plugged in, the pegs light up.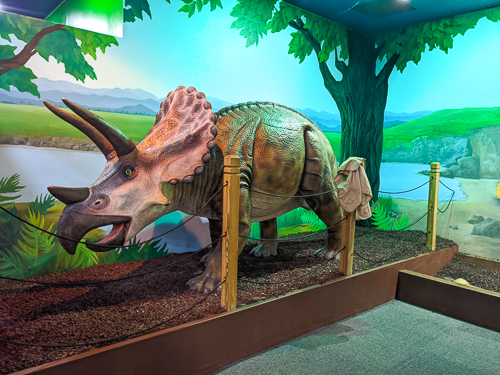 You'll also find a large art area nearby complete with aprons to keep clothes from getting too messy. Your young creators will love this space!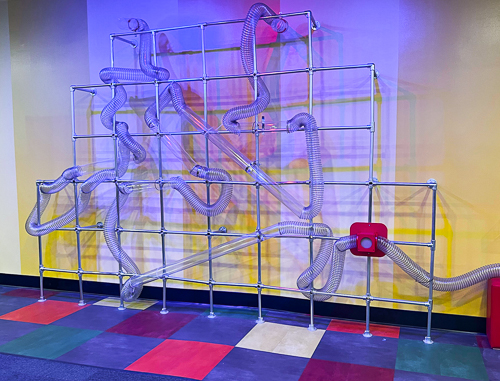 Across the hall is another favorite exhibit of our kids: the airway adventure. The exhibit is made of tubes that have air blown through them. Kids can grab a scarf at the exhibit, place it in the tubes and watch the scarf fly around.
The highlight of this exhibit is when the scarf pops out the top and floats down to the ground. This is another part of the museum where we spend a good amount of time!
There's a small fire truck exhibit near the airway adventure as well as the ice cream shop exhibit.
The water table, grocery store and apple orchard exhibits
Onto the main room! As you walk up the stairs (there's a ramp to the right), you'll enter a larger room with several exhibits. Our kids typically hightail it to the water table and spend about 20 minutes here splashing around. They never get too wet, but you may want to bring an extra shirt just in case a change is needed!
Nearby is the large grocery store exhibit complete with mini shopping carts and two checkout stations. This is the exhibit where I always see kids who just met happily playing together. One will shop while another checks everyone out.
Just outside the grocery store is a fun 'apple drop' where kids can place apples on a contraption and use a crank to send them up a ramp. The apples eventually fall down and can be collected again.
Next to that is the Orchard sponsored by Jeter Farms. Speaking of, you should visit their real orchard during picking season!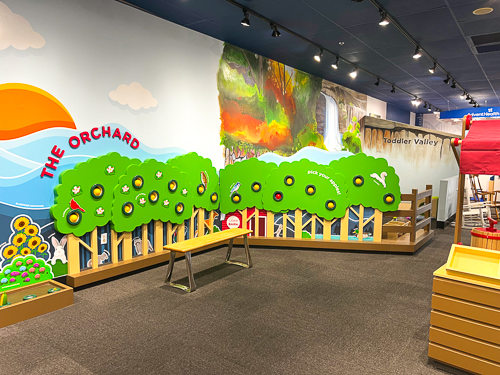 There are exhibits around the sides of this area where kids can run around as they wish. It's nice to be in a dedicated space for kids. We don't have to worry too much about what our two are doing, which is a change from when we take them to museums that aren't so kid-centric.
Mt. Hands On, The Baby Place, Doctor and Dentist exhibits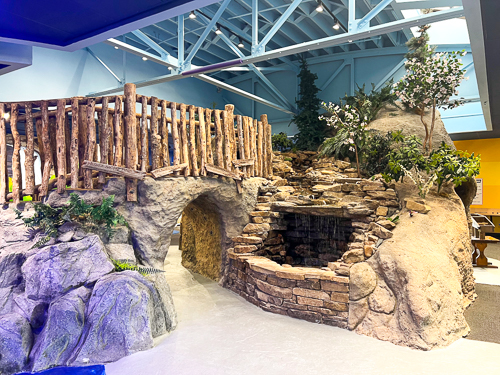 The middle of this large room is where you'll find Mt. Hands On, a large climbing structure complete with a tunnel slide.
The Mt. Hands On slide ends at the Baby Place exhibit. There are several baby dolls here where kids can pretend to take care of them in a nursery setting. You'll find strollers, rocking chairs and baby books here.
There's also a doctors-office exhibit area in this corner. We typically don't spend too much time here– it kind of seems better for older kids. My youngest really likes listening to animal sounds on the hearing test area of this exhibit, though!
Nearby is the dentist exhibit complete with a dental chair, large toothbrushes and X-Rays. I'll be honest, not too many kids hang out here!!! The model teeth are kind of crazy to look at.
The Star Theater, Lego Raceway and Sound Zone exhibits
The Star Theater is a very cute exhibit with a stage and dress up clothes. Your performance loving kids will enjoy trying on new clothes and coming out the curtains to show them off to the audience!
Just outside the star theater is a favorite for our oldest– the Lego Raceway. He could spend all day here building cars, racing them down and then rebuilding.
Behind here is the sound zone that is made up of special sensors that play a variety of sounds from musical instruments. Our youngest is amazed when he presses one and the room is filled with sounds of an orchestra.
A typical day for us at Hands On Children's Museum
We thought it would be fun to document a typical day at Hands On with our two kids to give you an idea of what to expect on your visit.
I love taking a day trip from Asheville to Hendersonville because it just all seems a little bit quieter and easier.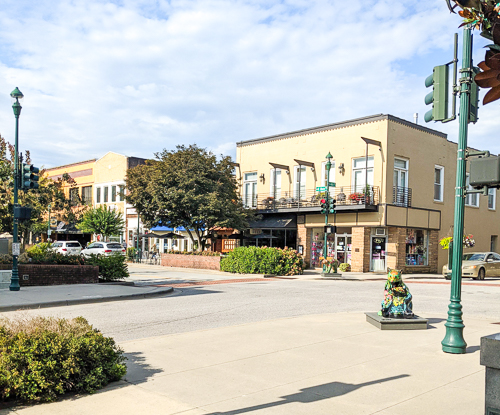 On weekday mornings, you'll mostly just see locals enjoying the cafes and coffee shops along Main Street. When the weather is nice you'll see business meetings happening on the benches scattered around. It's all just so pleasant!
The children's museum opens at 9am (Monday-Saturday) and we typically like to arrive right when it opens. This gives our kids ample time to explore before we head back for a nap and quiet time.
Breakfast at Black Bear Coffee
The entrance to the children's museum is located directly next to Black Bear Coffee. If time allows, my ideal trip to the museum begins with a quick coffee and treat from Black Bear. It's awesome when the weather is nice out and we can sit on the sidewalk out front.
If we do that, I get the kids a bagel and a pastry treat from Black Bear. I personally love their panini breakfast sandwich and a latte! Oh, and FYI- you can bring a lidded drink in to the museum.
Time for the museum!
After breakfast, it's time for the museum! We typically spend about two hours at the museum each time we go. Our kids run from exhibit to exhibit, just like everyone else. It's a safe space and they can do pretty much everything by themselves, so a lot of what I do is just watch! It's a nice change in pace from some days!!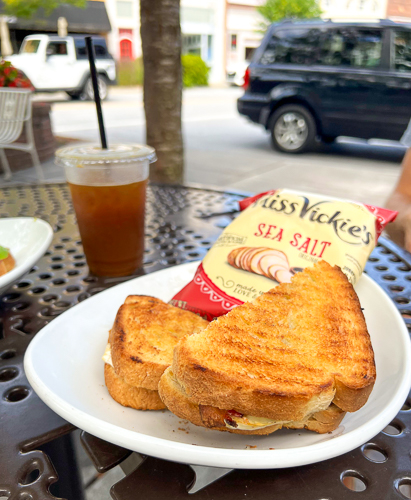 The museum is typically pretty quiet unless there is a field trip or large group visiting. We always go on weekdays, so it may be different on the weekends. I have never felt like it was too busy, though.
If we didn't star the morning at Black Bear, we typically grab lunch on the way out. Our kids especially love their grilled cheese and avocado toast. And, of course, the cookies and treats in the bakery case!
We always enjoy our mornings at the children's museum and would recommend it if you are in the area and in need of entertainment for your kiddos.
Take me back to the Table of Contents!
Frequently Asked Questions about Hands On
Is Hands On stroller-friendly?
Yes! There are ramps available and the front entrance to the museum is accessible.
How much is Hands On Children's Museum admission?
Admission cost for Hands On is $10 per person. Annual memberships are also available. Locals can get free access through the ZOOM Pass program.
Is Hands On free?
No, Hands On is not free. The only exception is if you reside in Buncombe County and get a free ZOOM Pass through the library. You can get free admission to Hands On every 30 days using a ZOOM Pass. Read more here.