Everything to know about the WNC Nature Center
The Western North Carolina Nature Center is a 42-acre zoological park in East Asheville. The Nature Center is operated by the City of Asheville's Parks and Recreation department and is such a fun place to observe animals in their natural habitats and spend some time outside. We love it so much that it's one of the top attractions on our list of fun things to do in Asheville!
You'll find over 60 species of wildlife that call (or have called) the Southern Appalachian Mountains home. Most animals at the WNC Nature Center have either been permanently injured or don't have the skills needed to survive in the wild.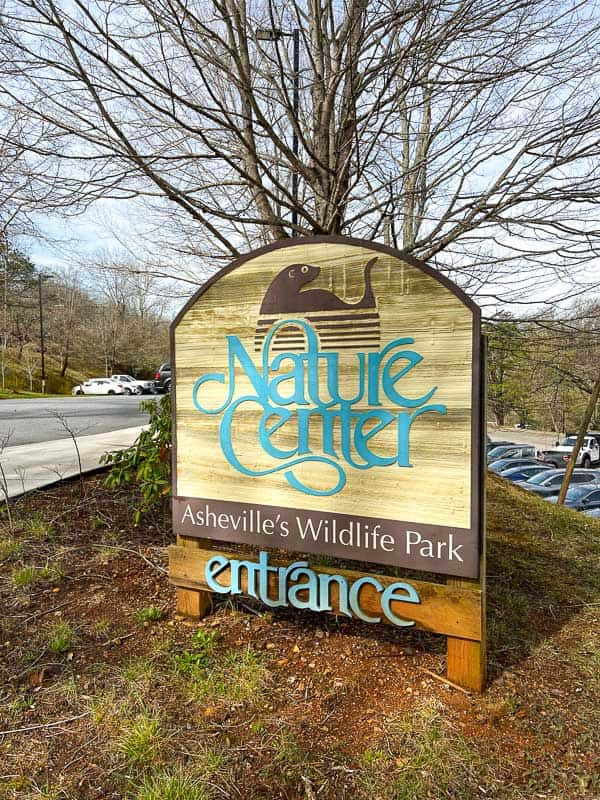 We always describe the WNC Nature Center as a cross between a nature trail and a zoo. Our kids call it the Asheville Zoo and it actually used to be called the Asheville City Zoo. It's all very natural feeling and you may even forget you are in a gated attraction altogether in a few areas. We love visiting with our two kids and definitely recommend it for both locals and visitors to Asheville.
Table of Contents
This article shares all about the WNC Nature Center, from details about admission and parking to the information on the various animal habitats. We also cover our experience there with two kids under 5. It's a bit lengthy, so we are kicking the post off with a table of contents to help with navigation.
WNC Nature Center Admission
Before we dive into our day at the WNC Nature Center, I thought I'd first share a bit about admission. If you want to skip ahead, click here!
Individual day passes
The WNC Nature Center sells both individual day passes and annual memberships. As of April 2022, daily passes for adults and ages 13-15 are $13.95 ($9.95 for City of Asheville), seniors are $12.95 ($8.95 for City of Asheville), children ages 3-12 are $9.95 ($7.95 for City of Asheville) and children under 2 are free. You can buy tickets online in advance (recommended) or in person at the ticket booth.
Buncombe County ZOOM Pass Entry
We don't have a Nature Center membership right now but did get free access using a ZOOM Pass through the Buncombe County Library System. If you are local, you should definitely check out the ZOOM Pass program! Library cardholders can get free access to several Asheville area attractions every thirty days. Current offerings include the Nature Center, NC Arboretum and the Asheville Museum of Science (AMOS).
Annual Membership
The WNC Nature Center has several annual membership tiers starting at $39 for an individual all the way to $119 for a family (2 adults + 4 kids) plus two additional people (as of April 2022). A Family Plus plan would be a great idea if you have grandparents nearby!
There are also a few larger plans that even include donor status. Memberships can also be gifted, which would make such a great treat for the family.
Discounted admission to 450+ Zoos and Aquariums with an annual membership
Membership to the WNC Nature Center includes free admission, discounts to the gift shop and summer camps and discounted admission to 450+ centers nationwide. That last bit is awesome!!
You can view the full details here, but the WNC Nature Center is part of the Association of Zoos & Aquariums, which means you can get free or discounted admissions to several other zoos and aquariums across the US with an annual membership. One of which is Columbia, SC's Riverbanks Zoo, which is a top 10 zoo and only 2.5 hours away from Asheville. The program allows for 50% off admission to Riverbanks.
Take me back to the Table of Contents!
Parking at the WNC Nature Center
There are several parking lots at the WNC Nature Center, some of which get you very close to the entrance and others you have to walk a bit.
The ideal parking lot is right out front of the entrance, but it fills up pretty quickly. This is the parking lot where you turn just after you see the main Nature Center sign. There are generally a few handicap spots available right out front in this lot but unless you came early or get lucky the other spots may be full.
There's an overflow lot on your right just before you get to the main area to park. It's pretty large and you can generally find a spot. You can turn around in the main parking area easily, so you may want to scope that out first before trying the overflow lot.
If you do end up in the overflow lot and aren't traveling with a stroller, try to park toward the middle! There are stairs that you can up toward the Nature Center's entrance. If you are traveling with a stroller, though, you'll have to walk all the way out of the parking lot back to the main road to get to the entrance. So, park closer to where you drive in if that's the case!
If you are visiting with a large group or young children, there's a loop at the entrance where cars can pull over to let people out. The driver can then find a parking spot a bit further away while everyone else gets settled at the entrance.
Take me back to the Table of Contents!
WNC Nature Center Map
The map below shows the layout of the various habitats. It's a loop, so it doesn't really matter which way you go. You may want to head the direction of your 'must-see' animals first. We find that the animals are more active in cooler mornings than on hot afternoons.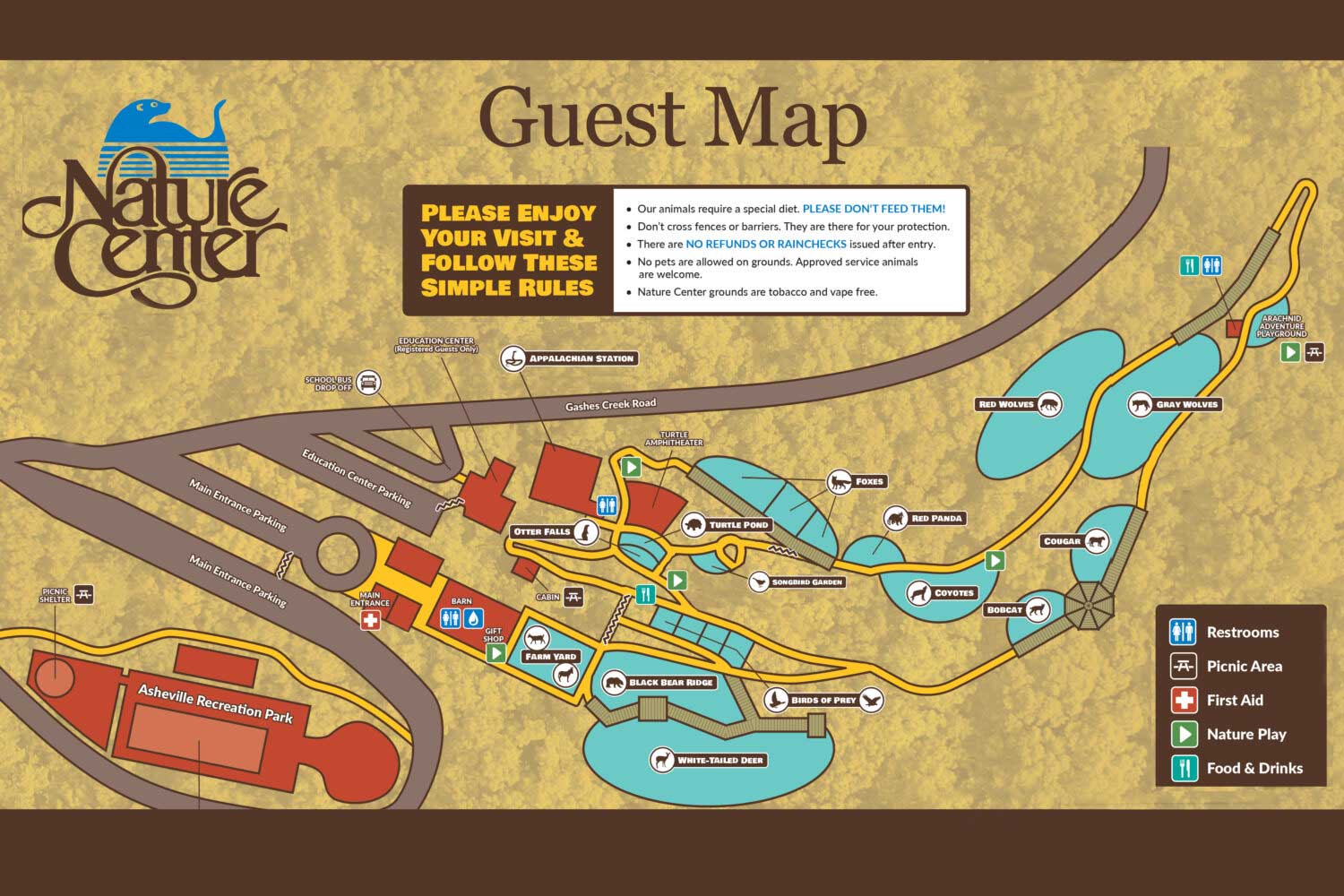 You'll notice 'Nature Play' areas around the Nature Center, like a slide at Otter Falls and an area to build a fort on the way to the foxes. These are marked by green arrows on the map above.
Take me back to the Table of Contents!
A typical visit to the WNC Nature Center
We thought it would be fun to document a typical visit to the Nature Center with our two kids to give you an idea of what it's like. Let's get to it!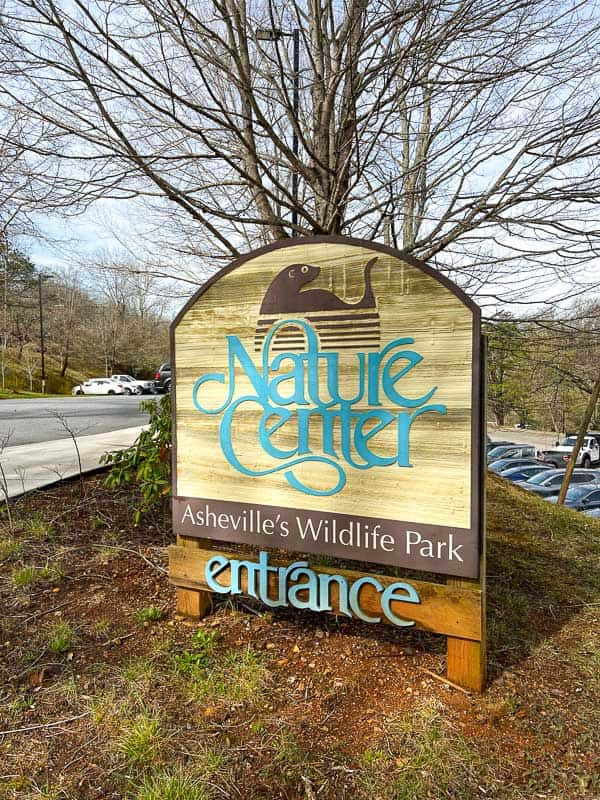 After getting through admissions, you'll pass through a big red barn first (you can go to the right side and skip it if you prefer.) I have never seen anything happening in the barn but there are several rows of seats lining one side as well as restrooms. Across from the seating are empty stalls for farm animals.
The barn does have one hidden animal underneath the seating on the right: a striped skunk. I always forget he is there but our kids are sure to stop by to see if they can sneak a peek.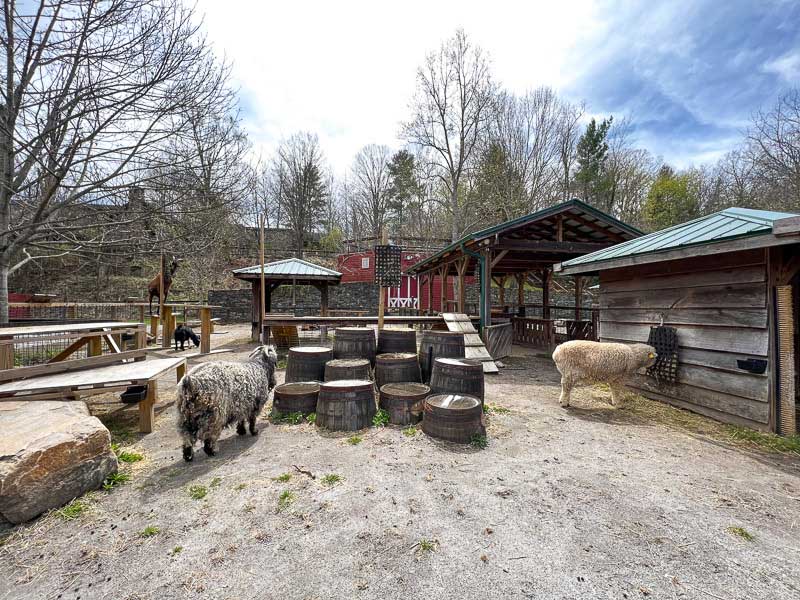 Once you exit the barn you'll see the farmyard filled with various breeds of goats, donkeys and sheep. As you make your way along the paved path you'll reach my favorite part of the nature center: Black Bear Ridge. There's a boardwalk that goes over the bear and deer habitats and it's amazing. The bears were in a smaller fenced area on this past visit but it's especially fun (and a bit nerve-wracking!) to see them out and about.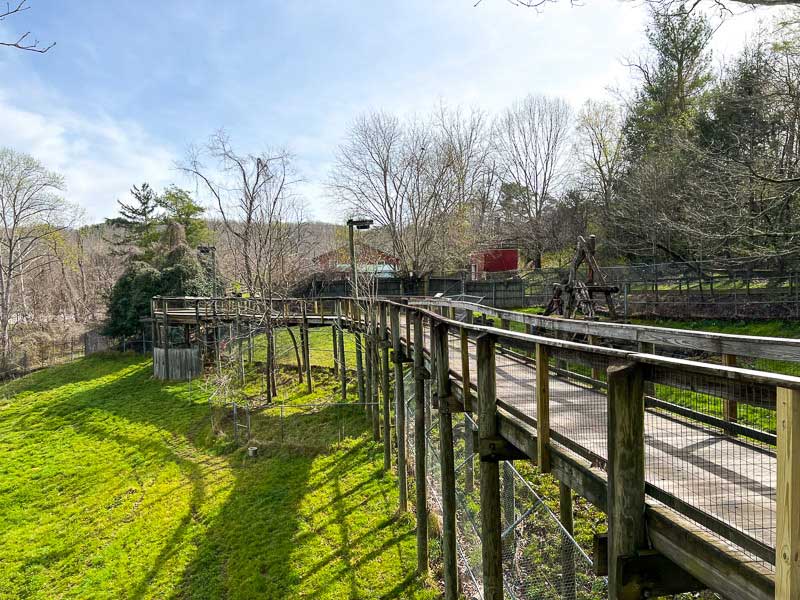 As you get through the bear and deer habitats you can choose whether you want to check out the Birds of Prey habitat and Otter Falls or if you want to go the opposite direction toward the bobcat, cougars, wolves, etc. The Nature Center forms a loop, so you can still see everything regardless of your direction of choice. We typically let the kids choose what we see first.
On our last visit we hopped over to the otters first. Both of our kids love watching the otters swim and play, and our oldest loves the fun slide by Otter Falls. The slide is a bit too big for our youngest but it's quite the hotspot for kids ages 2.5+. We spent a good 20 minutes with the otters and at the slide before moving on to turtle pond.
After the turtles we took a shortcut toward the bobcats. Because we didn't stay on the main path we ran into one area that was stairs-only. I had a stroller with me so we had to carry it up the stairs. Whoops! We decided to skip Appalachian Station this time because it was a very busy day and I knew it would be crowded inside. This is an indoor exhibit where you will find various snakes.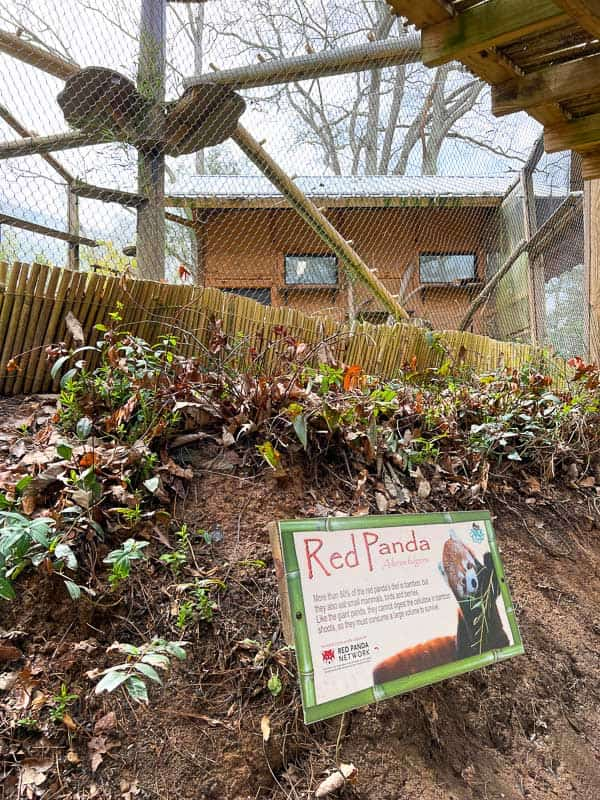 The habitats for the birds of prey, otters and turtles are pretty close to one another. However, the other animals (bobcat, cougar, gray + red wolves, coyotes, red panda and foxes) are kind of spread out. It was pretty warm out during this visit so we didn't spot too many animals. The grey wolves were out and we spotted a red panda hiding in a corner (pictured above), but most of the other animals remained hidden. Nonetheless, we enjoyed seeing their habitats!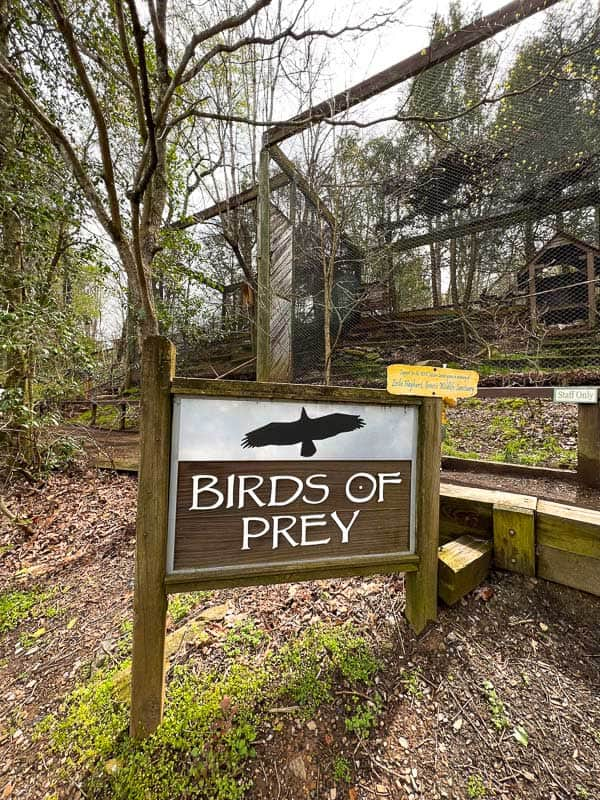 On our way out we stopped by the birds of prey habitat, home to a barn owl, great horned owl, red-tailed hawk and turkey vulture. The owls were tucked away inside their little huts but the other birds were sitting out for viewing.
Our oldest has been really into birds lately so it was a fun way to end our day at the nature center. We passed by the farmyard one more time before heading out.
As always, we had such a fun time at the nature center! We highly recommend it to animal and nature lovers, both local to Asheville and just passing through.
Take me back to the Table of Contents!
Frequently Asked Questions about the WNC Nature Center
Is the WNC Nature Center stroller-friendly?
Yes, the WNC Nature Center is stroller-friendly. However, keep an eye on the map! There are some shortcuts that are stairs-only. The two areas that come to mind that are stairs-only are by the foxes and by the farm yard. If you stay on the main path you will be fine with a stroller, though!
How much is the WNC Nature Center admission?
Admission cost for the WNC Nature Center ranges from $9.95 to $13.95. The admission cost varies depending on your age and whether you are buying a day pass or an annual membership. You can also get a discount if you live in the City of Asheville. Read more here about admission and refer to the WNC Nature Center's website for the most up-to-date admission costs.
Is the WNC Nature Center free?
No, the WNC Nature Center is not free. The only exception is if you reside in Buncombe County and get a free ZOOM Pass through the Buncombe County Library. You can get free admission to the WNC Nature Center every 30 days using a ZOOM Pass. Read more here.
Are service animals allowed at the WNC Nature Center?
Yes, service animals are allowed at the WNC Nature Center.