A Guide To Asheville Coffee Shops WIth Food
Craving both great coffee and delicious food? We are too! While pretty much every coffee shop in Asheville has something to eat (namely, pastries), there are a few coffee shops where the food menu really shines.
This guide will help you explore Asheville's coffee scene with a spotlight on food.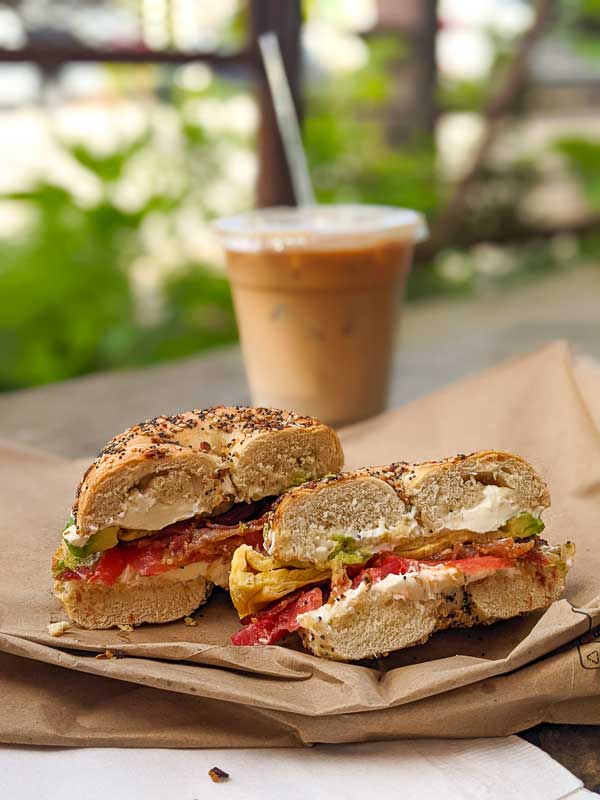 The coffee shops in this article not only have great local roasts and beautiful lattes, but they also have fantastic food menus. Whether it's an epic breakfast sandwich (looking at you, Ultra & Tiger Bay/BattleCat), a perfect pancake (cough: Liberty) or a delicious vegan breakfast empanada (Gallivant!), you'll be happy to know you can find it in Asheville.
Enjoy the best of both worlds at Asheville's coffee shops. From hearty breakfasts to delectable pastries, find your perfect combination of food and coffee.
Bookmark These Asheville Coffee Shop Articles
​WHere to Find Awesome Food at a Coffee Shop in Asheville
Before we jump to the list of Asheville coffee shops with a great food menu, let's first check out a map!
Asheville Coffee Shops WIth Awesome FOod
Even though The Rhu is in the heart of downtown Asheville, it still has an off-the-beaten-path feel. They have a great breakfast and lunch menu as well as an excellent pastry selection. I love their ham & jam biscuit combo for breakfast.
It's a great place to work remotely because they have a ton of seating upstairs with a lot of outlets. It's kind of hidden but you'll see a door to the left when you walk in right before the counter. There are stairs through the door.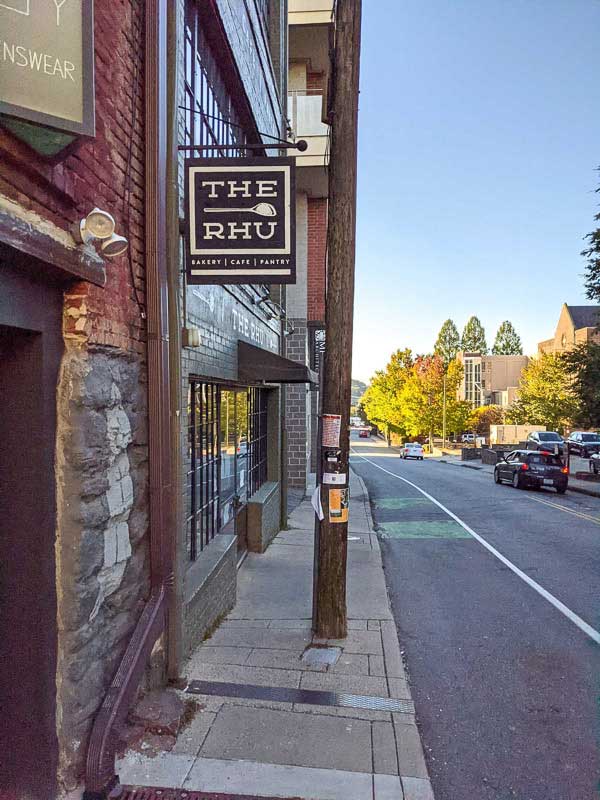 If I need to get some work done, I head upstairs. If I want to people-watch, I grab a seat at the window downstairs.
The Rhu actually supplies a lot of the other local coffee shops with pastries. I know Rowan Coffee and Trade and Lore (two of my favorites!) do this. Both coffee shops are downtown and are charming spots. Rowan roasts their own beans and Trade + Lore has local Cooperative Coffee. If you go, try a brownie!
This one is a bit different than the others on this list because it's actually two different places. But they are in the same house in West Asheville so it counts as one spot to me.
You'll find delicious coffee options at BattleCat and wildly good food in the back at Tiger Bay Cafe. I especially love their Everything Breakfast Bagel with cream cheese, tomato, avocado, scrambled egg, and fresh cracked pepper. Somehow the addition of pepper just puts it over the top. The breakfast panini is also great as well as the breakfast burrito.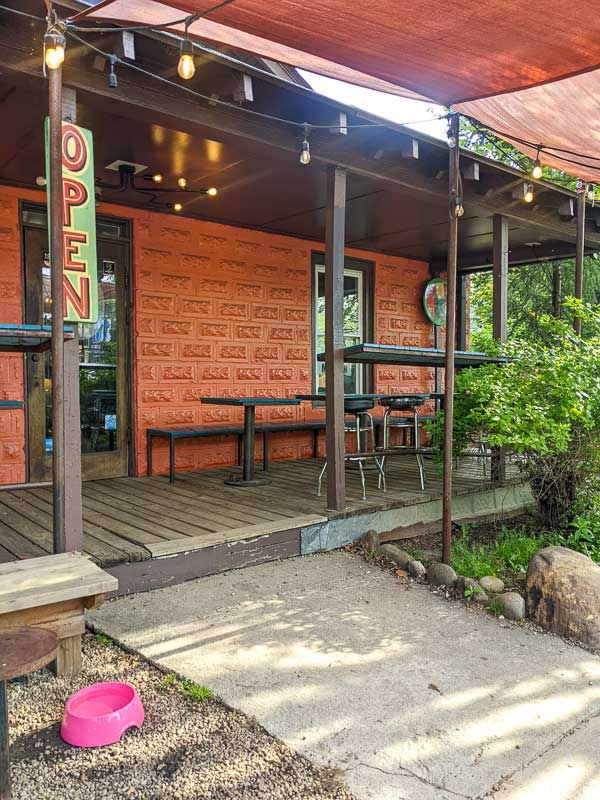 The other thing I love about Tiger Bay is that they have perfected online ordering. I typically order food before I arrive and then get a coffee on the way in. By the time I have my coffee, my Tiger Bay food is always ready. It's packed to-go, so it's easy to grab and go if needed.
Ultra Coffeebar in River Arts District truly has some of the best breakfast and lunch sandwiches in town. Their bagels are fresh, their combinations are unique and they even have a few vegan breakfast options. Also, their coffee options are excellent!
As far as what to order, I love their sunrise breakfast sandwich. It comes with egg, garlic herb cream cheese, tomato, pickled onion and spinach on a multigrain bagel. It's perfect. Ultra also has a great pastry selection.
I like Ultra any time, but especially when it's nice out and I can snag a table out front. Inside doesn't have super cozy coffee shop vibes, but there is a ton of seating and plugs available.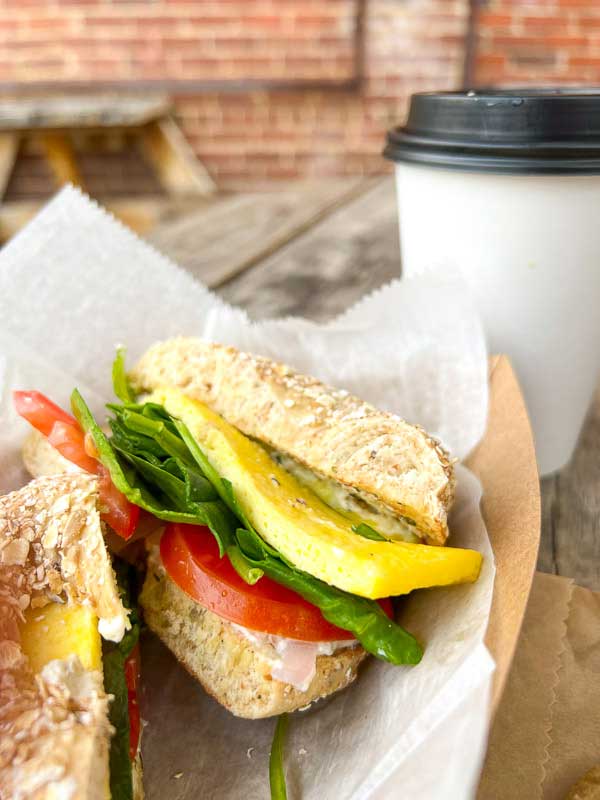 Liberty is always one of my top recommendations in Asheville. You can't beat their garden seating, local coffee options and delicious food. Their sourdough pancake with blueberries is top-notch, as well as their avocado toast on sourdough, the BLT, and any of their fresh pastries.
Breakfast and lunch are available all day and they have a few brunch specials on the weekend.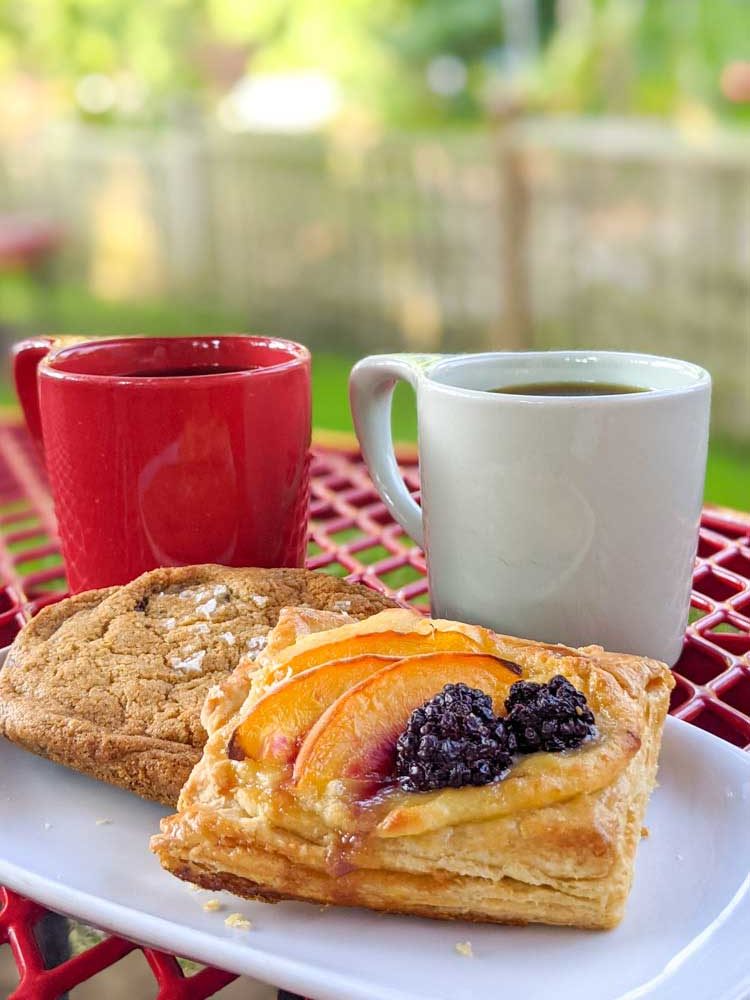 Now, even though it's a 'coffee house', don't plan to make Liberty your go-to spot to work remotely all day. Their breakfast/brunch service is too popular for people to stay. In fact, Liberty doesn't have a WiFi option to prevent this from happening. Now if there are a ton of empty tables and service is slow…
Session Cafe is such a cool spot! It's definitely one of the most interesting places in all of Asheville. Not only will you find a great little cafe with coffee and a ton of seating, but they also have a bar, a plant shop, a print shop and even a working record press.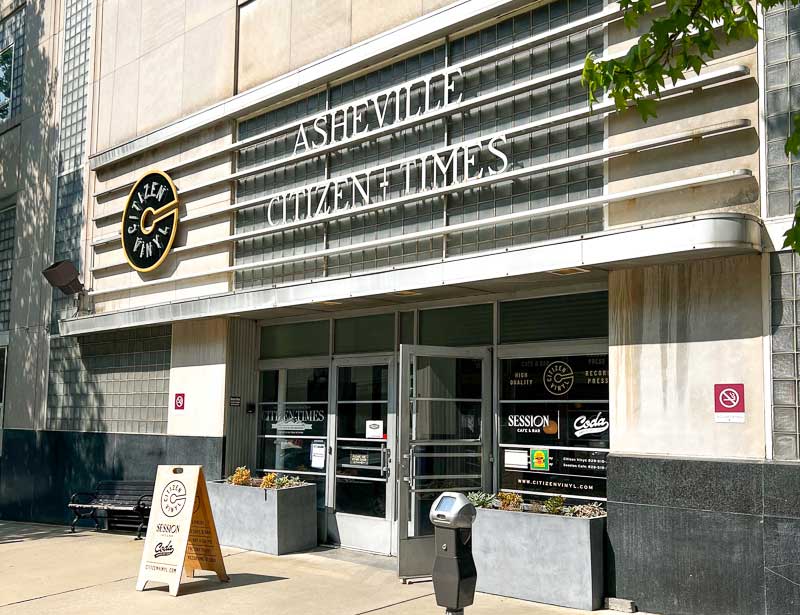 Let's focus on the food and coffee at Session! They offer breakfast all day with an egg scramble, breakfast sandwich, a granola bowl and a grain bowl. And for lunch– their egg salad sandwich is 10/10 amazing. As far as coffee goes, try a flavored latte! Choose from lavender honey, almond cinnamon, rosemary brown sugar, vanilla sorghum or caramel.
Their seating options are also excellent. Inside you'll find a great space with modern furnishings. They have additional seating upstairs if you find yourself getting too distracted by all the fun downstairs. And then outside you can watch the Gray Line Trolley drive by and people-watch your heart out.
This may be a bit unexpected on this list of coffee shops with food in Asheville, but gosh Gallivant is great!
They have delicious coffee drinks (especially their Nitro!) and their food is amazing, whether it's their breakfast empanada or their cinnamon roll. What's even more noteworthy is that Gallivant is entirely plant-based.
Gallivant is located in Woodfin, NC. It's only about 10 minutes from downtown Asheville. One thing to note is that they only have a few tables (~2 inside and 2 outside), so you may have a hard time snagging one.
---
And that wraps up our list of coffee shops with awesome food in Asheville. If you want more coffee shop ideas, check out our guide to coffee shops with great outdoor seating. We also have a mega guide to Asheville's coffee scene that is broken out by neighborhood.