This post is a part of our Asheville Locals Love series, where we chat with AVL locals about their favorite things to eat, see and do in our favorite city.
Let's meet Logan the Asheville baker lady!!
If you have been lucky enough to find yourself at Liberty House Cafe then you are already familiar with Logan Pollard's exceptional baked goods! And if you haven't been to Liberty yet, add it to your must-do list! It's our absolute favorite spot in town. You can't beat the outdoor seating and amazing food (including all of Logan's sweets and treats, of course!)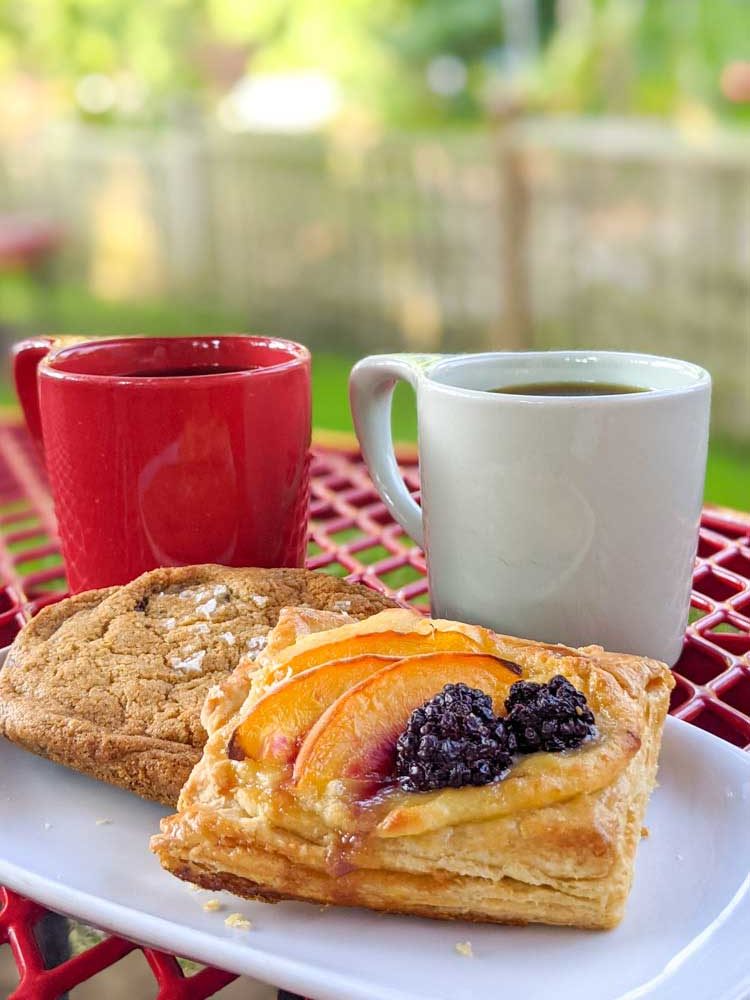 What I love about Liberty House is that their pastry case is ever-changing. You'll find hand pies, muffins, scones, cookies, macaroons, sablès… the list goes on and on thanks to Logan. If you can dream it, she has made it! It's especially great when the garden is in bloom and the pastry case reflects this.
Mixed in amongst a sea of beautiful baked goods, Logan shows off her sweet pup Clementine and fun hikes on her Instagram. Speaking of… our previous Asheville Locals Love guest also has a cute dog and likes to hike. Perhaps dogs and hikes will be a requirement for all Locals Love guests moving forward…
Anyway, I hope you enjoy meeting Logan and getting a few local Asheville recommendations!
About the Asheville Locals Love Series
Our Asheville Locals Love series was born out of our passion for supporting all things local. We love sharing the best insider information on where to eat and what to do in Asheville. It has been such a fun way for me (and you!) to 'meet' Asheville locals and get their insider take on life in this awesome city.
If you'd like to be featured on Asheville Locals Love or have a recommendation, reach out!
---
Asheville Locals Love
Featuring Logan Pollard of Liberty House Cafe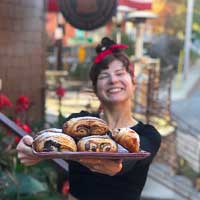 My name's Logan! I've been baking in Asheville for about 7 years now, by way of Charleston and Vermont for a bit. I've hit my sweet spot at Liberty House Cafe, where I can climb the fig tree and cherry tree to pick fruit for pastries, fill the bakery case every morning, and interact with customers. I'm living my 17-year old culinary school student dream!!
Go-to place for a quick lunch: I love Chai Pani (for a chicken tikka wrap, okra fries, and a mango lassi!) and Gypsy queen! Their beet Schwarma wrap and falafel is my dream lunch!
Go-to coffee order + shop in Asheville: I'm spoiled by getting to drink coffee at Liberty House every day! My go-to lately has been an iced oat milk latte with honey and cinnamon. I also love a Cubanito, the sea salt makes it!
Go-to takeout restaurant in Asheville: Siam Thai, or Asian Wok are my favorite places to pick up food. Wild Ginger is so good and comforting during the winter months!
Favorite local shop in Asheville: Reciprocity is my favorite clothing store, they always have great finds! I also love Garden Party for fun gifts or little treats!
Favorite hike around Asheville: My dog Clementine and I love Bearwallow and Catawba Falls. Not too far from town, pretty sights, and not too challenging!
Ideal thing to do/place to eat/etc for a date night: I love roller skating on the River Arts Greenway, and then grab Mexican food or burgers outside at El Que Pasa or Baby Bull!
Some of my friends and I are part of Dining Club, where once a month we try a different restaurant. That has been so fun and gets me out to places I wouldn't ordinarily venture to. We have a spreadsheet and everything!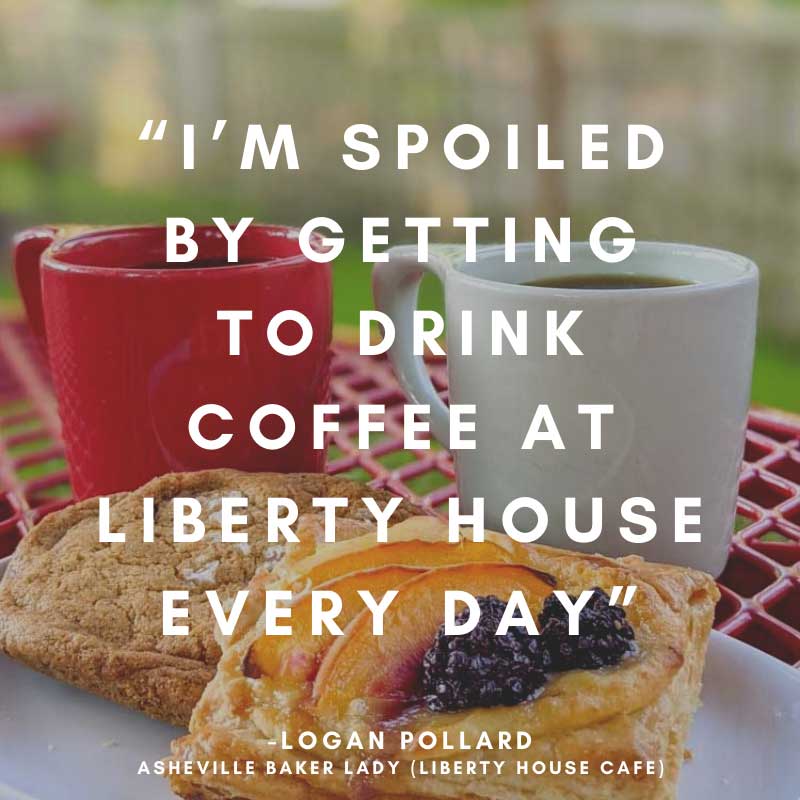 Well if that Q+A doesn't make you like Logan (or, uh, want to be in her dinner club…) Anywho, check out our Asheville Locals Love page for more interviews like this!