A guide to the kid-friendly side of the Biltmore Estate
Welcome to our guide to visiting the Biltmore Estate with kids. We have become pros at this over the years and hope this proves useful when planning your visit.
Though taking your kids to a mansion from the 1800s and crossing your fingers that they don't touch anything may seem stressful, the Biltmore Estate is actually very kid-friendly! This is especially true for the gardens and grounds. There is so much land to explore, tons of activities and even kid-friendly restaurants at the Biltmore.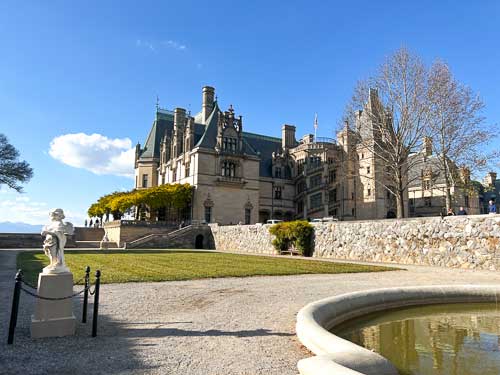 If this is your first time visiting the Biltmore, you'll want to be prepared! There is just so much to see and do that it can get overwhelming. To help you out, we have a guide to planning your perfect Biltmore visit that includes tips and advice to make the most of your time on the estate.
Now, let's chat about visiting the Biltmore with kids!
So, first off, you may be thinking is the Biltmore even kid-friendly? Speaking from experience we can give you an enthusiastic YES! Our kids absolutely love the Biltmore. We have an annual pass so we like to pop in often, whether it's a quick run around the playground (yes, there's a playground!), a stroll along the river or just to take in the sights and sounds.
What you'll find in this article
Before we dive into the details we wanted to first outline the various topics. See below and feel free to jump around! And don't miss our tips at the end for visiting the Biltmore with kids.
Admission cost to the Biltmore for kids
Great news! Kids under 9 can visit the Biltmore for FREE as long as they accompany an adult with a day pass or annual membership. This includes entry to the house assuming the adult ticket includes a tour of the house. Their free admission does not include an audio tour of the house. Guided audio tours will need to be purchased separately.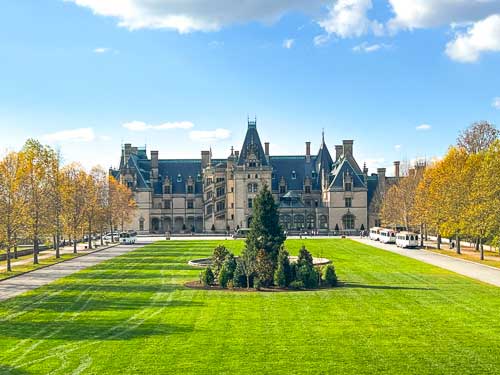 As far as how much it costs for older kids to visit the Biltmore, it depends on the season!
Youth tickets are always discounted from the regular adult price, though. As an example, Winter 2023 prices for admission are $89 for an adult and $52 for youth ages 10-16. This price includes touring the house and an audio guide. Note: if you want an audio guide for your 9 and under kids, they are $15 each.
If you were to just tour the gardens + grounds in the winter, adult tickets are $55 and youth ages 10-16 are $27.50. So, it's a little less than half off for the house tour and exactly half off for the grounds only.
One thing to keep in mind is that annual passholders receive discounts for guest tickets.
You can expect a 10% discount for your day passes if you purchase them through an annual passholder. Also, annual passholders can bring guests to the grounds for free after 5pm. This doesn't include a tour of the house, but it does provide access to explore 8,000 acres, dine at the restaurants and shop around Antler Hill Village.
---
Dining at the Biltmore with kids
There are several kid-friendly restaurants at the Biltmore. Not only are there a few ice cream shops, but there is also a food truck with mac & cheese, the to-go only Courtyard Market, a bake shop and even a restaurant in a former horse stable!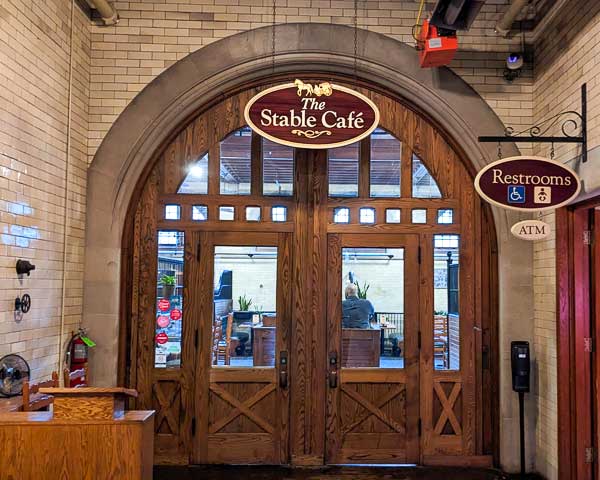 Our kids particularly love getting food from the Smokehouse food truck. We often bring our food from there to the covered picnic area by Pisgah Playground. We also enjoy bringing picnic lunches to this spot. If you want more ideas on where to picnic, check out our favorite picnic spots at the Biltmore.
As far as kids menus go, you'll find them at Cedric's Tavern, Stable Cafe, Bistro, Village Social and the Smokehouse Food Truck. Kids menus are always a good nod to us that the restaurant won't mind younger diners.
---
Touring the Biltmore House with kids
The Biltmore House is actually a really fun place for kids to tour! Not only is it Richie Rich's house (did you know that!?) but it truly looks like a castle. Our oldest loves imagining living in the house and growing up there. There are so many great and unique rooms to explore that can pique even the youngest of imaginations.
One thing to note is that there are no bathrooms inside the Biltmore House. So, plan accordingly! There are restrooms located in the dining and shopping area just to the right of the Biltmore House entrance.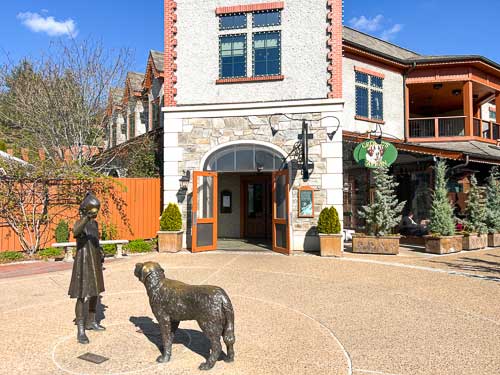 Don't miss the guided audio tour (by a dog!)
This is such a clever offering! You can opt for a kid version of a guided tour of the Biltmore House that is narrated by the Vanderbilts' Saint Bernard Cedric. It definitely makes visiting the Biltmore Estate with kids even more fun!
The 50-minute tour keeps kids entertained (and listening!) as they walk through the House. The tour is $15 per person. Additional details can be found here.
---
Explore Biltmore's gardens and grounds with kids
Admission to the Biltmore always includes access to explore their 8,000 acres. You'll find walking trails, the French Broad River, several gardens, farmland and amazing views. Below we have highlighted our favorite things to do on the grounds with our kids.
Admire the gardens
The house is located just next to the garden area which, depending on the season, can be absolutely beautiful. There are several different gardens all in the same area.
Our oldest especially enjoys the Italian Garden just next to the house. There are three different koi ponds and he could spend hours spotting the same fish over and over again.
As you continue to walk south from the house you'll pass the shrub garden, the walled garden, the rose garden and the azalea garden. Though there isn't much happening during the winter here, it's a spectacle once spring hits and Biltmore Blooms is in season. You can expect something beautiful here in the summer and fall, too.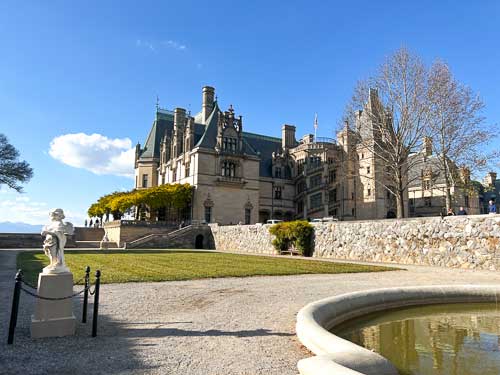 Explore their trails
There are several trails on the estate that provide access to the areas less seen. You can walk, jog or bike on the trails. And leashed dogs are allowed, too!
There's a trailhead actually just by the house. This is the Deer Park Trail and it's a 2.5-mile roundtrip trail that takes you from the house and garden area toward the bass pond. The trail then loops north again toward Antler Hill Village. The Deer Park Trail ends at the lagoon.
If you are wanting to walk to Antler Hill Village, take the 3-mile roundtrip Lagoon Trail. It meanders around the French Broad River and the estate's farmland. The trail is paved so it's great for strollers and kids on bikes. The Lagoon Trail is considered moderate whereas the Deer Park Trail is a more challenging one on the property due to the uphill nature of some of it.
Rent bikes at the Biltmore
If you are wanting to explore by bike, you can either bring your own or rent from Biltmore's Bike Barn. Choose from regular bikes, tandem bikes and E-bikes. They also have a limited number of Kids' Trail-a-Bike trailers available at the Bike Barn.
You can either explore on your own or enjoy a guided bike ride (at additional cost) that takes you along the French Broad River. It's a 3-5 mile ride and advance reservations are required.
Horseback riding and carriage rides at the Biltmore
Apart from hiking and bike riding, you can also opt for horseback riding for an additional cost. Choose from a private trail ride or a guided trail ride. Horseback riding is available for guests ages 8 and up.
If your kids are too young for horseback riding or perhaps you would like a less hands-on experience, the carriage ride may be a better fit. There is a half-hour carriage ride, a one-hour carriage ride and even a private carriage ride.
---
Kid-Friendly Activities at Biltmore's Antler Hill Village
The epicenter of kid-friendly things to do at the Biltmore is definitely Antler Hill Village.
Antler Hill Village is where you'll find the playground and farmyard, as well as a picnic shelter, food truck and ice cream shop. Kid city!! Below we have highlighted a few of our kids' favorite things to see and do in this area.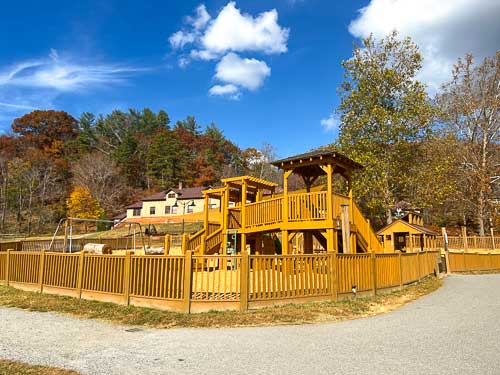 Pisgah Playground
Pisgah Playground at Antler Hill Village is the perfect place to run off energy. And bonus! It's just by the farm area and The Creamery. Enjoy fresh air (though I'll be honest, it sometimes smells like chickens…) and relax as your kids slide, swing and climb. There are also musical instruments on the playground.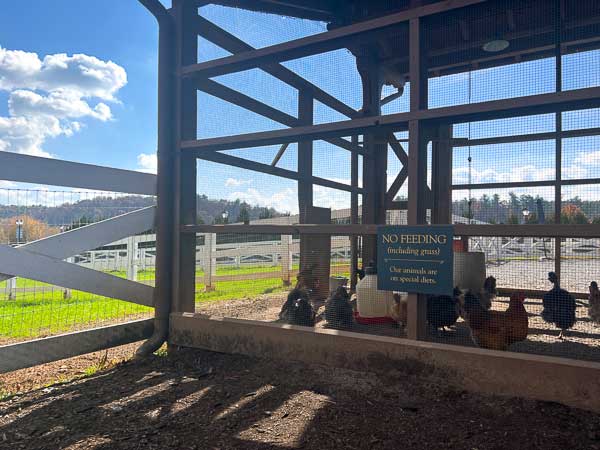 Farmyard
Did you know there is a working farm in Antler Hill Village? You'll spot everything from chickens, goats, lambs and horses. You can even watch goat milking and hoof trimming demonstrations!
The Farmyard is located just by Pisgah Playground.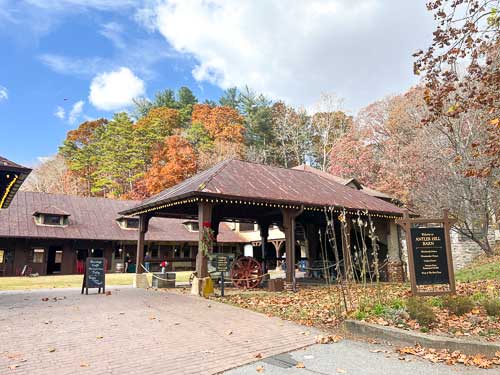 Antler Hill Barn
Step back in time at the Antler Hill Barn where you can enjoy a glimpse at life on the estate in the late 1800's. They often feature live demonstrations by blacksmiths, woodworkers and other craftspeople. Their offerings change but there is typically something going on worth watching.
You can also explore the area to see farm equipment from the past. This is a great stop if you have crafty and/or curious kids!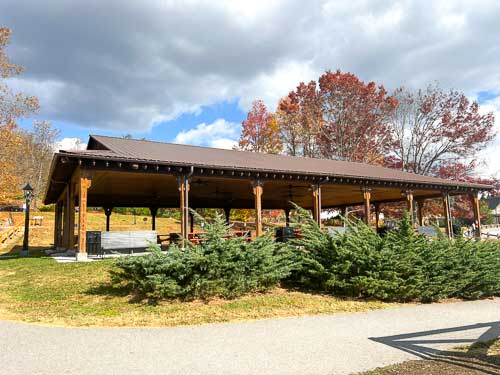 Picnic Area at Antler Hill Village
There's a covered seating area just across from the playground that makes for the perfect picnic spot. You can either bring your own food or grab something from one of the Antler Hill restaurants. It's the perfect place to rest after time at Pisgah Playground.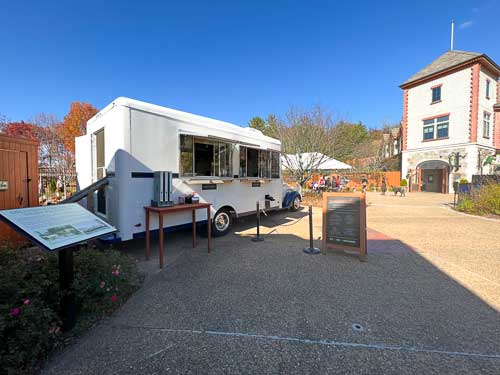 Smokehouse Food Truck
We typically grab lunch from The Smokehouse food truck located in Antler Hill Village, especially when kids are in tow! You can get everything from a plain hotdog to a Carolina BBQ platter. The mac & cheese is the star of the show, though.
Another fun dining option for kids is the Stable Cafe by the house. It was a former horse stable! But it's seated dining and your kids may not have the patience for that.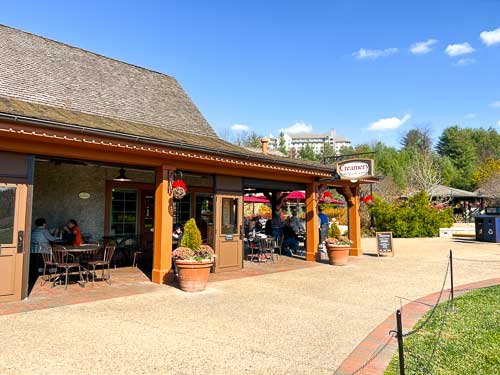 The Creamery
If your kids love ice cream, make sure to check out The Creamery. You'll find a ton of ice cream flavors, cones, sundaes and even espresso for the grownups.
The Creamery is located in Antler Hill Village (just next door to the Smokehouse food truck.) There is a limited amount of covered outdoor seating at the ice cream shop, but more scattered around Antler Hill Village. There is no seating available inside.
Check out our guide to Biltmore restaurants for more details.
---
Tips for visiting the Biltmore with kids
As we were writing this article we kept thinking of random thoughts we wanted to share to make your time at the Biltmore with kids as easy as possible. We compiled these thoughts for you below!
Consider bringing a stroller to the Biltmore
If you rely on strollers to transport your kiddos, you may want to bring one to the Biltmore. Though there are some areas where strollers can be difficult to operate, there are several paved paths around where it would be nice to have one. This is especially true for the Antler Hill Village area. It's all paved and easy to navigate. There are even ramps from Antler Hill Village to the Village Hotel.
You may have some issues navigating around the various gardens with a stroller because there are a few inclines, gravel paths and stairs. We often see people carrying them as needed, but it beats not having one in most cases!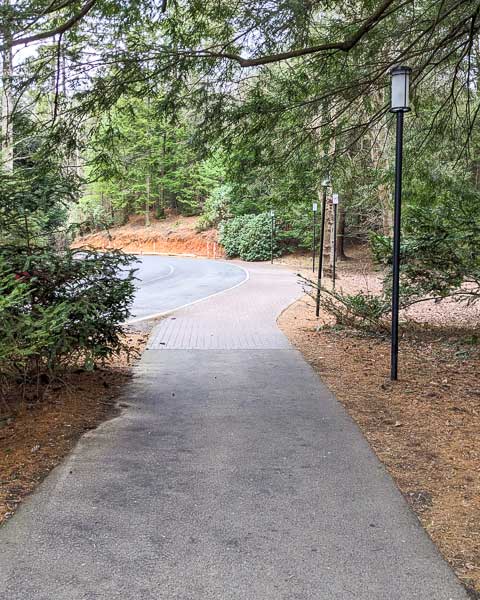 If you are touring the Biltmore House with a stroller, you'll want to keep in mind that there is only an elevator between the first and second floors. If you'd like to see the basement and the third floor, you'll need to carry your stroller up and down narrow staircases.
The Biltmore offers a video of the basement and third floor if you prefer. You'll find this on the second floor.
Depending on where you park, the walk from the parking lot to the Biltmore House can be a bit lengthy There is a shuttle available for certain parking lots. Otherwise, if you plan to walk, there are nice paved paths.
Plan to stay, meander and explore
If you are paying a hefty price to access the Biltmore, make sure to get your money's worth. This is especially true when visiting the Biltmore with kids. Take time to explore and enjoy your surroundings. We recommend 6 hours to see the various parts of the estate, though really you could explore for days without seeing it all.
Wear comfortable shoes
Speaking of exploring, make sure you are prepared for this! We recommend comfortable walking shoes so that you can keep up with your kids.
If you are local, an annual pass may be worth it
If you have room in your budget and want to really explore the ins and outs of the Biltmore, we highly recommend an annual membership if you plan to visit multiple times. What we love the most about our membership is that it takes the pressure off of needing to see everything in just one day. We can come and go as we please, we can bring guests after 5pm, and our kids are at no additional cost. And the best part is that I don't feel bad when we can only spend an hour at a time at the Biltmore.
One last thing to note is that unlike other attractions in the area, the Biltmore is not part of the ZOOM Pass program. Meaning, you can't access the Biltmore for free through this program like you can other local attractions (the Arboretum, the WNC Nature Center, Asheville Museum of Science…)
PS: Keep an eye out for Easter activities at the Biltmore
The Biltmore hosts Easter activities each year and has announced dates for their 2023 Easter. They will host Easter-themed activities on April 8 and 9, 2023 (including an Easter scavenger hunt!)
---