There is nothing quite like enjoying a meal at one of the many rooftop restaurants in Asheville. The epic combination of the city's culinary star status with exceptional views of the Blue Ridge Mountains makes for an unforgettable evening.pill
From elegant fine-dining restaurants to more casual spots, this guide highlights the various restaurants in town with scenic views and delicious fare.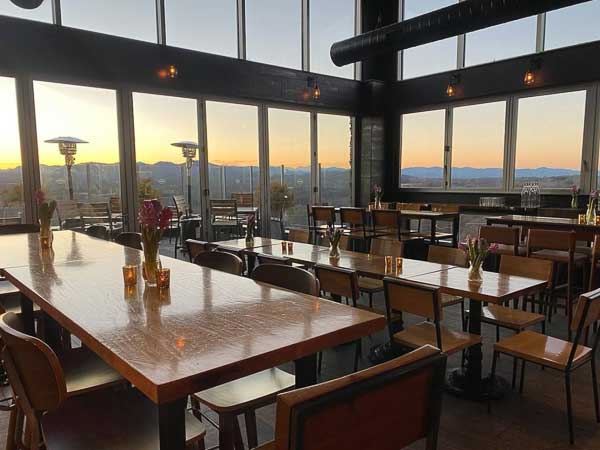 Whether you're looking for a romantic date night restaurant or a fun evening with friends, the restaurants on this list are sure to impress.
MAP OF ASHEVILLE'S Rooftop Restaurants
This guide highlights rooftop restaurants and restaurants with a view in Asheville. If you are looking specifically for rooftop bars, check out our guide to rooftop cocktail bars in Asheville.
Dinner with a View: Rooftop Restaurants In Asheville
Tapas restaurant at the top of a hotel in downtown Asheville
Capella on 9 is a tapas restaurant with amazing views of Asheville. You can either dine outside at their rooftop area complete with firepits or enjoy the view from the large windows in the dining room. It's definitely one of our favorite rooftop reservations in Asheville.
Not only are the views exceptional, but the food is noteworthy, too! Capella on 9 has a tapas menu, though they also have a few entrees on the menu.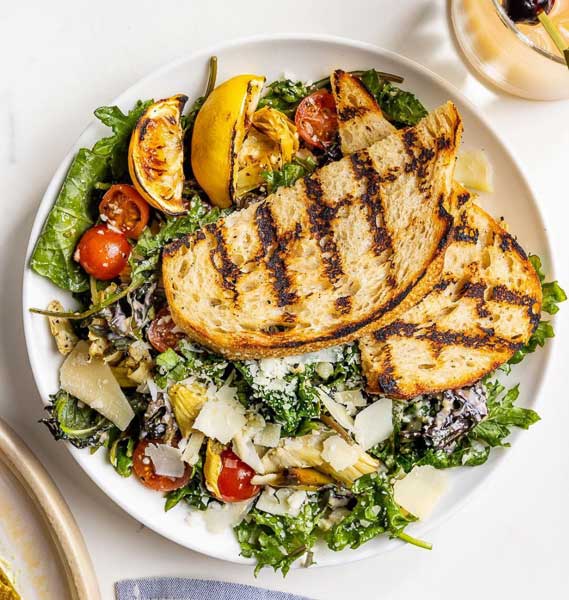 We especially love their seared scallops and the brown butter gnocchi tapas. Their cheese and charcuterie board is also a great option. Capella on 9 has a large cocktail menu, along with beer, ciders, wines and more.
One thing to note is that Capella on 9 doesn't take reservations, so you can't guarantee a spot on their rooftop deck. This may be a dealbreaker if you are trying to plan in advance.
Capella on 9 is located at the top of the AC Hotel and has a dedicated parking garage. Apart from dinner and cocktail service, they also offer a daily rooftop breakfast.
Authentic Cuban cuisine with panoramic views of the Blue Ridge Parkway
Hemingway's Cuba is top of mind when we think about restaurants with a view in Asheville. Their rooftop restaurant is on the fourth floor of the Cambria Hotel and offers sweeping mountain views from a 4,000-square-foot outdoor terrace.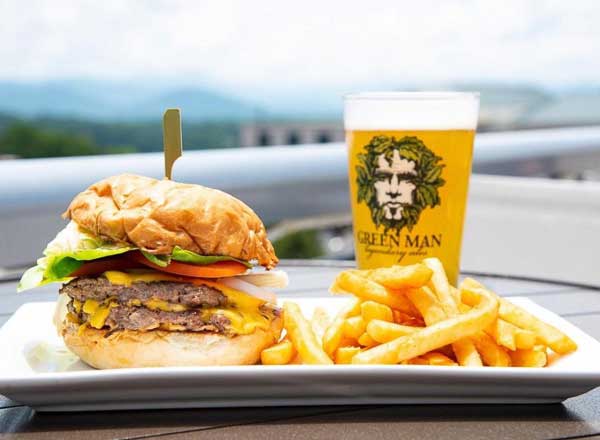 Their menu features authentic Cuban cuisine, like Ropa Vieja (slow-braised beef stew), guava salad, camarones con coco (sauteed shrimp in a coconut cream sauce) and arroz con Pollo. They also have their famous Pilar's Double Burger topped with thousand island dressing and served with fries.
You can make reservations for Hemingway's Cuba online. However, outdoor seating is not guaranteed. If you want to sit outside, be sure to request it in the notes section when making your reservation. Again, not guaranteed!
It's a great place to watch the sunset while enjoying a fantastic dinner. They also offer a daily breakfast and brunch.
Upscale dining with panoramic views of the Blue Ridge Mountains
Sunset Terrace, located at the Omni Grove Park Inn, one of Asheville's most distinctive hotels, provides a panoramic view of the Blue Ridge Mountains. You'll love their outdoor terrace, the locally-driven menu and the excellent service.
The dinner menu at Sunset Terrance includes perfectly cooked steaks and fresh seafood, as well as vegetarian options like a no 'meat' loaf and vegetarian scallops. It's a fine dining restaurant and recommends resort casual attire.
Reservations at Sunset Terrace are recommended.
Italian fare with views of downtown Asheville
Strada is an excellent Italian restaurant in downtown Asheville with a rooftop dining area. Their menu includes hand-tossed pizza, traditional entrees like chicken parmesan and chicken marsala, decadent pasta dishes and several great dessert options. We especially love their NY cheesecake topped with berries!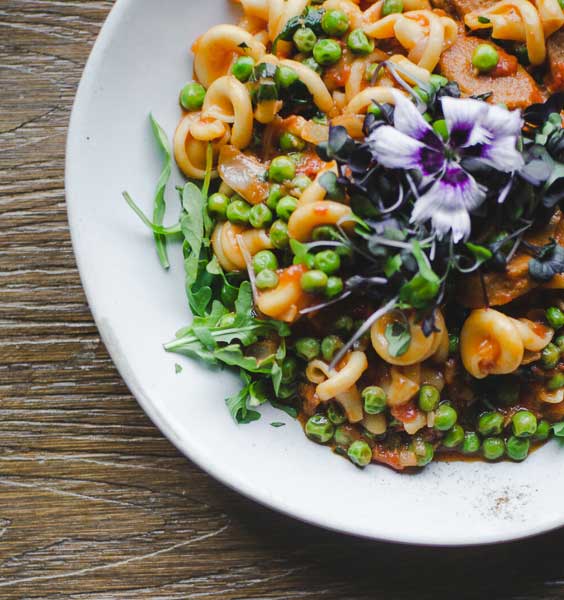 You'll want to make reservations for Strada's rooftop dining area in advance. You'll see when making the reservation that you can choose from the main dining area, the cocktail lounge (Social Lounge) or the rooftop.
One thing to note is that they do not have an elevator, so you'll need to walk up a few flights of stairs to get to the rooftop patio.
5. The Observatory Rooftop Bar & Lounge
Light bites at a stunning rooftop spot downtown
We debated putting The Observatory on our list of rooftop restaurants because their food menu is somewhat limited, but it's just too good of a place not to share!
The Observatory is Asheville's newest rooftop bar and it's one of the prettiest spots in town. It's located at the top of an equally gorgeous boutique hotel downtown: Restoration Hotel. And trust us, it's a great addition to the rooftop restaurants in Asheville scene.
You'll find a small menu of 'light bites' including charcuterie, a cheese board, hummus and deviled eggs. They also have a few sweet treats (try the chocolate birthday cake!) and a botanical-inspired drink menu.
The views are breathtaking and the ambiance is unmatched. It's the perfect place for a romantic evening under the stars or a fun night out with friends. We especially recommend it for a girls' trip to Asheville!
To get to The Observatory, take the elevator located just through the lobby of the Restoration Hotel up to the 6th floor. Restoration Hotel also has an on-site restaurant, The Exchange, and a basement bar with a small bowling alley, The Draftsman.
Rooftop with a fire pit and seasonal drinks
Pillar Rooftop Bar is a bar and restaurant located at the top of the Hilton Garden Inn in downtown Asheville. Their menu includes bar-style food, like burgers, chicken wings and even duck fat tater tots. They also have a large cocktail menu that changes with the season.
This past summer they had tiki drinks and in the fall everything from a rum-based pumpkin cocktail to a candy corn shot. After Thanksgiving you can stop by for their holiday-themed Rudolph's Rooftop pop-up.
It's a kid-friendly rooftop restaurant with a variety of seating options, from tabletops to lounge chairs to couches. A garage door opens to the rooftop area with additional seating. The most coveted spot on the rooftop is by the fire pit. It's the perfect place to warm up on a cooler Blue Ridge Mountain evening.
6. Archetype Brewing and Kitchen
South Slope brewery with a rooftop and great pizza
Archetype Brewing opened in South Slope in the summer of 2023 and filled the hole left in our hearts by the closing of Harvest Pizzeria.
Not only can you enjoy Archetype's delicious brews here, but they have some of the best pizza in town, as well as a smash burger, salads and other small bites. Try the Bavarian pretzel!
Seating is available downstairs with roll-up doors, on the second floor or upstairs at the partially covered rooftop patio. Enjoy views of South Slope rarely seen!
Archetype in South Slope also has curated cocktail and wine offerings.
7. The Montford Rooftop Bar
Blue Ridge Mountain views and small plates + charcuterie
The rooftop patio at The Montford in downtown Asheville offers an incredible view of the Blue Ridge Mountains. It's a great place to watch a sunset and enjoy drinks and a meal.
Though you won't find large entrees here, they definitely have enough to qualify as a restaurant in our book. Choose from shared plates like truffle fries, collard green dip and Joyce Farm chicken wings, as well as a great cheese & charcuterie menu. They also have options for dessert, including local favorite Sunshine Sammies ice cream sandwiches.
Their drink menu features signature cocktails, wine and local craft beer, as well as Penny Cup cold brew, coffee and Shanti Elixer.
The Montford is located at the top of the DoubleTree Hotel and offers complimentary valet and an elevator.
Please note: The Montford does not accept reservations and does not accommodate parties of size or more.
8. The Dining Room at the Biltmore Estate
Four Star restaurant with views of the Biltmore Estate
Please note: Only overnight guests (year-round) and annual pass holders + day passes (Jan-Oct only) have the privilege to dine at The Dining Room.
Did you know that The Inn on Biltmore Estate offers not only luxurious accommodations but also one of the fanciest dining experiences in Asheville? The Dining Room, located within the Inn, features white tablecloths, fine china, sparkling crystal, and unmatched service.
You may be wondering why The Dining Room is included in our guide to restaurants in Asheville with a view. The answer is simple: the windows in this elegant dining room offer stunning views of the Biltmore Estate. While you can't dine outdoors here, you can still enjoy amazing views of the sprawling grounds from inside.
The menu at The Dining Room features seafood, handmade pasta, and seasonal meat options such as sage-crusted lamb rack and perfectly seared duck breast. We recommend the she-crab soup, carmelized scallops and the filet mignon, though we are certain every dish is divine.
In addition to dinner, The Dining Room offers a breakfast and brunch buffet. For dinner, resort elegant attire is required, while resort casual is recommended for breakfast.
Be sure to make reservations in advance. All reservations for November 1 through January 7 can only be made by calling (828) 225-1699.
See also: Where To Eat On The Biltmore Estate
---
That wraps up our list of the best rooftop restaurants in Asheville. If you looking for additional fun things to do, consider a tour of a brewery or maybe take a look at our list of the best craft breweries around.