Burial Beer's brewery in South Slope is a definite recommendation from us for both locals and visitors alike. They have a unique and extensive beer menu, wine, amazing food, a laid-back atmosphere and some of the best outdoor seating in Asheville.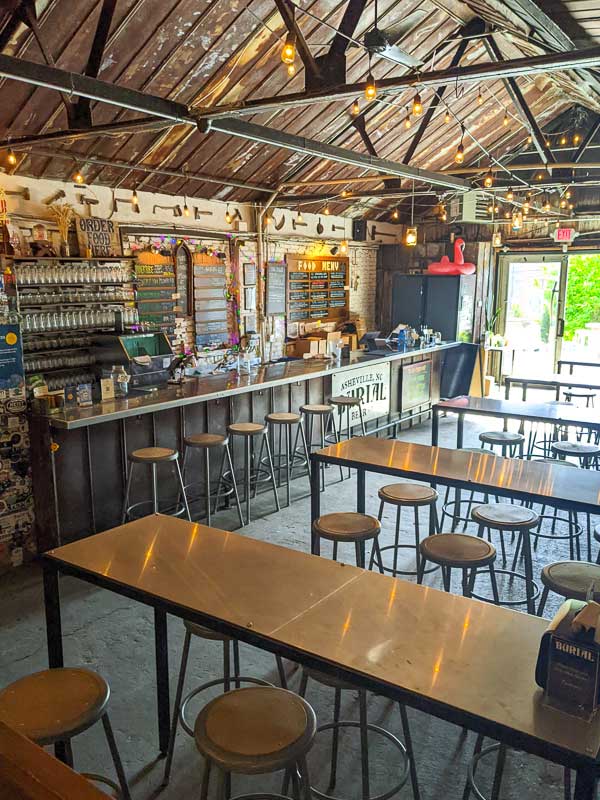 Burial is definitely one of our favorite breweries in Asheville for kids. It's also one of our favorite breweries in Asheville *without* kids! This article breaks down everything we love about Burial and we hope you find it useful! First up: a table of contents!
Table of Contents
Seating (a beer garden with hollowed-out cars!)
I think what makes Burial's South Slope spot so great is their extensive seating. First off– and my favorite– is their awesome beer garden-style outdoor seating.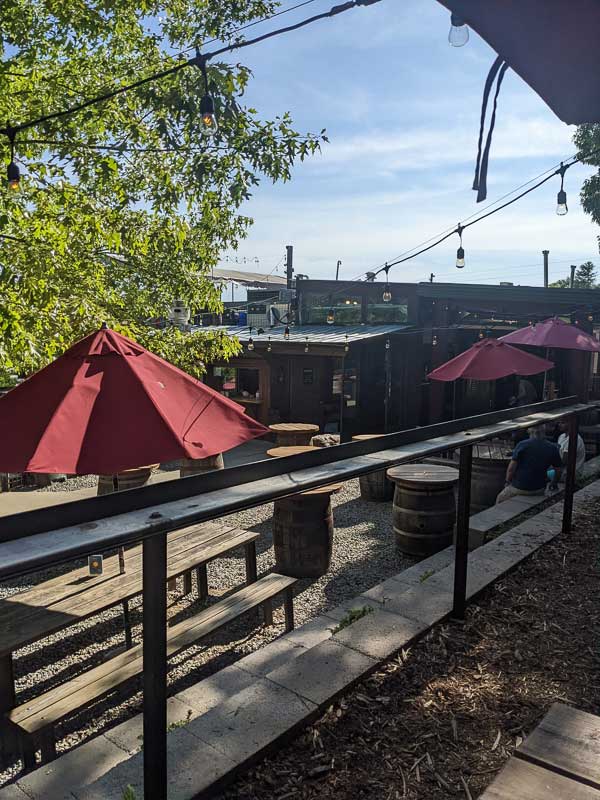 Burial has a ton of picnic tables scattered about outside, umbrellas, covered sections, lots of trees for shade and there are even old cars you can sit in. Now, every time we have gone we mostly just see kids exploring these gutted cars, though I'm sure they are enjoyed by adults too. Oh, and the famous Tom Sellock + Sloth mural is outside (you can see it in the background above!) There's a dedicated smoking section out back, too.
Inside you'll find a cool taproom ("The Crypt") with a ton of seating at the bar and in front of it. It's great in the winter or on rainy days when being outside isn't an option. And there's a rooftop section, too! As far as ordering goes, grab a table and order at the bar. Easy!
Parking at Burial Beer
Burial is located in the center of South Slope so there are a few different areas you can park. There is free street parking available and also a few paid parking lots around. We mention this in our guide to South Slope, but parking in South Slope can be a bit tricky at busy times.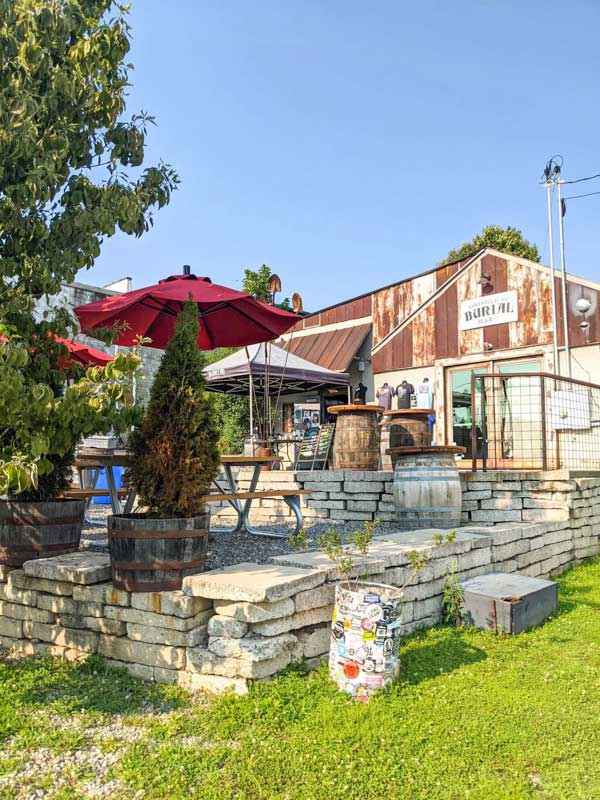 As far as Burial goes, you can enter their property at the front on Collier Ave or in the back on Millard Ave. We like parking behind and entering on Millard. On our last visit, we parked across from Green Man in a lot on S Lexington Ave (226 S Lexington ) and walked over. There are also parking lots next to and across from Vortex Doughnuts as well as one on Coxe Ave next to Chemist Spirits.
If you enter from the front, you will be surprised at what awaits you once you get past the building. We love bringing our out-of-town visitors there because it's such an unexpected outdoor oasis in the middle of South Slope.
Burial's Beer and Wine Menu
Burial's beer menu is extensive and includes lagers, pale ales, lots of IPAs (my husband's favorite), sours (my favorite), farmhouse ales, stouts, porters….. see… extensive! My drink of choice this past visit was their Since We All Return To Dirt sour. It was so sour but in a really good way! My husband got their Until There Is No Longer IPA and my mom had their Because There Will Always Be Something More IPA. All were great!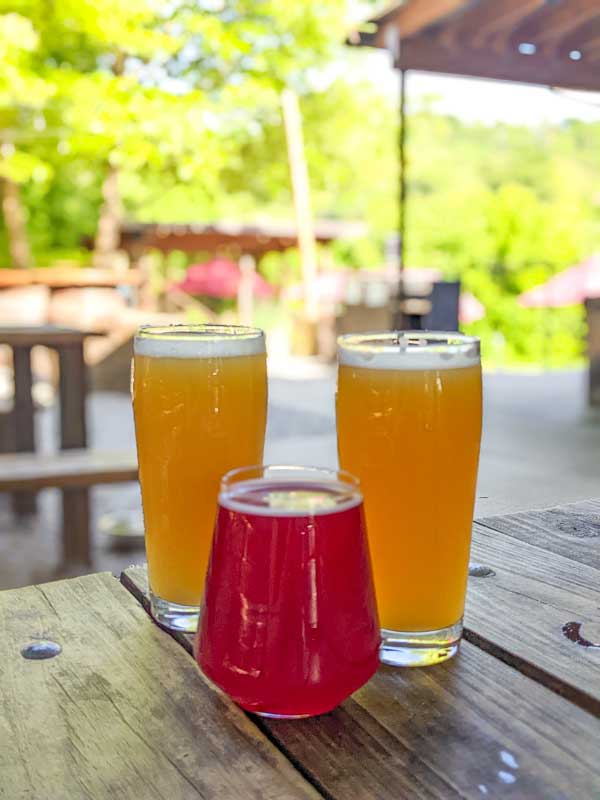 They keep their website updated with their current beer menu, so make sure to check there to see what they are pouring. Burial's outdoor bar currently has a larger selection than the indoor part. Just an FYI if you notice the indoor one doesn't have as many options!
Burial doesn't offer beer flights but they do have smaller 4-ounce pours available starting at $2 up to $5 depending on beer type. They also have pitchers starting at $18 if you know what you like! Burial offers one full pour or two smaller pours per transaction. And psst: cards only!
You can also buy cans and bottles of beer to take home. Their packaging is awesome and their beer makes a great gift or souvenir. Oh, and merchandise! Don't forget a shirt!
Burial's wine, spritz and non-alcoholic menu
Burial has a few wine options from VISUALS winery, including Chardonnay, Rosé, Sauvignon Blanc and various reds. You can also get iced beverages made with VISUALS products, like a Vermouth Spritz (VISUALS sweet or dry vermouth, bubbly water, bitters, orange garnish.)
Their non-alcoholic menu includes Devil's Foot sparkling lemonade (a favorite for kids), DRAM CBD adaptogenic water, sparkling water and craft NA beers.
Burial has a full kitchen and a great food menu
Burial is one of the few South Slope breweries with a full kitchen. Just order at the bar and they'll text when it's ready to pick up at the service window. The menu has something for everyone and we always end up ordering at least one cheeseburger. You'll notice two fish and chips dinners in these pictures, though, because we all wanted some! It's not always on the menu, but you can check their website for the most up-to-date food menu.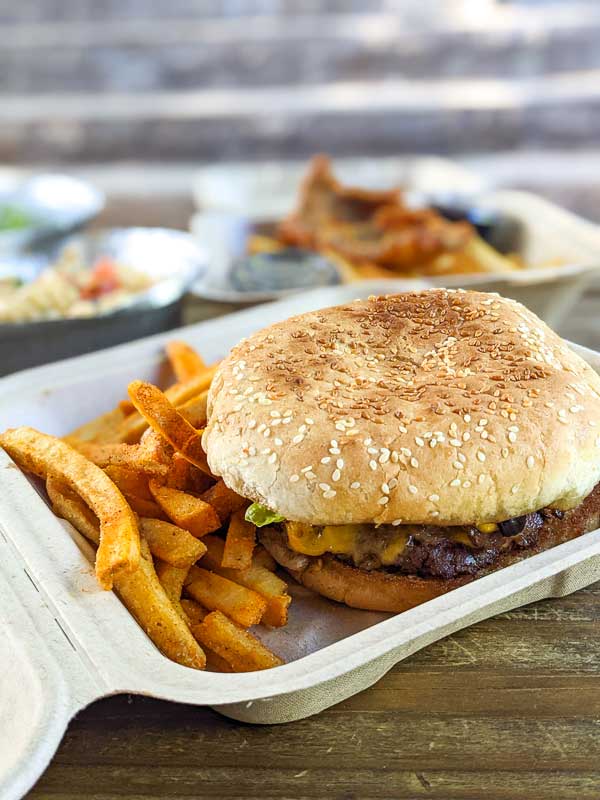 We also got a side pasta salad (tomatoes, olives, etc.) and an early salad (Mixed greens, strawberries, english peas, cucumbers, granny smith apples with black sesame vinaigrette.) Both were really good!! The early salad was extremely good– there was a bit of pepper on it that gave it a kick. Our kids were surprised by the spicy apples!!
The pasta salad was so good that I mentioned we should pop by weekly just to grab some! Everything is packed up to go when you get it, so it was easy to bring leftovers home. We had the pasta salad again the next day and it was just as good. Burial may be my new go-to pasta salad place in Asheville!
You can also grab brunch at Burial! Their brunch menu includes buttermilk pancakes, avocado toast and a bacon, egg and cheese on sourdough.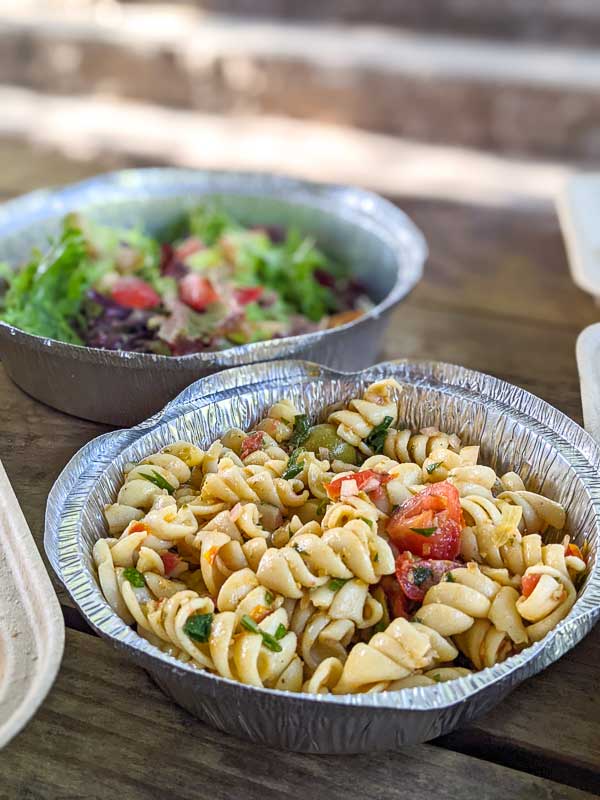 They switch to a late-night menu from 8 to 10 that's a bit smaller than the regular one. It still includes a ton of favorites like their cheeseburger and pulled pork sandwich, though. I can also confirm that their bacon, egg and cheese is also a pretty great choice at 9pm.
The family-friendly vibe at Burial Beer Brewery
I wanted to include this because knowing whether somewhere is family-friendly is important to us as a family with two young kids. I really don't like taking our kids somewhere unless I know they are welcome. Not just tolerated, but actually welcome! One thing I love about Burial is that on their website in the FAQ's their answer is "Yep!" to the question "Is Burial kid/family-friendly?" Quick, casual, to-the-point 'yep', kids are welcome at Burial.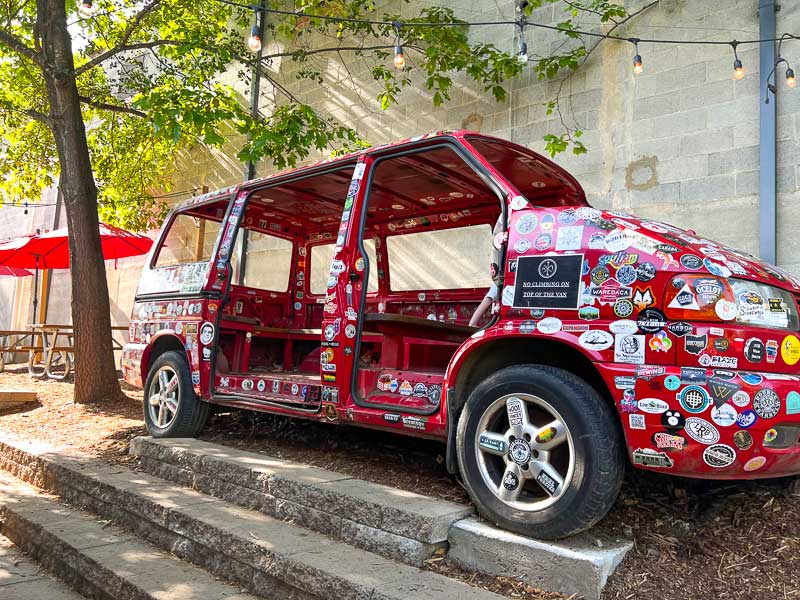 And it's true– there are always a ton of families at Burial with kids of all ages. The hollowed-out cars placed around certainly provide entertainment for them. The food menu is extensive enough that our kids are always happy to eat there. This past time they were all about the fish and chips! Sometimes we find that breweries with food trucks don't have something for the kids (or if they do it can be really messy!), but I don't worry about that Burial since they have a full kitchen.
The picnic tables are also a bonus. We brought this table chair with us last time for our youngest and it works perfectly with their tables. We use a chair like this at home and keep one in the car at all times. It's awesome!
One last reason Burial is one of our go-to breweries with kids in Asheville is that the atmosphere is so laid back. Our kids are…. kids…. so sometimes they can be a little bit noisy. But there's so much going on and the tables are spread out enough that I never feel like we were bothering anyone. It's a very welcoming and family-friendly atmosphere which is necessary for me to feel okay bringing kids.
One last note
We always joke that we don't know why anyone would go anywhere else after stopping at Burial in South Slope. Though it's fun to brewery-hop and grab dinner at one of South Slope's great restaurants, it's also fun to just kick back and hang. They have great beer, awesome food and perfect outdoor seating. Why leave!?
So, are you ready to visit their South Slope brewery location? Good! I do want to remind our readers that we aren't sponsored. The thoughts in this post are our own and we will only post about places we love. We hope our blog is more useful to you in that way– you can rest assured that you'll find the best of the best in Asheville!