Liberty House Coffee and Cafe is featured on our Best Coffee Shops in Asheville List! Check it out to get all of the info on our favorite coffee shops and where to get the best coffee in Asheville!
The stuff you need to know about Liberty House Cafe
Liberty's sourdough pancake is to die for
They serve up seasonal espresso drinks (think real pumpkin in your PSL, rosemary brown sugar and iced horchata lattes!)
Amazing outdoor seating – perfect for toddlers and pups
Let's chat about Liberty House Cafe
Without a doubt, Liberty House Cafe just north of downtown is one of the best cafes and coffee shops in Asheville. Liberty has been a go-to for us since they first opened in spring 2016 and has continued to get even better over time. The cafe actually changed hands in March 2020 just before COVID closures began (!!!) and luckily for all of us, it retained the original charm.
Location and parking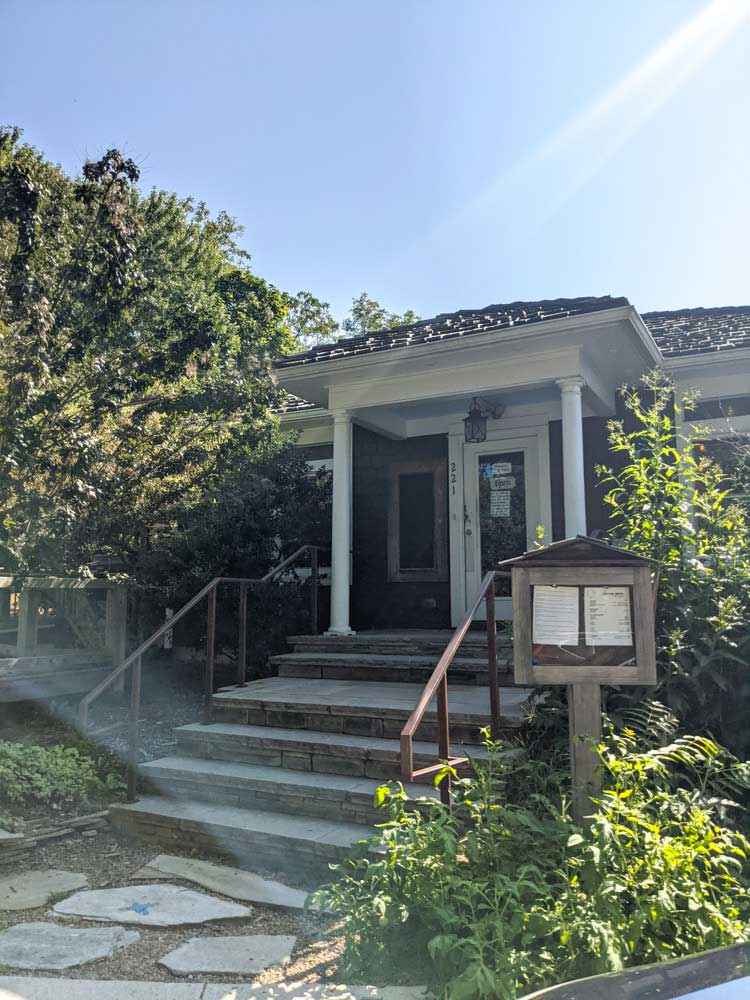 The cafe is tucked in the middle of a few shops and the Asheville Yoga Center on Liberty Street. Though parking can be a bit tricky at times as it's mostly just parallel spots along Liberty, I recently noticed a parking lot down the street past the yoga center with Passport Parking spots. I haven't needed to use them yet but am happy to know they are there!
Food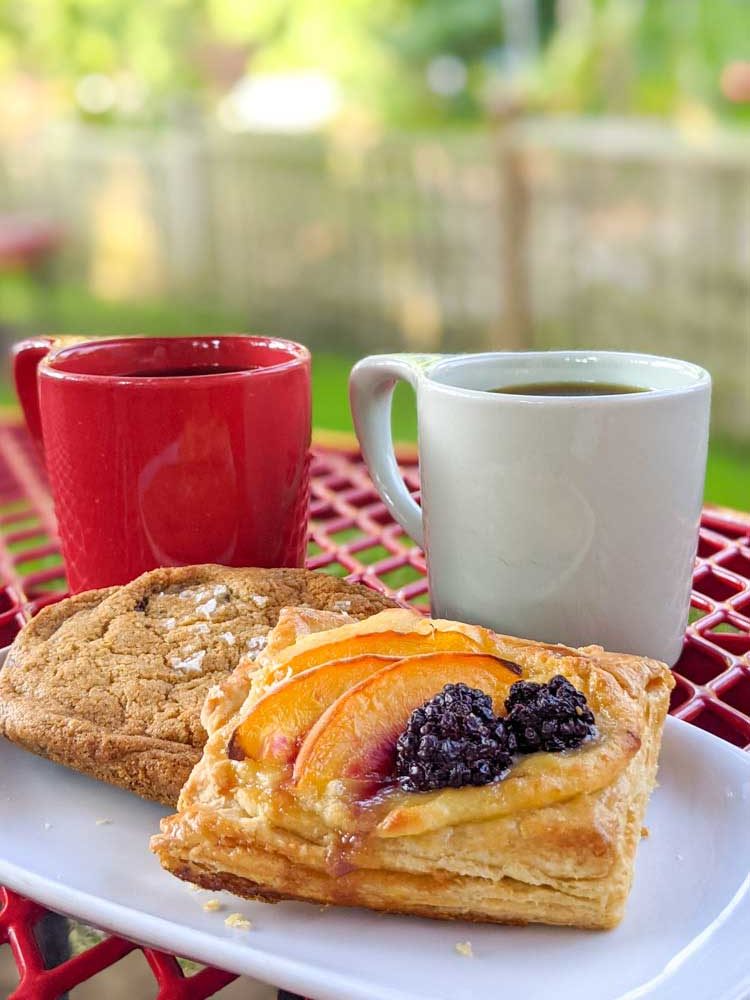 Liberty offers daily breakfast and lunch on weekdays and a brunch on weekends, as well as daily specials throughout the week. We try to switch up our order each visit and have sampled most of the menu over the last few years. The avocado toast, B.L.A.T. sandwich and the breakfast platter with heritage farm bacon, 2 eggs of choice, and sourdough bread with butter + house made jam are always in the rotation for us. The cobb salad is also great if you are there around lunchtime– the tarragon ranch is not to be missed!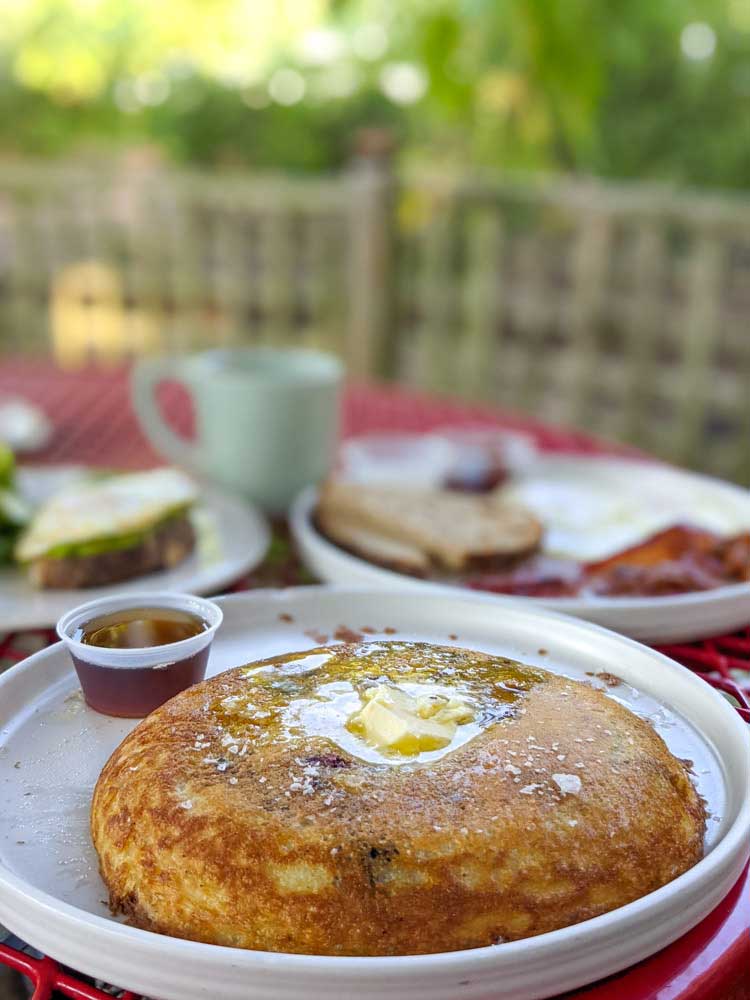 No matter what day of the week or time it is, though, we always, always order a sourdough pancake for the table. Even if said table only includes one person. It's enormous, filled with blueberries and comes out piping hot with a dollop of amish butter melting on top. You can smell the sourdough before it even arrives at your table and it's part of the reason we always take out-of-town guests to Liberty.
And finally, they have a pastry case and it is always filled with various goodies. Our 3 year old always opts for a chocolate chip cookie and I like to try the various hand pies and galettes. I'm still thinking about the pumpkin bread I had last fall…
Drinks
As far as drinks go, Liberty has a great selection of coffee and espresso drinks. I typically opt for a regular latte, but get their pumpkin spice lattes (made with real pumpkin!) during the fall. They always have a few fun combinations available, like an iced horchata latte in the summer and a rosemary brown sugar latte in the winter. You can also stock up on your favorite local whole beans from Cooperative Coffee (the cutest bag of coffee ever and makes for a great gift!) and Independent Beans out of Hendersonville.
Apart from coffee, Liberty also has a selection of various bottled/canned beverages like Spindrift and Kombucha, as well as Honest juice boxes for the kids. They also have self-serve water glasses and a water dispenser near the ordering area.
Atmosphere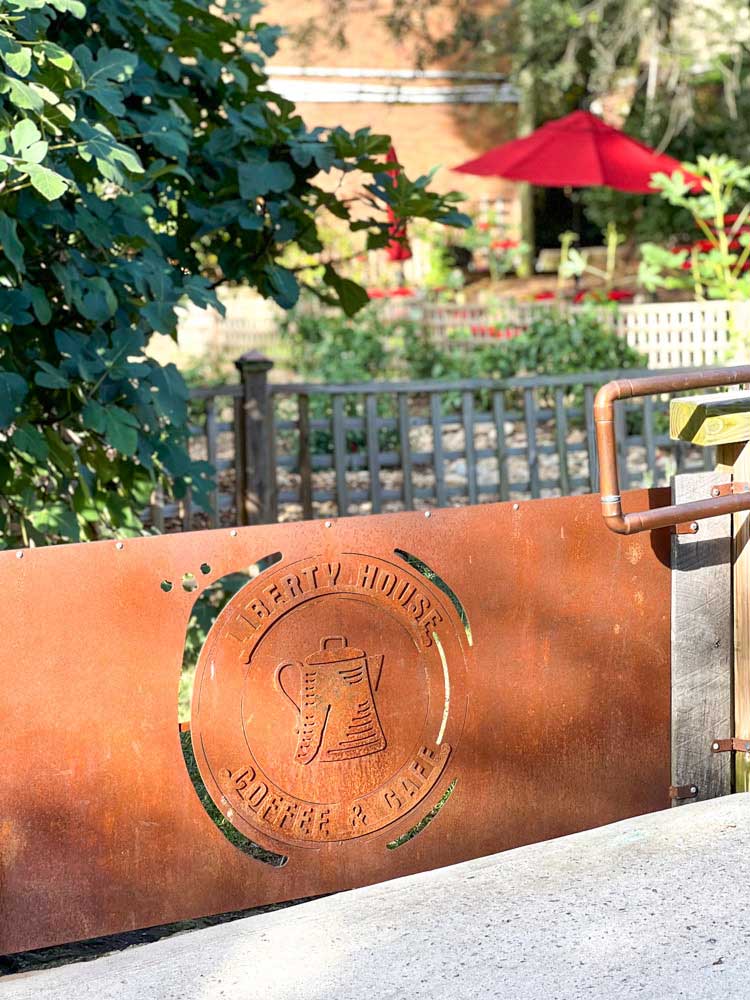 If the great food and drinks weren't enough, then Liberty's outdoor area will make you fall in love. The outdoor seating is amazing, with picnic tables spread out next to the cafe's garden and covered seating on the patio with heat during the winter. We love checking out the garden with our toddler while waiting for our food and seeing what's in season. There is additional outdoor seating on the other side of the cafe as well as a few tables inside.
Though we highly recommend dining outside at Liberty, you can also easily order to go on their website. I have done this when I wanted a latte but didn't have the time to enjoy one there.
Overall
Great food, drinks and seating. Perfect for families and dogs are more than welcome. We always enjoy our time at Liberty and it's on our must-do list when we have out-of-town guests. Definitely try if yummy food and a great atmosphere if your thing!