Quick version
Yesterday we grabbed takeout tacos from Taco Billy in West Asheville. We ordered online and it was ready when we arrived. 10/10 would do again.
What we ordered: Five tacos (Grandberry*, Kirb Service, Support Group (vegetarian), Little Sister (vegetarian), Morita), a chicken + cheese quesadilla, side of pickled onions, chips + salsa* and chips + guacamole*. Items marked with * are always in our order!
Thoughts: Always fresh, quick and easy. Enjoyed by the whole family!
All the details
We grabbed tacos from Taco Billy in West Asheville for lunch yesterday and decided it should be a weekly thing. They are just so good! Everything is made fresh and it's also a super quick place to grab a bite.
Below is our order from today along with some photos. I'm the person that makes everyone wait to eat until I have taken a photo or ten of the spread. My husband has accepted it and our 3 year old is cool with it unless it involves donuts!
Our Taco Billy Order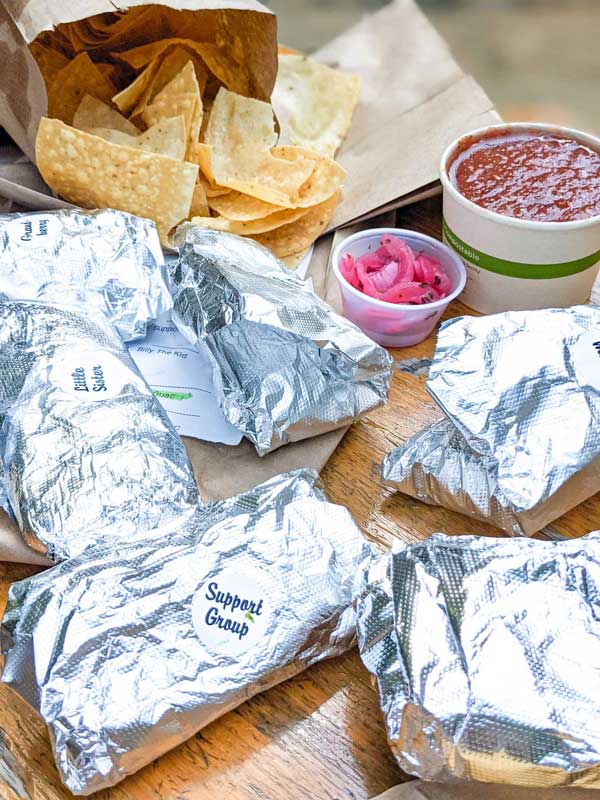 Grandberry: ground beef, lettuce, tomato, cheese & guacamole. Our favorite! It may sound boring compared to other menu items but it's delicious and always in our order!
Morita: Morita chili-stewed pork and potatoes, tangy slaw, cilantro, and jalapeño crema on a flour tortilla. Our second favorite of the day.
Kirb Service: beef, onions and peppers in an ancho chili sauce. No complaints here!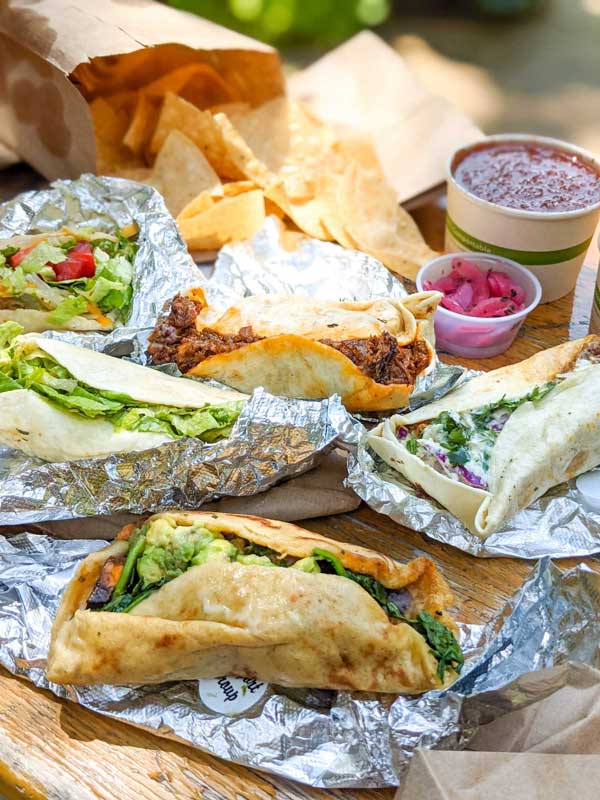 Support Group (vegetarian!): sweet potatoes, black bean hummus, roasted pepitas, avocado, spinach and coconut crema. We got it in a plaintain tortilla and though it was good, it did have a sweet banana flavor. We ended up with too much food and placed it in the fridge. I had it for breakfast the next morning cold and honestly it was amazing!
Little Sister (vegetarian!): grilled queso fresco, refried black beans, lettuce, pico de gallo, and chipotle crema. We'll probably skip this one next time– it may have just cooled off too much by the time we finally ate it.
Billy the Kid: chicken and cheese quesadilla. A classic! We always get one for our oldest
Chips & Salsa: very good! Not too spicy for kids, which isn't the case everywhere.
Chips & Guacamole: woke up wishing we had more guac for breakfast…
Side of pickled onions: We loves getting this!
Other things to know about Asheville's Taco Billy
We ordered online and it was super easy and convenient. They have a tent set up outside for COVID-safe ordering and curbside pickup. We're looking forward to when their restaurant seating is open again so that we can dine there, but we definitely appreciate the current setup. For now, their tacos are a great snack to take on the road or bring back home like we did.
You can also check out our Taco Billy page for additional details!
Final Verdict
Such a great meal for the whole family! Taco Billy is definitely a top contender for best taco in Asheville!