Where to eat in Saluda, NC
Though it's a small town, you'll find plenty of great restaurants in Saluda, NC. They have everything from a fine-dining French bistro to a local BBQ joint and even a hybrid outdoor apparel store and taproom.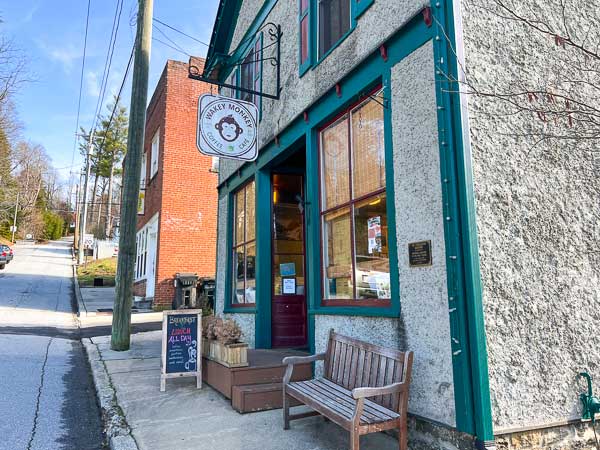 This guide details all of these restaurants, as well as a coffee shop and a bakery that we absolutely love. For additional details on Saluda, like where to stay, things to do and even a few answers to FAQs, check out our guide to Saluda.
One thing to keep in mind is that Saluda is a small town and many of their businesses depend on tourism. Several of the local Saluda restaurants close during winter or have limited hours while there's a dip in tourism. Make sure to check the hours of the establishments if it's during the off-season to see if they are open and/or operating on winter hours.
What you'll find in this article
Map of Restaurants in Saluda, NC
As you'll see in the map below, everything in Saluda is very close! Most of the restaurants are centered in the downtown area between shops. Green River BBQ isn't quite as in the mix as others but it's still very close and walkable to downtown. Green River Eddy's is the only one truly removed from downtown.
Lunch and Dinner Restaurants in Saluda, NC
---
Coffee Shops and Bakeries in Saluda, NC
A favorite spot of ours! Wakey Monkey is an awesome coffee shop and cafe in downtown Saluda. Our favorite item on the menu is their amazing cinnamon roll with cream cheese icing. It's super flaky and seems like a cross between a croissant and a cinnamon roll. We highly recommend it!
Wakey Monkey is a great place to catch up with friends, get lost in a book or work remotely. We have been several times and always see a mix of this!
We like to stop for a quick coffee and breakfast treat at Wakey Monkey when venturing down I-26 from Asheville. There's a playground less than a 2-minute walk away that is perfect for little ones to let out some energy.
A hidden gem restaurant in Saluda! Wildflour does it all and makes it look easy.
First of all, they have an all-day breakfast! Their grits are simply delicious and we also love their french toast. Wildflour also has a delicious lunch menu with sandwiches and salads. And, of course, so many freshly baked goods! And pizza for dinner! I love going here because you can get something totally different for each meal.
Though we'd like to keep it a secret, Wildflour also has awesome brunch specials on Sundays. Try their biscuit french toast if it's on the menu!
Wildflour has great outdoor seating out front and on the side by Gardener's Cottage and Brass Latch.
---