A guide to Shopping in Saluda, NC
We love getting out of town and spending time strolling and shopping in Saluda. Downtown Saluda has a ton of great restaurants and shops and is extremely walkable. It truly is the perfect day trip from Asheville (or any other nearby city!)
This guide shares our favorite stores to visit and support in Saluda, NC. All of their shops are locally owned and just as charming as you'd imagine! If you want to know more about the town in general, check out our guide to Saluda, NC.
Shops in Downtown Saluda
m.a. pACE Co.
M.A. Pace Co. is an old-fashioned hardware and general store located in downtown Saluda.
You'll find jams and jellies, chow chow, old-school candy, ice cream, bottled coke and a whole wall of hammers, nails and any other tool you may need when repairing your home.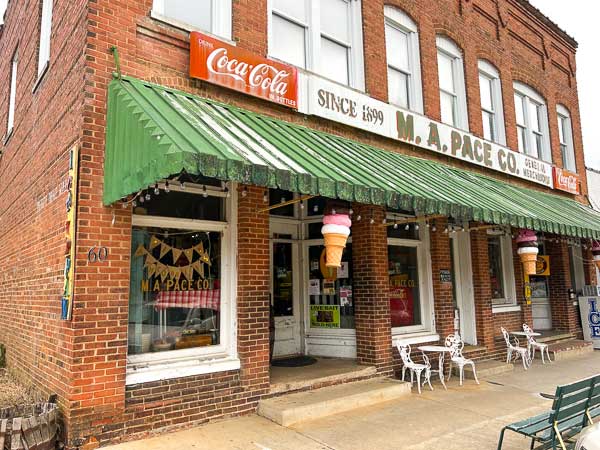 You'll definitely feel the small-town charm while browsing around M A Pace.
In fact, the last time I went I met the Saluda High School reunion committee. They were seated around a table planning for their next reunion. But the reunion wasn't for any particular year… it was for anyone who has ever graduated from there! The whole school! Also, one of the committee members happened to be the mayor. It felt like a Hallmark movie.
hISTORIC tHOMPSON'S sTORE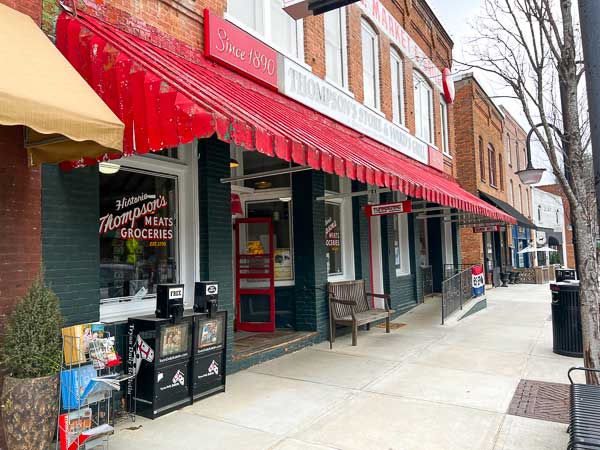 Speaking of nostalgic stores, the oldest grocery store in NC is just a few shops down from M.A. Pace.
Established in 1890, Historic Thompson's Store is still a go-to destination for locals to stock up on their weekly provisions.
You'll find produce, meat, frozen items and even an old-timey grill with cheeseburgers and milkshakes.
River Dog Run
A cute local shop in Saluda with a great selection of art, furniture, candles and gifts.
You can tell the owner has fun curating their goods and there is always a new treasure to find.
River Dog Run is located next door to Azalea Bistro, Saluda's top fine-dining restaurant.
Heartwood GALLERY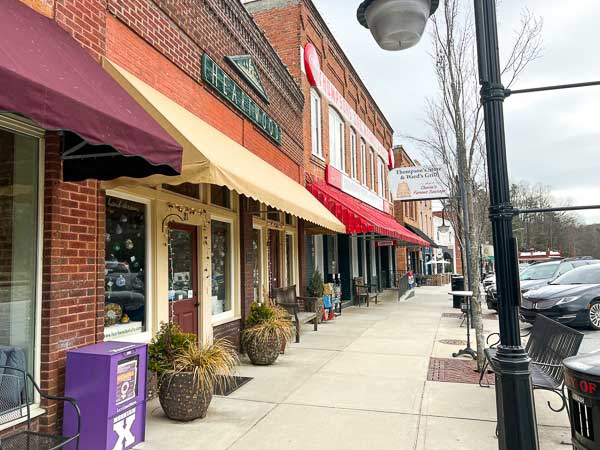 The perfect shop in Saluda to support local artisans.
Heartwood Gallery is located in downtown Saluda and represents artists both near and far. You'll find ceramic, glass pieces, wooden art, pottery, jewelry and more.
They even have apparel like hand-felted and dyed silk scarves and gloves knit from recycled cotton.
---
Shops near downtown Saluda
Most of the shops are very close to one another in downtown Saluda with the exception of the ones below. It's a quick drive or bike ride from downtown, though.
Saluda Outfitters
A locally owned and operated outdoor apparel store, bike shop, taproom and grill.
Yep, you read that right. Green River Eddy's is located in the shop! It's a great restaurant in Saluda that is made even better by its location.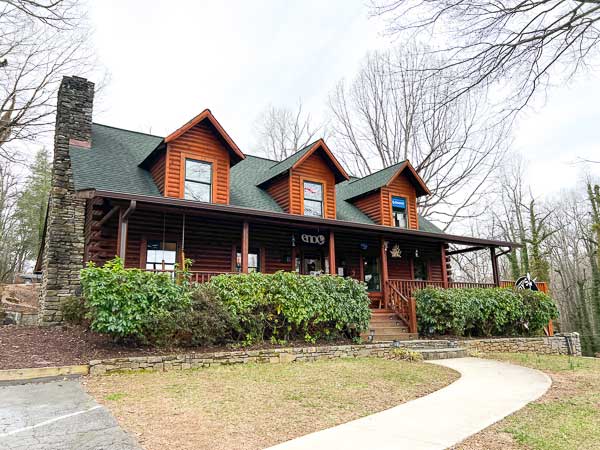 You'll find everything from Eno hammocks to top-of-the-line outdoor apparel at Saluda Outfitters. They also have a large deck as well as covered porches with rocking chairs and gliders.
Expect great shopping, excellent food and even live music. Check Saluda Outfitters' event calendar to see what's coming up.
Gardener's COttage and The BRass Latch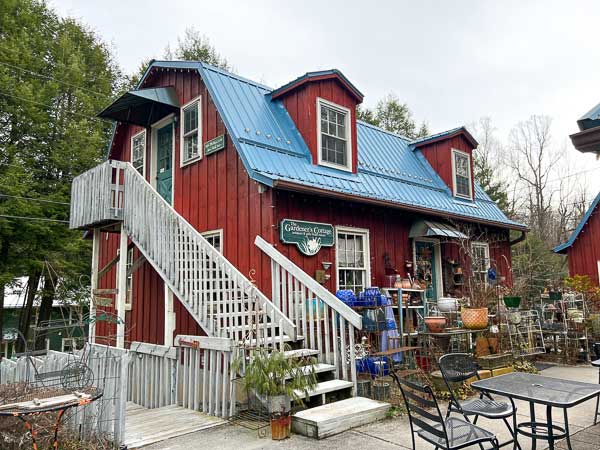 The perfect stop for garden enthusiasts and antique collectors.
There are actually two shops with the same owner that are worth a visit.
Gardener's Cottage is filled with unique plants, gifts and items for your garden. Meanwhile, Brass Latch is an antique shop with so many treasures to uncover.
You'll find this charming duo of shops just next to Wildflour Bakery. Baked goods and shopping in Saluda make for the perfect outing!