Sunny Point Cafe is one of our favorite restaurants in Asheville
Though there is great food just about everywhere you look in Asheville, there are certain spots that stand out to us compared to the rest. Sunny Point Cafe is one of the standouts!
Sunny Point is truly one of our favorite places to eat in town and a definite recommendation from us if you are looking for great food in a relaxed environment. Everyone is friendly and the food is beyond delicious. Read on to find out why we named Sunny Point our #1 must-try restaurant in West Asheville.
About Sunny Point Cafe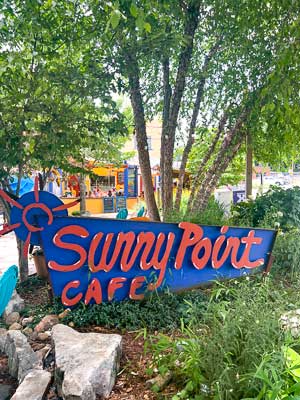 Sunny Point Cafe is located in West Asheville and serves breakfast, lunch and dinner. You can get the breakfast and lunch menu daily (all-day!) and they are open for dinner Tuesday-Saturday.
You'll find indoor seating, a covered + heated patio and outdoor seating. It's table service, but relaxed enough that I enjoy bringing our kids there. Tables are first come and they don't accept reservations.
I have to point out that, while everything is amazing there, Sunny Point's breakfast menu is the star of the show. In fact, you'll notice them at the top of the various 'best of breakfast' awards around Asheville. But the hype is worth it!!! They win for a reason! And BONUS… you can get their breakfast menu all day.
You can dine in at Sunny Point or order it for takeout. We wrote about takeout from Sunny Point here if you want to read more.
Our favorite dishes at Sunny Point Cafe
Though they are open all day, we typically go to Sunny Point for breakfast because that's the easiest meal for us to get out of the house for. Also: carrot hotcakes. Without a doubt, I always get at least one hotcake for the table. They come with cardamom cream cheese and are absolutely amazing. Also, they serve most of their menu all day, so don't let the time of day keep you from trying a hotcake!
Speaking of breakfast, their bacon is wildly delicious. It's sweet and peppery at the same time. Their huevos rancheros is also excellent. They have a meatless version, too.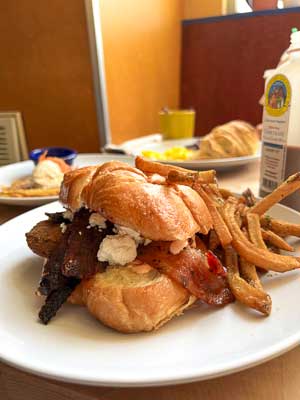 For lunch I love to get their fried green tomato sandwich (goat cheese, bacon and roasted red pepper aioli on a croissant) because it's topped with so much bacon. The shrimp and grits dish also comes with the bacon– actually, a lot of their menu items do!
Another great lunch order is their burger. You can either build your own or get the wakin' and bacon burger (Hickory Nut Gap beef, chedday, bacon, lettuce, tomato jam, scallion aoili.) There's that bacon again… Tuesday night is their burger and beer night. You'll find a burger special with $2 draft brews.
If you are looking for a delicious appetizer, try the pecan crusted fried green tomatoes!! Their peach pound cake bits are also fun to share and you'll find pork belly nachos on their dinner menu.
Speaking of dinner, it's available starting at 4pm Tuesday-Saturday. You'll find everything from meatloaf to bibimbap on the dinner menu as well as some seriously great weekly specials. Think: country fried steak, raman, spicy étouffée and salmon marsalla.
They also have breakfast specials so keep an eye out for those, too! And really, follow along on their Instagram if you aren't convinced. You'll see beautiful food and their passion for what they do is obvious.
And yes, Sunny Point is kid-friendly!
Sunny Point has become one of my favorite places to dine with the kids. Well, it's tied for first with Liberty Cafe. You order at the counter for Liberty, which is nice when dining with kids.
As far as kid food goes, our 4 year old loves to get their kid's mini good breakfast (egg, bacon, biscuit) with a local Mills River chocolate milk. And he is always thrilled with the crayons that come with the kids' menu.
Sunny Point also has french toast, fried chicken, grilled cheese, cheese quesadilla and a burger on the kids' menu. Three mini carrot hotcakes are also an option, though the kids' version doesn't come with cardamom cream cheese!
One last thing: they have an amazing Garden!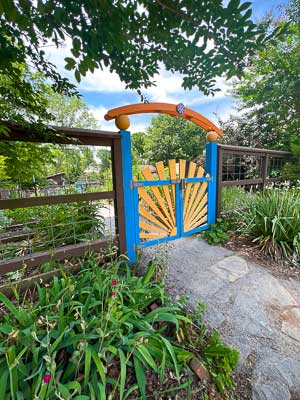 You'll find a garden to the side where you can wander around and check out their various flowers and plants. You can easily identify plants by their colorfully handpainted signs around the garden. Major Harriet the Spy + Golly garden vibes (IYKYK.)
It's a garden-to-table restaurant, so their specials revolve around what's in season. You'll often see busy gardeners working away during the growing months and they truly do welcome you inside to explore. You can find out more about their garden on their website. PS there are seats in the garden if you want to dine there!
Don't forget to explore West Asheville
After you dine at Sunny Point, stay in West Asheville for a bit! There are several local shops in the area with everything from house plants (Flora and Palm + Pine) to vintage clothes. We love shopping at Provisions Mercantile just down the way and our kids love Sparky's Toys. Both are across the street from The Hop so if you aren't too full, grab some ice cream! You can view our full guide to West Asheville here.