Just the highlights
What we did: coffee from downtown Asheville's High Five and takeout breakfast from West Asheville's Sunny Point Cafe (ordered online via Toast)
What we ordered: huevos rancheros with chorizo, a breakfast sandwich with bacon and a side of spuds, their kid's breakfast plate with an over-medium egg + crispy bacon and one carrot hotcake (with CARDAMOM CREAM CHEESE!!)
Thoughts: we agree with their top position on every BEST BREAKFAST IN ASHEVILLE list ever. It's a can't miss Asheville restaurant any time of day. Get the hotcakes! And bacon!
All the details about our West Asheville breakfast
It's an Asheville snow day! Well, kind of. It's a snow day in that it did snow, but it's not an everyone stay home with your bread and milk kind of snow day. More of an if you are lucky you can build a tiny snowman snow day. We, however, were in the unlucky category called starting your day by losing power. This fun event caused the two sound machines in our house to abruptly stop. Do you know what immediately wakes up two sleeping kids? Silence. And do you know what's not particularly fun to wake up to when you are three years old? A meager dusting of snow and no power. I digress.
Coffee and a Treat from downtown Asheville's High Five Coffee
With a lack of anything better to do and the roads totally clear in the Asheville area, we went on a search for coffee and a treat for the sad snow day blues. My original plan was donuts but then I remembered it's Monday and have you ever tried to do anything in Asheville on a Monday? Or a Tuesday for that matter. A word to the wise: check your destination's hours before promising donuts!
Our favorite donut shops in Asheville (Vortex and Hole) are closed Mondays and Tuesdays but High Five Coffee was open and they have treats! We headed to their downtown location and I grabbed two coffees, a chocolate chip cookie and a coconut macaroon. There were several people working from there and I was jealous of their view through the big windows of a snowy downtown street.
Our favorite Asheville breakfast ever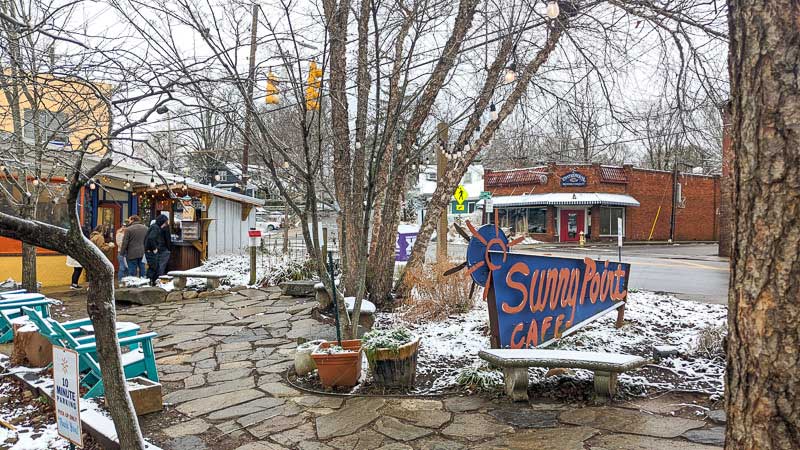 Before heading home we placed a takeout order for Sunny Point Cafe. There are so many great breakfast and brunch spots in Asheville, but Sunny Point really is in a category of its own. Amazing food, fun outdoor seating and some of the best vegan and vegetarian breakfast options in Asheville. There is typically a line to order, but if your schedule allows it you should definitely check it out! You can also order for takeout through Toast.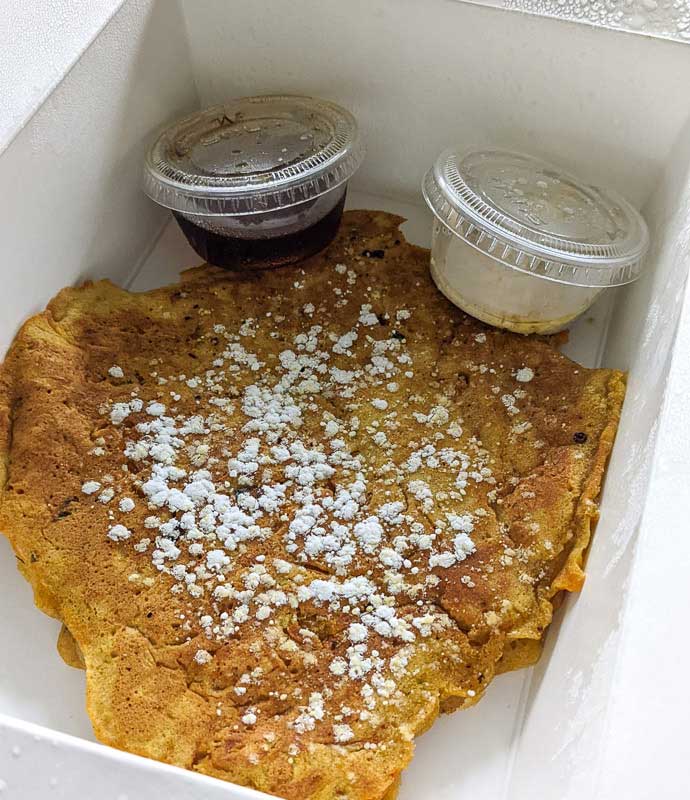 Though we love everything from Sunny Point, we always make sure to get a side of their bacon (crispy, please!) and at least one carrot hotcake. Their maple black pepper bacon is somehow simultaneously both a bit sweet and spicy. I was thrilled when my son didn't eat all of his and I could swoop in to help. That also happened with his High Five chocolate chip cookie, so overall it was a great day. And the carrot hotcake!!! It comes with CARDAMOM CREAM CHEESE and is exceptional. It's also available as a kid's menu item, though it doesn't come with the cardamom cream cheese. Although I bet they'd be nice and give you some anyway…
Speaking of the kid's menu, we got our three year old Sunny Point's Mini Good Breakfast (biscuit, choice of egg and protein.) We went with an over-medium egg and their bacon, of course! The angel biscuits are topped with a few sprinkles of raw sugar, which adds just the right amount of sweetness. Our son saved the biscuit to eat later in the day and it was just as tasty as it is when fresh.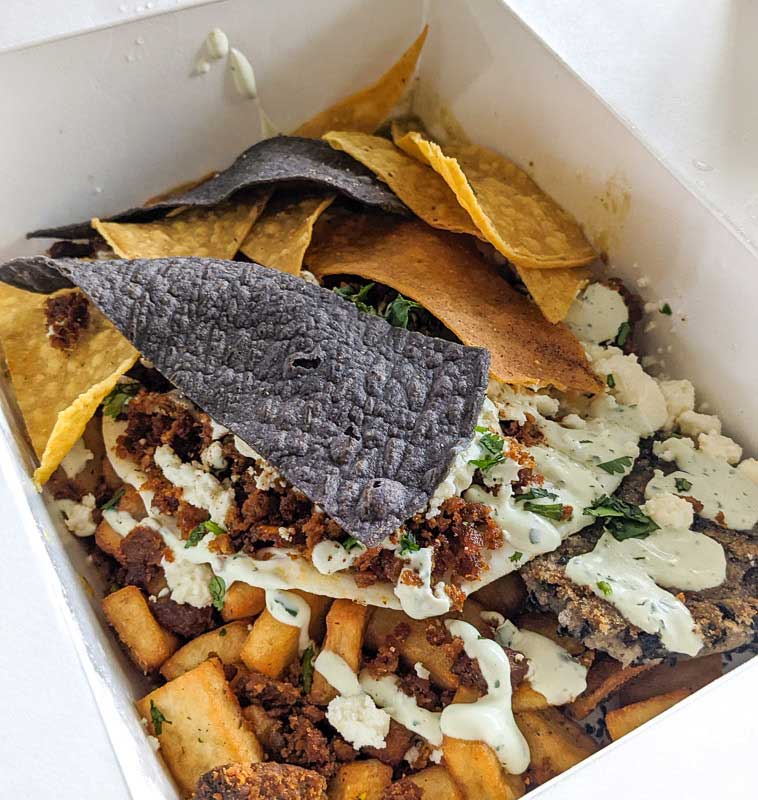 We also ordered the huevos rancheros (two eggs, black bean cakes, spuds, feta, green salsa, cilantro crema, tortilla chips) with chorizo and over-easy eggs and it was delicious. We shared it with our one year old because it's not a spicy dish and he loved it. Side note: they also have huevos fucheros with tofu chorizo on the menu!
The last item we ordered was their breakfast sandwich (roasted tomatoes, bacon, white cheddar omelette, chipotle aioli on a toasted croissant.) No surprise here– it was so, so good!! The aioli has a great level of spice to it and the tomatoes were perfectly juicy. And the bacon… well, you know! For the side we chose spuds– they come topped with rosemary and are excellent. 10/10 would recommend everything!
Final Thoughts
Sunny Point has a great menu and I always find about five things I want. I already have my eye on their Blackened Grit Tostada (crisp corn tortillas layered with grit cakes over green salsa and fresh greens, topped with cilantro crema, black bean salsa, avocado, feta cheese) and their Pecan Crusted Fried Green Tomato (goat cheese, bacon, roasted red pepper aioli, served on a toasted croissant, choice of side) for next time. And you can't miss their Shrimp and Grits! Actually, just don't miss Sunny Point Cafe. It's a must-try as far as we are concerned!