Asheville's best sushi restaurants offer a wide variety of dining experiences, from casual and affordable to upscale and elegant. Some of the top spots include Heiwa Shokudo for a charming night out, Murasaki for an upscale dining experience, and Green Tea Japanese for a traditional Japanese feel and a selection of over 25 signature rolls.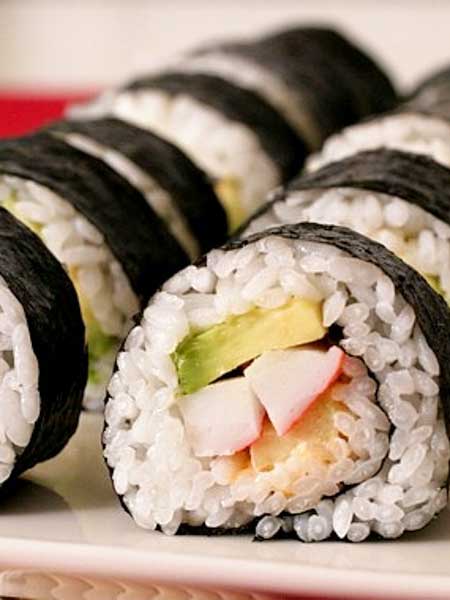 The following list features some of the best sushi in Asheville. We also have a list of Japanese restaurants in Asheville with more diverse menus, though many have sushi on the menu.
What You'll Find In This Article
Where To Get Sushi in Asheville
Below is a map of all of the sushi restaurants highlighted in our guide. We love the map view because it helps you quickly see nearby restaurants.
For other nearby regional cuisines, check out our guides to Indian food, Thai Food and Chinese food in Asheville. We also have a guide on where to find great Japanese food in Asheville that also includes sushi restaurants.
A Guide to Sushi In Asheville
Here is a roundup of some of the best sushi restaurants in Asheville, NC. If you're looking for more dining inspiration, check out our list of restaurants in Asheville worth a visit. But if you're specifically looking for sushi, read on!
Heiwa Shokuda
A local favorite spot for sushi in downtown Asheville
Starting the list off with a favorite for Asheville locals! Heiwa Shokuda is a cute Japanese restaurant in downtown Asheville known for sushi, ramen and traditional Japanese entrees.
They have some of the best and freshest sushi in town, and we always enjoy trying their original rolls and sushi specials. The edomae chirashi is a crowd-pleaser, and they even have a sushi boat! They also have hosomaki (seaweed on the outside) on the menu.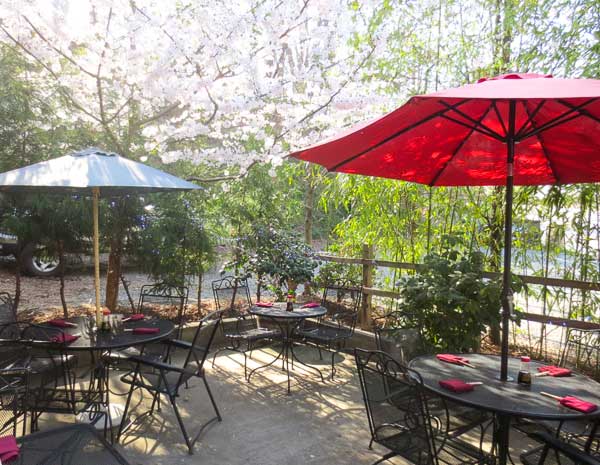 The real value is in their sushi lunch boxes! Choose from sushi, sashimi and even poke and it comes with a green salad, wakame salad and bean sprouts. A few have an option for rice or miso. These boxes range from $8.50 to $13.
Located at the end of Lexington Avenue's walkable shopping area, Heiwa Shokudo is a great spot to eat while strolling downtown. They have a quaint dining room inside and an intimate patio on the side of the building.
Murasaki
Our top pick for sushi in South Asheville
Murasaki is an excellent restaurant for sushi, sashimi, nigiri and even donburi in South Asheville. They have an excellent list of signature rolls, a favorite of ours being the Black Panther Roll with salmon and yellowtail and spicy tuna. We also like the Double Decker Roll, which is a shrimp tempura and cream cheese roll topped with crab salad. And the rainbow roll is as pretty as it is delicious.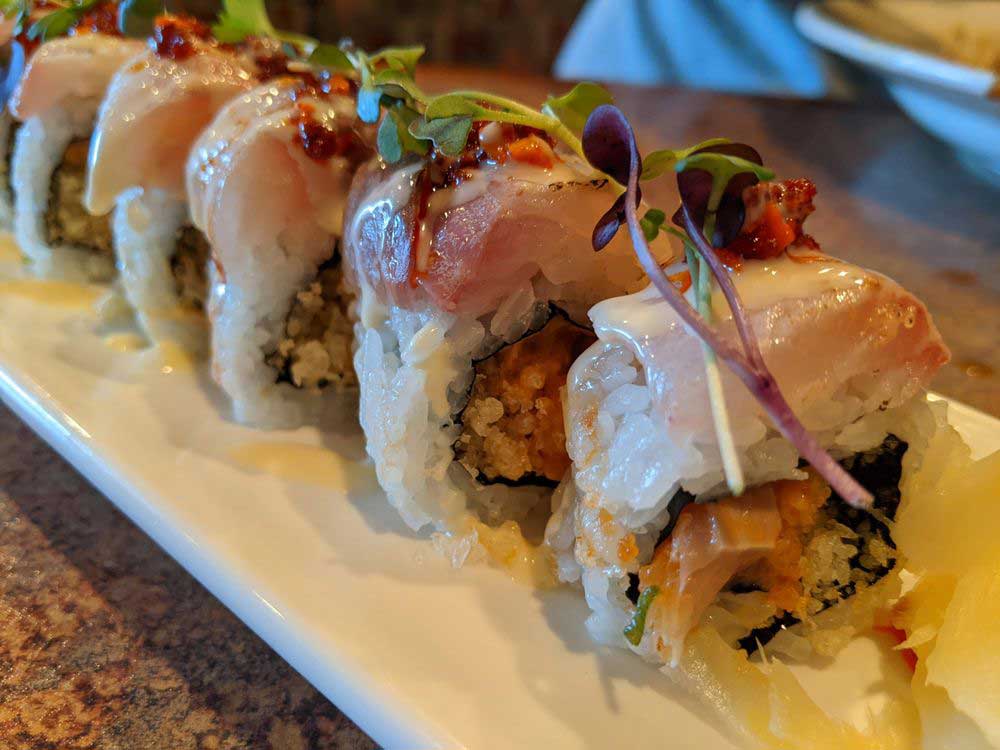 If you really want a fun night out, try their Legend of Ten Rings Roll' with lobster, asparagus and Japanese mayo. It's topped with A5 Wagyu beef and truffle salt.
Apart from sushi, Murasaki also has a full menu of traditional Japanese fare. Speaking of, we officially nominate them for the best hibachi in town!
Murasaki is our go-to for sushi when in South Asheville because it's always fresh and the atmosphere is so nice. While the sushi rolls may be a bit more expensive compared to other places, we think the quality is there. There's a patio on the side and you can order takeout.
Wasabi Japanese Restaurant and Sushi Bar
Sushi-lovers paradise in downtown Asheville
Wasabi is a small and busy Japanese restaurant in the heart of downtown Asheville. Their extensive sushi menu includes a la carte sushi and sashimi options as well as chef's special rolls. They have everything from tuna to octopus (tako) to sea urchin (uni.)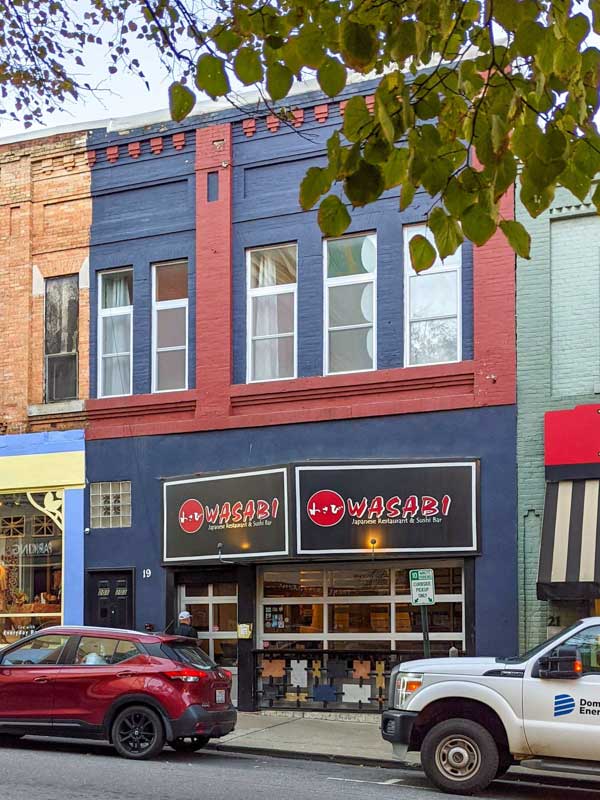 You'll also find Japanese classics on their dinner menu including hibachi, teriyaki, ramen and more.
And we can't forget their epic sake list! They have hot sake, over 15 types of premium sake and 4 flavored ones to choose from. They have descriptions under each so that you have an idea of what you are ordering.
Miyako House
Casual restaurant for sushi and hibachi in downtown Asheville
The unassuming Miyako House located downtown near Pack Square is a staple for sushi and Japanese fare in Asheville. They consistently offer some of the best and freshest sushi in town.
The dining room is nice and bright, but nothing fancy which probably contributes to their relatively reasonable pricing for a restaurant in downtown Asheville.
You'll find everything from sushi to hibachi on the menu and you can't go wrong with any of their fresh nigiri, sashimi or rolls. For a fresh take on sushi presentation, try their tuna dumplings!
Miyako House is a great option for lunch with bento boxes, as well as sushi and hibachi lunch specials. They also make takeout easy with online ordering and incredibly fast turnaround.
Green Tea Japanese Restaurant
West Asheville destination for sushi in a fun atmosphere
Green Tea Japanese Restaurant is an excellent destination for a fun, sushi-filled night out. First of all, the atmosphere is pretty cool. It has a traditional Japanese feel but isn't kitschy or overly done. And secondly, they have over 25 specialty rolls! You'll also find maki rolls, sashimi and sushi entrees on the menu.
Their menu also includes other traditional Japanese entrees like teriyaki, hibachi and bento boxes. The restaurant is large and there's a large parking lot out front.
Zen Sushi
Locally loved restaurant for sushi in North Asheville
Zen Sushi is a long-time popular Asheville sushi spot and continuously serves up some of the freshest sushi in town. Their North Asheville location is in an upstairs unit of a shopping area on Merrimon Avenue. This quaint sushi bar is bigger than it looks from the outside with a casual atmosphere.
The sushi menu is a bit overwhelming with over 40 specialty rolls! We really like their Angry Dragon roll with tempura shrimp and spicy crab meat, as well as the Fire Island roll with spicy crunchy salmon and mango.
Zen is a really good spot if you are looking for sushi for lunch. They have a few sushi lunch options where you can pick between a few rolls. It comes with miso soup or a green salad. They also have a sashimi lunch and their classic 'Zen Sushi Lunch' with 2 pieces each of tuna, salmon, yellowtail and California roll.
In addition to sushi, Zen also offers classic Japanese entrees, including hibachi, teriyaki, donburi, noodles dishes and more.
Suwana's Asian cuisine
Excellent sushi rolls in a Thai + Japanese restaurant in East Ashevlle
If the name sounds familiar, you are probably thinking about Suwana's Thai Orchid in downtown Asheville. You've got the right name but this is the newest venture you'll find in East Asheville.
Not only does Suwana's Asian Cuisine serve the delicious Thai food we all know and love but they also have sushi and Japanese on the menu. Order a la carte or get a sushi boat party for 2 or 4!
Suwana's has a great sushi menu with everything from the classics like a California roll and spicy tuna roll, to sashimi and nigiri to a pretty solid special rolls menu. We love the crunchy tempura roll with tuna, salmon and yellowtail. The red dragon roll with tempura lobster is also a great pick.
Mr. Sushi
No-frills sushi, hibachi and more in North and South Asheville
If you are looking for great value on your sushi dinner, check out Mr. Sushi! They have a location in North Asheville on Merrimon and a second in South Asheville on Hendersonville Road. The South Asheville one is at a gas station, but not inside a gas station like our friends at Sand Hill Kitchen and Pon's Thai Cuisine.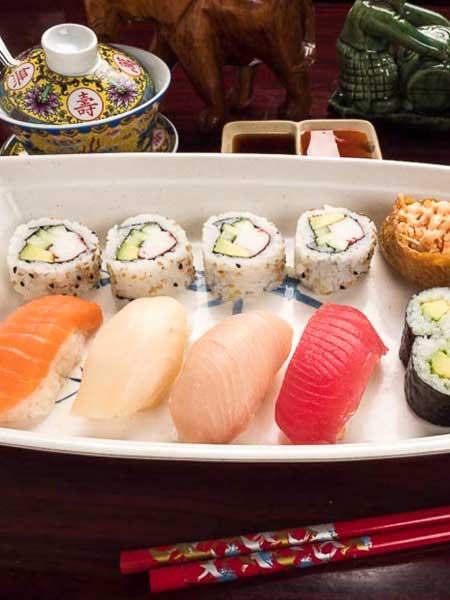 Don't let their no-frills atmosphere deter you. Mr. Sushi has fresh and delicious sushi at a great price. The dining rooms are clean and casual with booths and tables and an open kitchen and sushi bar.
Mr. Sushi also offers hibachi, stir-fried dishes, ramen and more.
Asheville Sushi & Hibachi
Casual sushi and Japanese restaurant in South Asheville
Asheville Sushi and Hibachi is a shopping center sushi spot in South Asheville with a welcoming and clean atmosphere. Their sushi is made to perfection both from its flavor and freshness and also its aesthetics. And with 35 specialty rolls on the menu, there is no shortage on selection.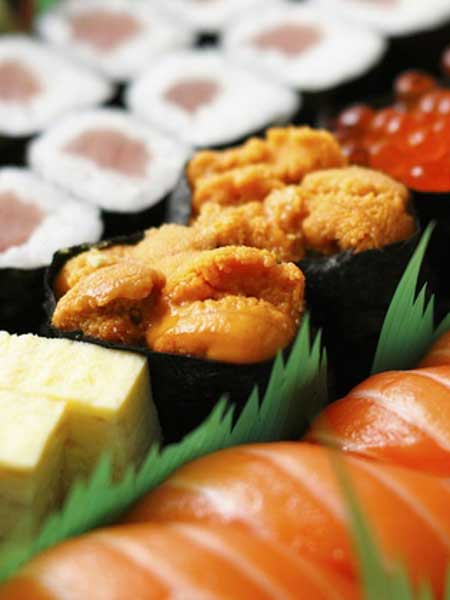 In addition to an extensive sushi menu, they also offer all the entrees you typically expect to find at a Japanese restaurant including hibachi, teriyaki, tempura, noodle and rice dishes. They also have a few Thai entrees and even General Tso's Chicken. And make sure you check out their mochi or tempura ice cream for dessert!
Pacific Pagoda
Pan-Asian restaurant in South Asheville
Pacific Pagoda is a one-stop spot for all things Asian food in South Asheville. Not only do they have sushi and Japanese food, but they also have Chinese and Thai on the menu. The noodles section of the menu includes everything from seafood udon to lo mein to pad Thai!
Pacific Pagoda is a great spot for sushi in South Asheville, with a wide variety of rolls available a la carte or as an entree. They also have over 15 signature rolls, such as the Spicy Firecracker Roll and the Fire Dragon Roll, which are our top picks.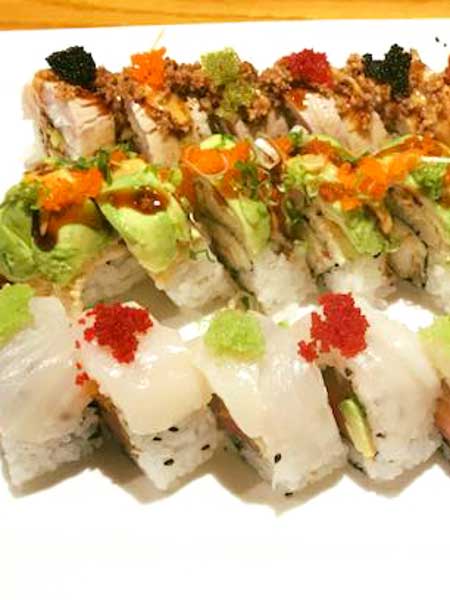 Pacific Pagoda is a casual restaurant in a shopping center that is great for groups and families. They offer both dine-in and takeout options, with the takeout option being called Asian on the Go II. Both restaurants are located at the same address.
Udon Sushi and Noodle
Laidback sushi restaurant in East Asheville
Located in East Asheville off Bleachery Road, Udon is a casual sushi bar in a shopping center. They have excellent sushi and beautiful presentation.
Udon offers sushi, sashimi and specialty rolls as well as traditional Japanese entrees. And, as the name suggests, they have Japanese Yaki Udon on the menu.
They are open for lunch and dinner and are always a great spot to order online for take-out.
Nearby Japanese Restaurants Worth A Visit
Below are a few additional Japanese restaurants with sushi within an hour of Asheville that are absolutely worth a visit if in the area.
1. Umi (Hendersonville)
Great restaurant for sushi in Hendersonville
Hendersonville's Umi restaurant has some of the best sushi within a reasonable drive of Asheville. Open for lunch and dinner, it's a great spot to get the most authentic fresh sushi available in the area. The atmosphere at Umi is lively and fun, making it a great place to go with friends or family.
They have several specialty rolls to choose from, including the crowd favorite Geisha Roll with spicy crab and seared peppered tuna, as well as the Superman Roll with shrimp tempura, cream cheese and spicy crab.
Umi serves traditional Japanese cuisine you'd expect to find as well as a few Thai curries.
Umi Japanese Fine Dining // 633 N Main Street, Hendersonville
2. Sake Sushi (Black Mountain)
Excellent destination for sushi in Black Mountain
Just a half-hour west of Asheville you'll find Sake Sushi in Black Mountain. It's one of the cutest sushi restaurants in the area. And when we say cutest, we mean it! Sake is in a Tudor-style house in the Village of Cheshire shopping area.
Sake makes impeccable sushi and has a fun, casual atmosphere. It's the perfect stop on a visit to Black Moutain from Asheville.
You can order online or dine in. They have a great outdoor patio when the weather is nice!
PS: they have udon on the menu!
3. Soba Sushi and Noodles (Weaverville)
Weaverville restaurant for sushi and Japanese fare
For fresh sushi look no further than Soba Sushi and Noodles. Just minutes north of Asheville in Weaverville, you will find this traditionally styled Japanese restaurant with a great atmosphere and excellent food.
They have a nice patio for dining al fresco. It's also great for takeout with easy online ordering.