Sycamore Flats in Pisgah National Forest is one of our *favorite spots* to take the family. It's great for picnicking, outdoor adventuring and spending time in nature without being too removed from society.
It's the first stop at the Brevard entrance to Pisgah National Forest, after all! The area closed at the end of August due to flooding from Hurricane Fred, so in honor of its re-opening we have rounded out a list of reasons why Sycamore Flats is one of our favorite spots in Pisgah National Forest!
1. It's a great spot for a picnic
Sycamore Flats is our go-to picnic spot in Pisgah National Forest for a ton of reasons, one of which is their abundance of picnic tables scattered about.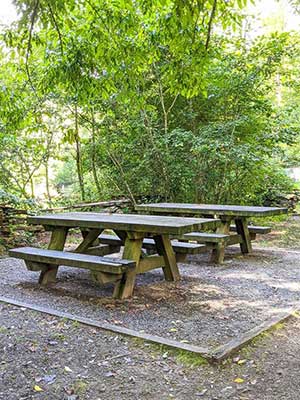 There are 40 total and are relatively spread out. There's also a gazebo that you can reserve for $50 that includes 4 covered tables and a grill.
If you are looking to dine local, we recommend grabbing a sandwich from the Food Matters Deli before heading into Pisgah. You can also typically find a food truck in The Hub's parking lot and there's always The Velvet Cup for coffee and donuts. Finally, Hawg Wild Barbeque is right across from The Hub at the entrance to Pisgah.
2. There are several options for outdoor adventures
The Davidson River winds around Sycamore Flats and has several access points throughout. It's a great spot for tubing in the warmer months. You can either start further in Pisgah (like at the Coontree Picnic area) and end at Sycamore Flats, or go on a mini-tubing adventure by starting on one side and floating to the other. It's also a great spot for fishing, fly fishing and swimming.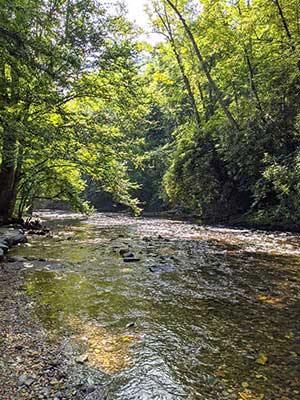 Our current favorite activity is to splash in the shallow areas (pictured above) and keep an eye out for fish and the occasional snake. Apart from water activities, the large grassy area in the middle is the perfect place to play tag and other lawn games.
3. Sycamore Flats has real bathrooms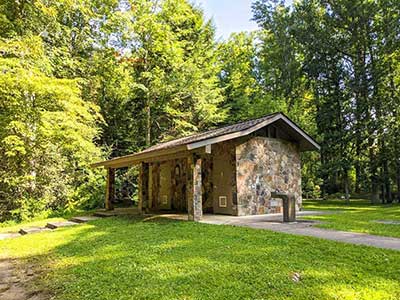 This is a serious one. Not all stops in Pisgah National Forest are created equal. Some will have better views, some better hiking, and some, my friend, will have BETTER BATHROOMS. Sycamore Flats falls in the better bathrooms category.
There are two separate buildings, each with four small bathrooms. Just bring your own soap or hand sanitizer! 🙂
4. Sycamore Flats has cell phone service!!
Because Sycamore Flats is right at the entrance of Pisgah National Forest and not too deep in the woods, we've never had any issue with having cell phone service. This is for Verizon and AT&T, specifically, but I'm sure it's the same for other providers. I really appreciate having cell phone service because I'm always a little bit uneasy when on a hike or Blue Ridge Parkway drive without service– bears! flat tires! sprained ankles! I have peace of mind at Sycamore Flats, though!
5. It's a perfect stop for groups
We love to take our visitors (especially when there are kids!) to Sycamore Flats because it's a great place to spread out. There is something to do for everyone and you don't feel like you are in anyone's way.
You'll occasionally see school, church or camp buses filled with kids visiting. but because of the amount of space, it has never seemed too crowded. Mostly we are always shocked about how uncrowded it is!
6. You'll find tons of parking (that isn't scary)
My least favorite thing about a stop in Pisgah National Forest is when the parking lot is full, or you have to suddenly pull off after rounding a corner and you have cars behind you. Not a problem at Sycamore Flats!
There is a ton of parking available and you can safely circle around if you want to drive around the lot first to scope out the best spot. We used to park immediately after entering, but now we like to circle around past the first bathroom building and park along there. Anywhere works, though! No scary parking required.
7. Sycamore Flats is super close to coffee and donuts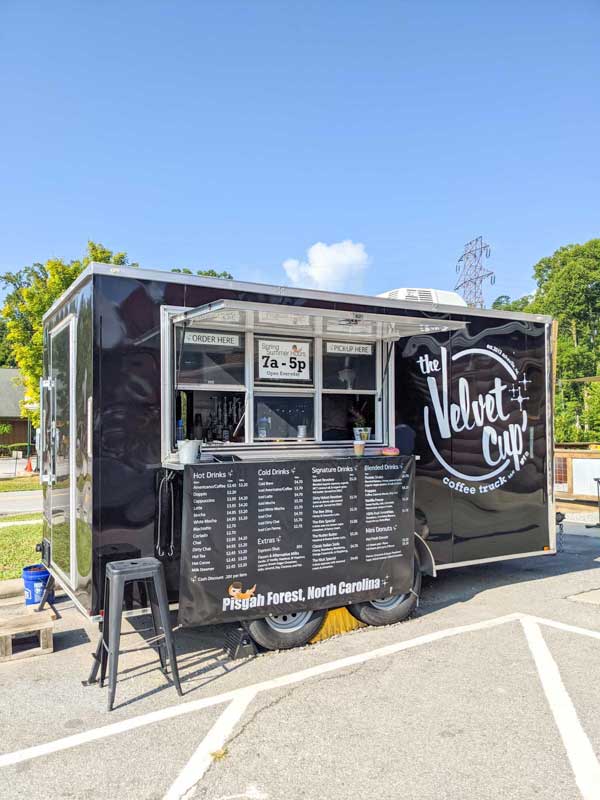 Of course this list ends with donuts! All I'm saying is that you pass The Velvet Cup on the way in to Pisgah National Forest from Brevard. Related: your to-go donuts will still be hot upon arrival to Sycamore Flats. It's about a minute away!
I use the same donut logic for any adventure in Pisgah National Forest, like on our latest hike to Moore Cove Falls with the kids!