A spotlight on where to get the best pie in Asheville
Though you can find a lot of bakeries and baked goods in Asheville, there's only one destination for the best pie in Asheville: Baked Pie Company. Baked is the only pie-dedicated bake shop in Asheville and oh my gosh is it amazing.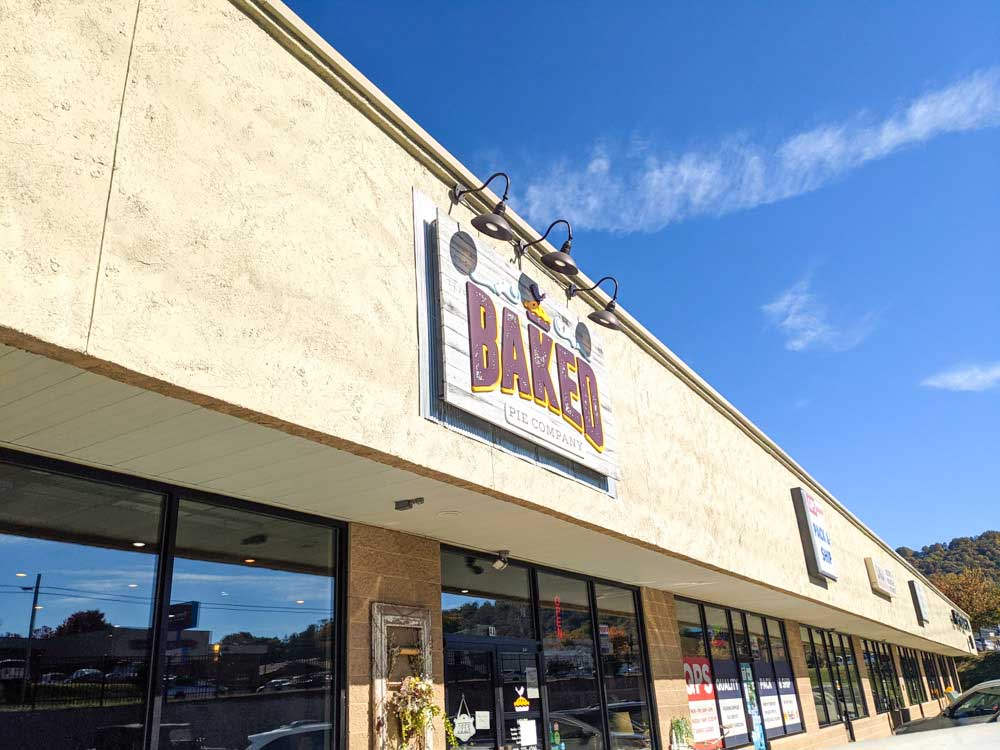 You can expect bakery cases filled with every kind of pie that you can imagine. And often times it is warm and fresh from the oven! Of course, they also have cream-based pies in the cooler section.
Baked Pie Co is featured on our best restaurants in Asheville list
Now, we have our fair share of 'best of' Asheville lists, but when thinking about the best pie in Asheville there wasn't even competition.
About Baked Pie Company
Baked offers whole pies, slices of pies and, my personal favorite, pie flights! Their pie flights include three pieces of pie of your choice and a scoop of ice cream. The pie flavors change often and we have never had anything less than exceptional.
The bakery case obviously gets emptier throughout the day, but if you go early enough you can pick from a ton of options. I love it because you can opt for just a slice or a flight instead of committing to a whole pie.
A few standout pie flavors include apple crumb, cherry crumb, honey pecan and tres leches.
Baked Pie Company has two locations in the area— one in Woodfin (north of Asheville) and the other in Arden (south of Asheville.) Both are pretty easy to get to and offer plenty of seating to enjoy your pie there.
Three things at Baked that we can't get enough of
Baked Pie Company's Pie Flight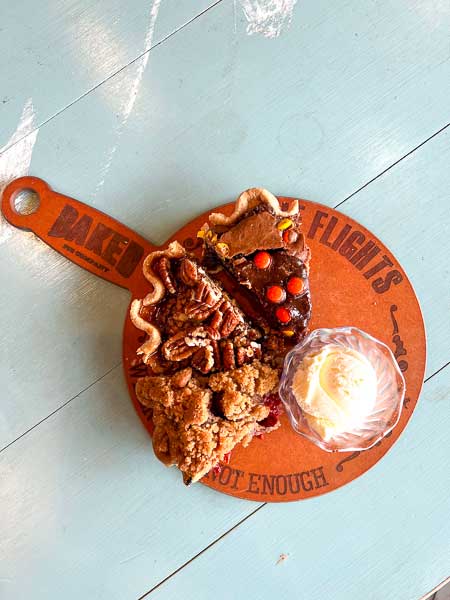 The ultimate treat! Select any three pieces of pie from their bakery case and pair it with a scoop of chocolate or vanilla ice cream.
The pie flight pictured includes their cherry crumb, honey pecan and brownie fudge with Reese's Pieces.
We love their pie flights so much that we included it on our things to do with kids in Asheville list. Speaking from experience, our kids LOVE THIS. We let them pick the pie flavors which only adds to the fun.
Their pie flights also earned them a spot on our best places to get ice cream in Asheville list. Though it's not an ice cream shop, they certainly have great ice cream!
Honey Pecan Pie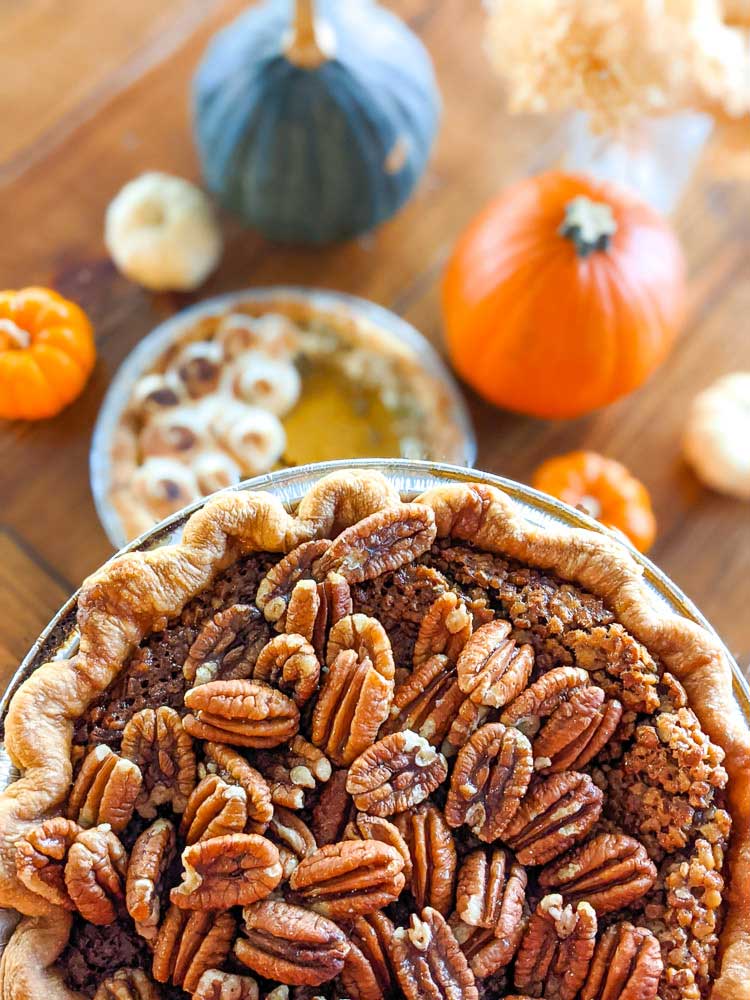 Another favorite of ours at Baked is their Honey Pecan Pie.
It's the perfect addition to your holiday dessert table. It is beautiful and decadent and absolutely delicious. The top is just covered with pecan halves and the base is so sweet and gooey.
My biggest tip: freeze the honey pecan pie and eat it straight from the freezer with a cup of hot coffee.
That tip right there is my number one life tip. The first time I did this was a result of me not waiting long enough for the frozen pie to thaw. But now I keep slices in the freezer for just this purpose.
There's also a chocolate version of the honey pecan pie but I can't stray from the original.
Cherry Crumb Pie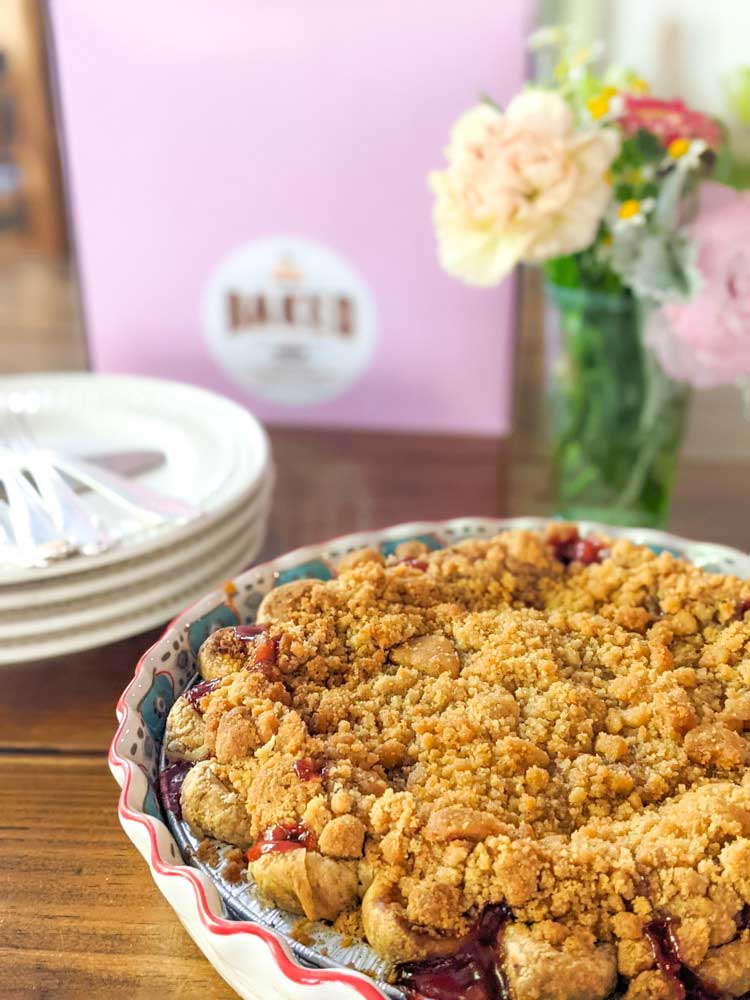 One last pie flavor worth mentioning: Cherry Crumb!
Baked Pie Company's cherry crumb pie is 100% amazing. It has a buttery crust, slightly sweet / slightly sour filling and a perfectly toasted crumb topping. There is nothing I would change about this pie.
I have purchased a whole cherry crumb pie from Baked multiple times and each time it is still warm. A warm cherry crumb pie that tastes like your grandmother made it. Assuming your grandmother is Martha Stewart, of course!