A few weeks ago the weather warmed up a bit and we took the kids to Weaver Park. On the way, we had a stroke of genius and stopped at Geraldine's Bakery for breakfast. As soon as I walked in I remembered how much we love Geraldine's! The old-school New York bakery feel, the unassuming menu, the amazing pastries and the world's best Boston Cream. I stand by that claim!
We love Geraldine's so much that we made a whole post about it! Read on about why we love this nostalgic Asheville bakery and would recommend it to anyone– whether local to Asheville or just here for the weekend!
1. Geraldine's has the best Boston Cream donut in Asheville!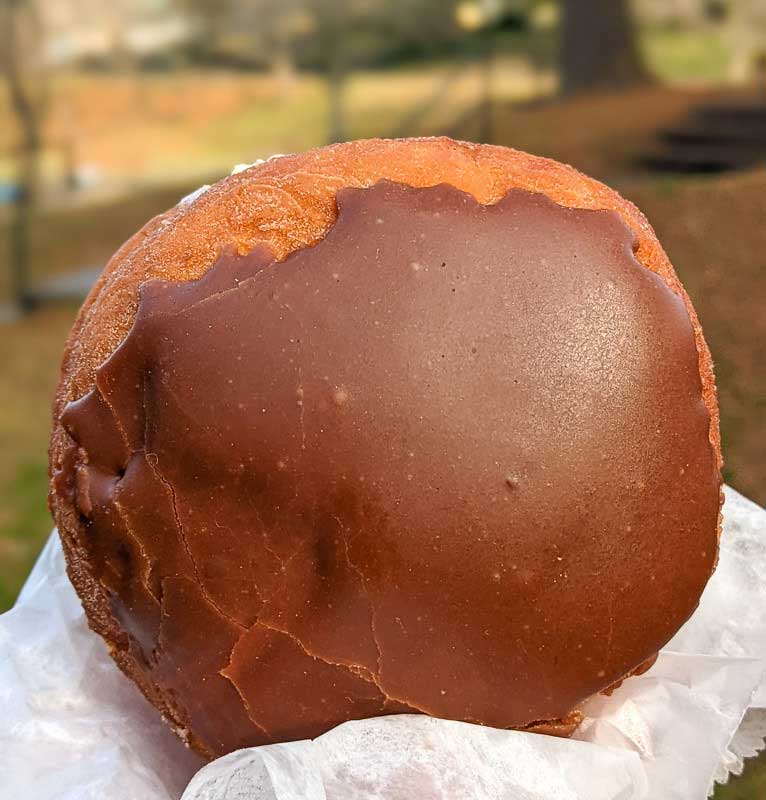 Starting the list off with the best! Their Boston Cream donut is amazing and wildly full of custard. And despite the excess of custard, the donut is not overly sweet. Definitely, definitely, please, please, please try one if you haven't!!
Geraldine's is featured on our Asheville Donuts Guide! Check it out to get all of the info on where to get the best donuts in Asheville!
2. Geraldine's Bakery has a great breakfast menu!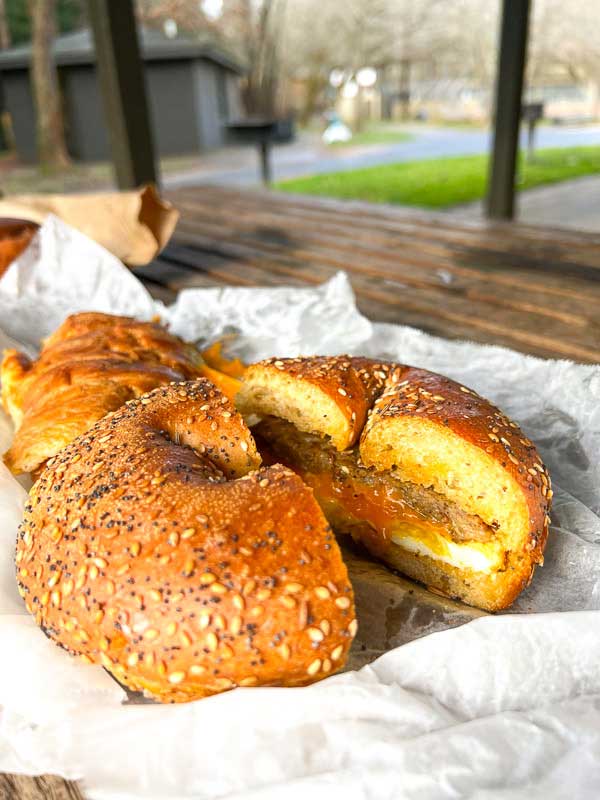 This one always catches people by surprise. And honestly, if you didn't know better, you'd probably miss their classic breakfast options altogether. Their breakfast sandwiches are on the chalkboard menu but you won't see any sign of them in the pastry cases (which is where my eyes typically go!)
You can get a bagel with cream cheese ($2.50) or a breakfast sandwich with egg and a protein. Alex typically opts for sausage, egg and cheese on a bagel ($6.50) and I like their bacon, egg and cheese on a croissant ($8*). The sandwiches are made fresh and wrapped in foil. You can also add a hashbrown for $1 and you can get a lox special on the weekends for $6.95.
3. You'll find one of Asheville's best pastry selections at Geraldine's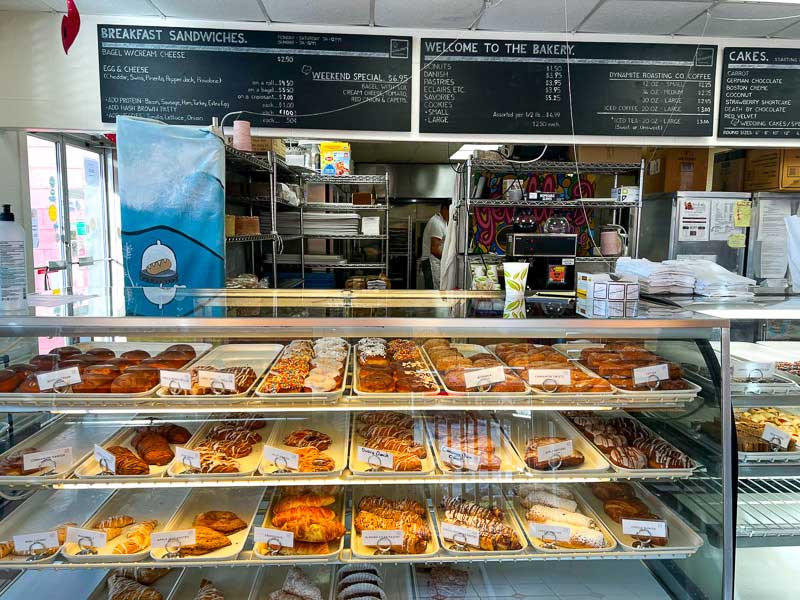 Geraldine's pastry case is full of fun and authentic pastries! We love their apple fritters and almond cigars! They also have a ton of fresh danish (ex. cheese, guava, cinnamon, chocolate), chocolate cigars, French cruller, apple jack pastries, cherry and apple turnovers… it's hard to choose! These are all $3.95 each. Geraldine's also has donuts with various toppings for $1.50.
You'll also find savory pastries in their pastry cases! Savory flavors include ham and swiss, turkey and swiss, pimento cheese and bacon, fire-roasted tomato + provolone and spinach + artichoke. If you want, they'll heat the savory pastries up for you!
3. Geraldine's has a wide assortment of cookies
Apart from sweet and savory pastries, you'll also find some really great cookies in their pastry cases! I'm specifically thinking of their sprinkle cookies, shortbread and raspberry rugelach, though everything we have tried has been great! One last thing! Their vegan chocolate pecan cookie is so unexpectedly good that the first time I had it I double-checked with them that it was, in fact, vegan.
4. Geraldine's has birthday cakes and wedding cakes
Whether you need a cake for a birthday or a wedding, Geraldine's Bakery can do it! They have several flavors to choose from and multiple sizes available (6″, 8″, 10″, 12″ and sheet.) They need two days' notice for their standard cakes and additional notice for weddings and other special events. Check their site for info on ordering cakes!
5. Geraldine's has that old-school bakery feel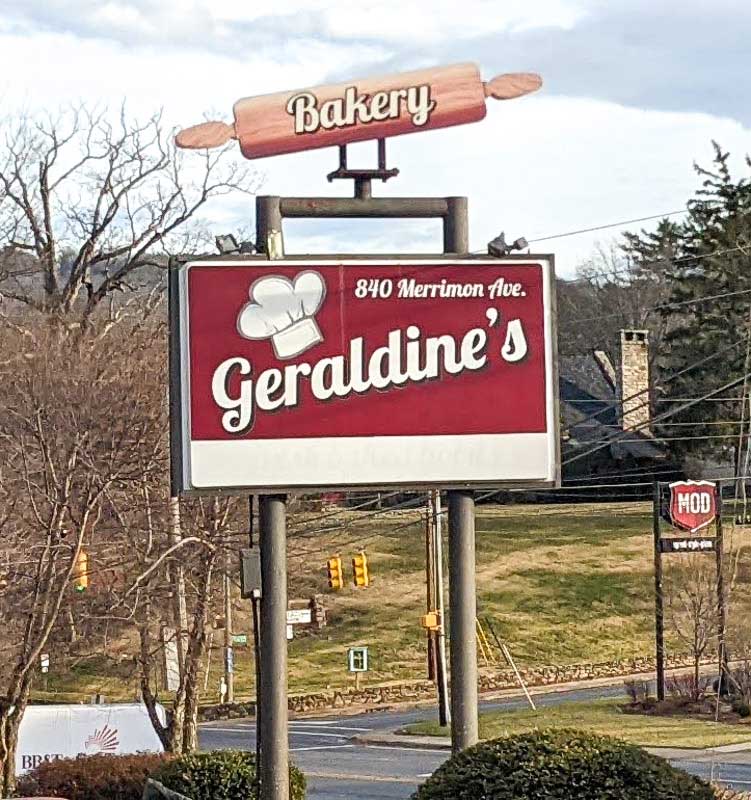 Geraldine's is a family business and you can feel it. The owner grew up in his father's Long Island bakery and brought the charm of it to Asheville. He opened Geraldine's Bakery on Merrimon with his wife in 2013 and it feels like it has always been there. Everything from the nostalgic menu to the way you are treated keeps us coming back. We love their diner-style coffee pots and the wall of swivel chairs that transports you back in time!
Hopefully this list inspires you to visit Geraldine's the next time you are in need of breakfast, a donut or a cake in Asheville! I'm ready to go back to get a better photo of the Boston Cream doughnut (read: eat a Boston Cream doughnut.)