There are so many great hotels in downtown Asheville that offer the perfect place for your next vacation. Whether you are into rooftop dining with exceptional views, being in the heart of the city or looking for something a bit off the beaten path, the perfect property is waiting for you.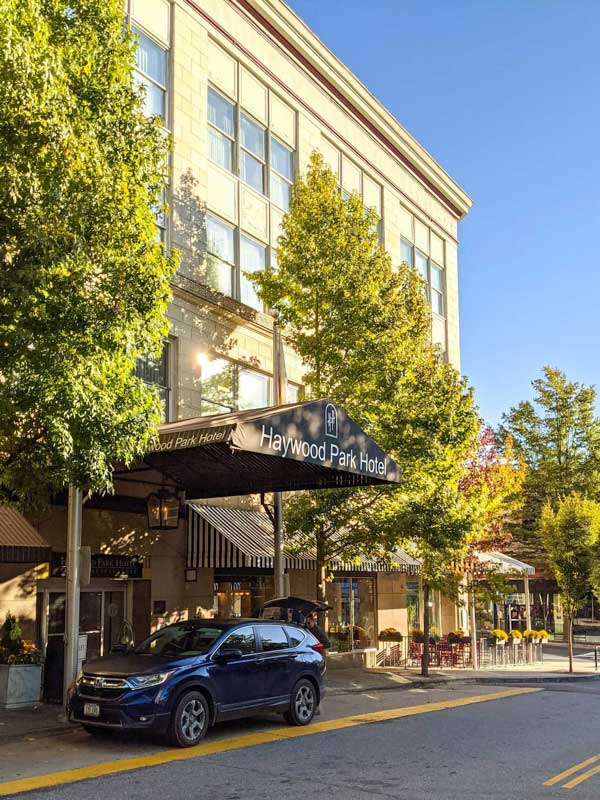 If this is your first visit to Asheville or if you want to stay close to the action, downtown Asheville is an excellent option.
You'll find everything from local boutique hotels to larger brands that offer all of the conveniences (and points!) that you love. Many of the properties are filled with local art and are housed in buildings with architectural significance.
In this article we share about our favorite hotels in downtown Asheville and what makes each so special.
If you are looking for less of a city feel and want to stay more in the mountains, don't miss our article on the best mountain resorts in North Carolina. It's full of relaxing stays that are all either in Asheville or within two hours driving distance.
---
---
Our Top Picks For Hotels In Downtown Asheville
---
Hotels Near Downtown Asheville
The bigger shopping and dining districts in Asheville are all pretty close to one another, so even if you aren't staying downtown you probably won't be too far away.
Biltmore Village
If you are looking to stay near downtown Asheville, check out Biltmore Village. Not only are there a ton of hotels in the area, but there are several restaurants and shops. Biltmore Village is just a few miles south of downtown and, as the name hints, is located at the entrance to The Biltmore Estate.
What's great about staying in or near Biltmore Village is that the hop-on/hop-off trolley picks up at Biltmore Village and the DoubleTree near Biltmore Village.
North Asheville
Another great spot to stay close to downtown is in North Asheville. We especially love the Chestnut Street / Charlotte Street area. Both OWL Bakery and Liberty Cafe are nearby and equally exceptional.
---
Ready to plan your trip to Asheville? Check out our itinerary for the perfect weekend in Asheville. We also have a list of can't-miss sights and bites if it's your first trip to Asheville.
---