Best Breakfast Restaurants in Asheville
Welcome to our guide to the best breakfast in Asheville.
We had so much fun putting this 'best-of-Asheville' food guide together for you! As a reminder, we don't take offers to be featured on our site. These are just places that we have tried, loved and want to share with you!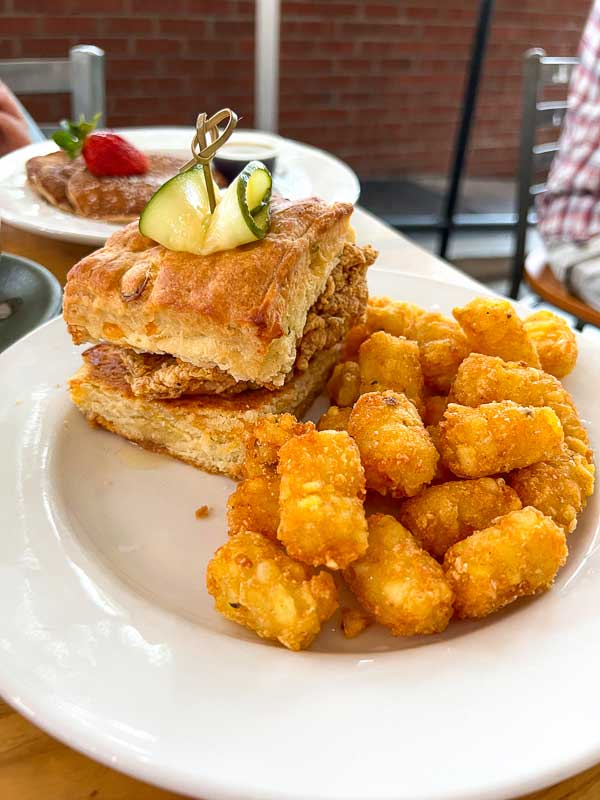 The following list features the best breakfast spots in Asheville. Make sure to check out our ultimate guide to brunch in Asheville— it includes several spots with weekend-only brunch specials.
2. Best Table Service Cafes for Breakfast in Asheville
Kicking off this mega post with one of our favorites: breakfast cafes with table service! Sunny Point may be our favorite of the group, but all are great and definitely recommended by us.
3. Best counter service cafes for breakfast in Asheville
And now onto my favorite type of breakfast place: counter service cafes! We have two young kids, so anywhere I can order in advance and leave at the drop of a hat is definitely best for us. Below are several cafes that we absolutely love visiting, whether with kids or alone.
Liberty House Coffee and Cafe – North Asheville
Though there are several definite recommendations from us on this list, Liberty would be at the very top! You'll find excellent food and coffee and the best outdoor seating in Asheville. They have live jazz music in the garden area on Sundays which is always a treat.
Read more about their food and seating in this spotlight on Liberty. And check out our Q+A with their pastry chef Logan about her favorite things to do eat and do in Asheville.
Jump to table of contents
Tiger Bay Cafe – West Asheville
Another favorite of ours! Tiger Bay is a takeout-only cafe with an excellent breakfast menu featuring sandwiches, bagels and tacos. Tiger Bay is located in the same house as BattleCat Coffee (and it's a match made in heaven!) We recommend ordering breakfast online and then getting an espresso drink from BattleCat when you arrive.
We wrote a spotlight article on Tiger Bay breakfast and BattleCat coffee if you want more details! BattleCat is also featured on our best coffee shops in Asheville list (and it's partially because of the great breakfast from Tiger Bay!)
Jump to table of contents
All Day Darling – Montford
A perfect neighborhood spot in Montford for breakfast, lunch, and dinner! All Day Darling is a popular spot for locals, especially neighbors who live close enough to walk. They have a pastry case as well as classic breakfast items like pancakes to shakshuka and a chicken biscuit with harissa aioli. Our kids love dining at All Day Darling just as much as we do!
Jump to table of contents
Ivory Road Cafe – South Asheville
A hidden gem cafe in South Asheville! Ivory Road is an excellent stop on the way to or from the NC Arboretum. You can order online and grab a picnic lunch to go. Their food is fresh and the menu includes everything from quiche to nutella and banana stuffed french toast. They have a great outdoor seating area complete with a Little Library.
Jump to table of contents
Biscuit Head – Downtown Asheville, West Asheville, South Asheville
A favorite for locals and tourists alike. Biscuit Head has three locations in Asheville as well as one in Greenville, SC. You'll find biscuits, of course, as well as an amazing jam and butter bar!
Biscuit Head is definitely an Asheville breakfast institution at this point. And for a great reason– it's awesome! You'll find a laid-back atmosphere at all three locations and excellent food.
Jump to table of contents
Ultra Coffee Bar – River Arts District
You'll find some of the best bagel sandwiches in Asheville at Ultra in the River Arts District. They also have a great pastry section, but I typically always go for a bagel sandwich because they are just so good. Ultra has indoor seating as well as tables out front.
I love their drink selection– they have everything from a shakerato (espresso shaken with ice and strained) to a Rick James (espresso, Mexican coke + vanilla bean syrup.) And regular coffee and espresso drinks, too, of course.
Jump to table of contents
Green Sage Cafe – Downtown Asheville, North Asheville, South Asheville
If you are looking for a healthy breakfast in Asheville, look no further than Green Sage. And the best part is that they have three locations in Asheville so you should be close to one no matter where you are. Their menu items are all so fresh and unique.
Jump to table of contents
The Rhu – Downtown Asheville
An excellent breakfast spot in downtown Asheville that will make you feel like you are in a much bigger city. The Rhu's pastries are amazing and they have a fun all-day breakfast + lunch menu too. It's a great spot to hop in for a quick breakfast while shopping around downtown.
We love working from The Rhu because they have an awesome space upstairs.
Jump to table of contents
La Bodega by Cúrate – Downtown Asheville
Just down the block from The Rhu is another great local Asheville restaurant: La Bodega by Cúrate. You can count on excellent breakfast sandwiches, like their croissant bikini with ham, mushrooms, caramelized onions, egg and manchego. They also have great baguette sandwiches.
La Bodega has an upstairs wine bar that opens for brunch/lunch Wednesday-Sunday at 11am. Counter service is available beginning at 8am on those days. I will say that La Bodega is not necessarily the first place take I'd take my kids for breakfast. We love to go sans kids, though!
Jump to table of contents
Home Ground Coffee Bar – West Asheville
A great coffee shop and deli just across from Carrier Park in West Asheville. Expect a local feel and a wonderful breakfast, whether you are just grabbing a pastry or are ready to feast on one of their many breakfast offerings. You'll find tons of outdoor seating at Home Ground in the back and everyone is always so friendly.
Home Ground is a sister restaurant to the much-loved HomeGrown in North Asheville.
Jump to table of contents
Taco Billy – West Asheville
Ending this section of counter service breakfast spots with a great one: Taco Billy! They open at 8AM (except Mondays) and have the best breakfast tacos around! We love the Migas Taco with jalapenos and the Billy Ocean with home fries is also pretty great. Taco Billy is also a good choice for lunch and dinner, and they serve their breakfast tacos all day. We wrote an article about takeout from Taco Billy if you want additional detailsbom
Jump to table of contents
4. Best Diners and Comfort Breakfast in Asheville
The Med – Downtown Asheville
A diner in downtown Asheville! Excellent food in a laidback setting. You'll find really unique breakfast dishes (think: catfish & grits, pulled pork over grits…) and classic breakfast offerings, as well. All delicious!! There may be a wait, but it's worth it!
Jump to table of contents
Abeja's House Cafe – South Asheville
A hidden gem in South Asheville! Abeja's is open for breakfast and lunch most days and has an amazing menu. They have a focus on fresh ingredients and a menu rooted in Latin cuisine (though they also homemade croissants and a Greek omelet!) We love their huevos rancheros, gluten-free chilaquiles and the ginger ricotta and coconut flakes pancakes are exceptional.
Jump to table of contents
Abuela's Little Kitchen – South Asheville
An unexpected find on Long Shoals Road in South Asheville. And another one with great chilaquiles— they soak them in green tomatillo sauce and then cook them to perfection.
There are two tables out front that would be great to snag on a nice Asheville morning. Otherwise, tons of seating inside, everyone is super friendly and they serve breakfast until 3pm.
Jump to table of contents
5 Points Restaurant – North Asheville
If you are in need of some classic diner vibes, head to Asheville's 5 Points Restaurant in North Asheville. There you'll find a true diner with breakfast and lunch served daily.
Our kids love sitting in the booths that line the front wall, though they wish we would let them sit at the counter. We haven't dared to do that with them yet!
5. Best Restaurants in Asheville for Weekend Brunch
Onto our final section of our guide to Asheville's breakfast and brunch: weekend brunch. Most of these restaurants are located on hotel properties and offer daily breakfast and a special brunch menu on the weekends. Vivian, W.A.L.K and Strada (the first three on this list) are the only exceptions.
Jump to table of contents
Vivian – River Arts District
Oh, brunch at Vivian. This is my ideal Sunday!! I'd start with the cake donuts or sticky bun and a cup of their house blend with PennyCup. And then I'd probably get the quiche and a mimosa (though the steak and eggs is also amazing!) I always feel like I'm on vacation at Vivian. It's an excellent spot that is loved by locals and friendly to all!
Jump to table of contents
W.A.L.K. – West Asheville
You'll find cheeseburgers for brunch at W.A.L.K! It's a pub in West Asheville, after all. They also have all of the regular brunch items you'd expect, too. Like a classic breakfast plate and amazing biscuits and gravy. W.A.L.K is a really laid-back spot for brunch and would be an especially great option if in town for a guys' trip!
Jump to table of contents
The Blackbird – Downtown Asheville
A great brunch with everything from pulled pork eggs benedict to El Nica (toad in a hole avocado toast.) Their menu celebrates the ingredients and traditions of the Carolinas. The Blackbird is located at the bottom of the Aloft Hotel. They have large windows on Biltmore Avenue that are perfect for people-watching.
What I really appreciate about The Blackbird, though, is that they have a kids section on the brunch menu (french toast, sliders, breakfast plate and chicken tenders.) Our oldest loves their french toast!
Jump to table of contents
Strada – Downtown Asheville
If burgers for brunch aren't your thing, maybe breakfast pasta is! Strada Italiano in downtown Asheville has just that– carbonara, ravioli and ziti ragu all make an appearance on their weekend brunch menu. You'll also find fluffy ricotta pancakes and eggs benedict on the menu, so don't fret if you need a classic breakfast!
Jump to table of contents
Benne on Eagle – Downtown Asheville
At Benne on Eagle you'll find authentic Appalachian soul food on a quieter street in downtown Asheville. Benne on Eagle is located at the amazing Foundry Hotel property that encompasses the majority of a full city block. They serve breakfast daily and have Sunday Brunch specials.
Benne on Eagle is one of the few restaurants where I would recommend reading the about us page on their site. If their story and welcoming words don't make you want to eat there, I don't know what will!
Jump to table of contents
Hemingway's Cuba – Downtown
If you are looking for brunch at a rooftop with a view, Hemingway's Cuba is the spot! They have an amazing view with a Cuban-inspired brunch menu. Hemingway's is at the top of the Cambria Hotel in downtown Asheville. It's another place with daily breakfast and a special menu for weekend brunch.
Jump to table of contents
Bargello – Downtown
Another hotel restaurant with an absolutely awesome breakfast and brunch. Bargello is located at the Kimpton Hotel Arras in the heart of downtown Asheville.
They have a daily breakfast but we are focusing on their brunch because they have the MOST AMAZING rosewater glaze and pistachio donut holes. You'll also find shakshuka on their brunch menu and lamb toast! Bargello is a great place if you are in the mood for a fancy brunch or want to celebrate something special.
Jump to table of contents
Other Guides You May Enjoy